14 November 2018
Employment review panel meeting In Belfast

Panel Meeting on Recruiting People with Conflict-Related Convictions, Monday 19 November 2018, from 9.30am-1.00pm in Crumlin Road Gaol
Over the last 20 years Irish society has evolved and transformed in many ways. Yet thousands of people involved in the conflict have found the route to employment barred.
Over the course of the conflict it is estimated that around 30,000 people received convictions, were remanded, fined or interned due to conflict.
And in 2018 – some 20 years after the Belfast/Good Friday Agreement the majority remain unemployed, under-employed or in short-term work.
Within this context, not many people will have heard about the Employers' Guidance on Recruiting People with Conflict-Related Convictions or the Review Panel established to oversee its implementation.
Those who might have heard about it are unlikely to have a great understanding of what it actually does. The Employers' Guidance on Recruiting People with Conflict-Related Convictions outlines details on the formation and composition of a tripartite review panel.
Established in 2010, the Review Panel considers individual cases and builds up evidence regarding the acceptance and adoption of the employers' guidance. Its current membership includes: Professor Pete Shirlow (Independent Chair), a representative from The Executive Office (TEO), Peter Bunting (Irish Congress of Trade Unions) and Alan Mercer (Confederation of British Industries).
The Panel assists those with conflict-related convictions who have experienced barriers when seeking employment.
It's not only those with convictions, the Review Panel has been informed of cases where employment opportunities for family members, who have never been arrested or been before a court, have been impacted.
The Panel will be holding a number of events over the coming months to promote the Principles and to hear comments and opinions on the employment of those with conflict-related convictions.
The next event will take place on Monday 19 November 2018, from 9.30am-1.00pm in Crumlin Road Gaol. Should you wish to attend please register by email to: [email protected] or by telephone: 02890 523 712.
More information is available for employers and individuals at: www.reviewpanel.org
An Phoblacht Magazine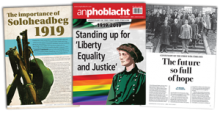 AN PHOBLACHT MAGAZINE:
Don't miss your chance to get the first edition of 2019 published to coincide with the 100th anniversary of An Chéad Dáil and Soloheadbeg.
In this edition Gerry Adams sets out the case for active abstentionism, Mícheál Mac Donncha takes us back to January 21st 1919, that fateful day after which here was no going back and Aengus Ó Snodaigh gives an account of the IRA attack carried out on the same day of the First Dáil, something that was to have a profound effect on the course of Irish history.
There are also articles about the aftermath of the 8th amendment campaign, the Rise of the Right and the civil rights movement.
An Phoblacht on Twitter

An initiative for dialogue 
for reconciliation 
— — — — — — —
Contributions from key figures in the churches, academia and wider civic society as well as senior republican figures