9 September 2018
Black 47 – A Review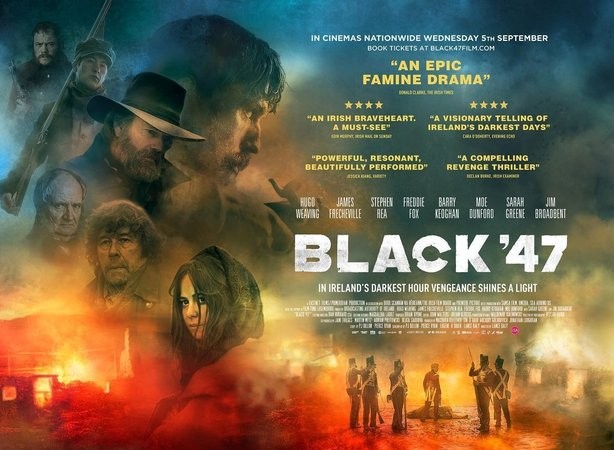 "Daly deserves credit for embedding the Irish language in multiple scenes across the film, serving to highlight the cultural and class gap between the occupying British forces and the oppressed Irish people." - Oisín McCann
Lance Daly's Black 47 sets the scene of Famine struck Connemara at the height of An Gorta Mór. Ireland at the time was a storm of manufactured poverty, arrogant British colonial misrule, rotten politics, and religious bigotry. It was a preventable tragedy which still looms large in Irish history today.
The film follows the story of battle hardened Máirtín Ó Fiannaidhe, a deserter from the British imperial army who returns home to the west of Ireland in 1847, witnessing the horrors of the famine first hand. He quickly learns that his mother has already starved to death and his brother has been hanged by an English judge. Meanwhile, a hellish system of forced evictions and demolitions is forcing women and children out into the deathly winter.
Already brutalized by his battlefield exploits in Afghanistan, Ó Fiannaidhe is tipped over the edge by the injustice imposed by the British colonisers. Shelving plans to emigrate to America, he embarks on a solo revenge mission against corrupt police, brutal army officers, callous rent collectors, corrupt judges and haughty landowners that enforce the murderous British law. 
Ó Fiannaidhe is quickly sought after by former Army colleague and comrade Hannah (Hugo Weaving), who faces execution should he not be able to capture Ó Fiannadh. Hannah is accompanied by a smarmy English Officer (Freddie Fox) and a young private (Love Hate's Barry Keoghan). A tit-for-tat chase across the West of Ireland ensues between the two, before finishing off in a climactic battle that sees ruthless Lord Kilmichael (Jim Broadbent) as public enemy number one.
Daly deserves credit for embedding the Irish language in multiple scenes across the film, serving to highlight the cultural and class gap between the occupying British forces and the oppressed Irish people.
Overall, Black 47 offers a first of its kind insight into life under occupation during famine struck Ireland, while personifying the hardship faced by millions facing manufactured poverty. It brings the Western style genre into its own, and gives the viewer a strong sense of injustice as we follow this powerful tale of tragedy and revenge.
An Phoblacht Magazine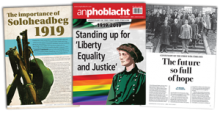 AN PHOBLACHT MAGAZINE:
Don't miss your chance to get the first edition of 2019 published to coincide with the 100th anniversary of An Chéad Dáil and Soloheadbeg.
In this edition Gerry Adams sets out the case for active abstentionism, Mícheál Mac Donncha takes us back to January 21st 1919, that fateful day after which here was no going back and Aengus Ó Snodaigh gives an account of the IRA attack carried out on the same day of the First Dáil, something that was to have a profound effect on the course of Irish history.
There are also articles about the aftermath of the 8th amendment campaign, the Rise of the Right and the civil rights movement.
An Phoblacht on Twitter

An initiative for dialogue 
for reconciliation 
— — — — — — —
Contributions from key figures in the churches, academia and wider civic society as well as senior republican figures