14 August 2018
Latest edition of An Phoblacht magazine out now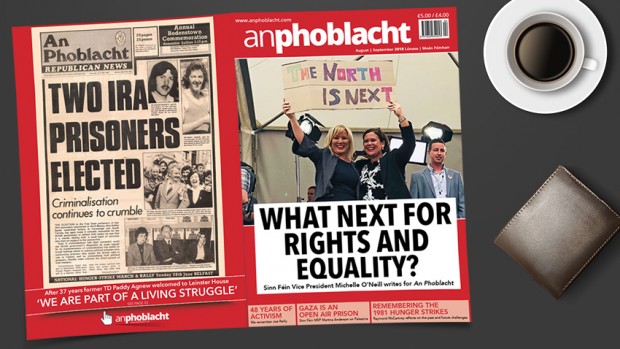 "There are three themes running through the second edition An Phoblacht magazine. They are the continuity of struggle across generations, the international dimension of radical republican politics and the political, social and economic crossroads the island of Ireland stands at today." - Robbie Smyth
The latest edition of the new-look An Phoblacht magazine is out now and features the latest news, analysis and opinions from a wide range of contributors. 
The new edition features an exclusive opinion piece from Sinn Féin Vice President Michelle O'Neill dealing with the the current political impasse in the north and poses the question 'Where next for rights and equality?' 
It also includes a poignant tribute to the late Joe Reilly by Gerry Adams and Caoimhe Ní Shluain, remembering the lifelong republican's 48 years of political activism. 
Continuing with the theme of political activism, the new edition also features a thought-provoking article from Foyle Sinn Féin MLA Raymond McCartney on the motivations for activism and the challenges faced today. 
Eoin Ó Broin asks why the Fine Gael coalition government cannot accept that a a social housing strategy must be the centrepiece of any solution to Ireland's housing crisis.
Investigative journalist Frank Connolly, whose reporting was a significant factor in the establishment of the Flood/Mahon tribunal, revisits the tribunal and the political corruption it uncovered. 
This edition also features articles on Sinn Féin's continuing international solidarity efforts around the world from Palestine to Catalonia. 
Discussing the latest edition, An Phoblacht editor, Robbie Smyth said: "There are three themes running through the second edition An Phoblacht magazine. They are the continuity of struggle across generations, the international dimension of radical republican politics and the political, social and economic crossroads the island of Ireland stands at today." 
The latest edition of An Phoblacht is available to buy online from https://www.sinnfein.ie/anphoblacht 
An Phoblacht on Twitter

An initiative for dialogue 
for reconciliation 
— — — — — — —
Contributions from key figures in the churches, academia and wider civic society as well as senior republican figures