4 August 2018
Thousands line the streets for Belfast Pride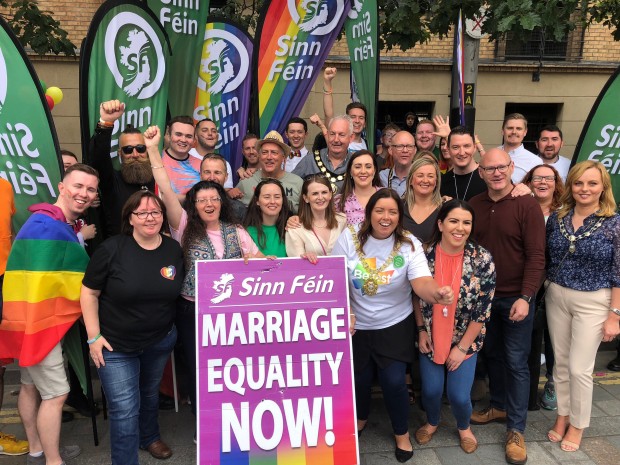 "The vibrant, colourful and loud message from today's Belfast Pride parade is that the 'north is next' and Sinn Féin will continue to campaign to ensure that this becomes a reality." - Megan Fearon MLA
Sinn Féin joined thousands of people on the streets of Belfast today for the annual Belfast Pride finale in solidarity with the LGBTQ community. 
The parade – led by the Belfast Pride Festival and Mayor of Belfast Deirdre Hargey – started at Custom House Square, made its way past City Hall and through Belfast City Centre. 
Colourful banners and floats from businesses, community organisations, political parties, emergency services and campaign groups such as Love Equality joined the procession. 
There was a clear message from today's parade, there is a demand for equality for the LGBTQ+ community twinned with mass opposition to the DUP's denial of marriage equality. 
Speaking to An Phoblacht, Sinn Féin Equality spokesperson, Megan Fearon MLA said pride is a display of 'unity and determination' to achieve equality. 
"It's really important that we are all together here today to fight for equality of opportunity under the law. 
"Equality for all our citizens, but especially for our LGBTQ+ brothers and sisters. The right to marriage equality is still being denied by the DUP, facilitated by the British government. 
"We have a long way to go before reaching full equality and it's important to remember that Pride is first and foremost a protest.
"The vibrant, colourful and loud message from today's Belfast Pride parade is that the 'north is next' and Sinn Féin will continue to campaign to ensure that this becomes a reality," she said.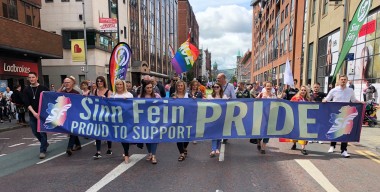 Demonstrators chanted: "Hey, Hey DUP, we just want equality" in opposition to the denial of rights and comments made by the DUP leader earlier this week.  
An Phoblacht Magazine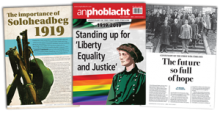 AN PHOBLACHT MAGAZINE:
Don't miss your chance to get the first edition of 2019 published to coincide with the 100th anniversary of An Chéad Dáil and Soloheadbeg.
In this edition Gerry Adams sets out the case for active abstentionism, Mícheál Mac Donncha takes us back to January 21st 1919, that fateful day after which here was no going back and Aengus Ó Snodaigh gives an account of the IRA attack carried out on the same day of the First Dáil, something that was to have a profound effect on the course of Irish history.
There are also articles about the aftermath of the 8th amendment campaign, the Rise of the Right and the civil rights movement.
An Phoblacht on Twitter

An initiative for dialogue 
for reconciliation 
— — — — — — —
Contributions from key figures in the churches, academia and wider civic society as well as senior republican figures