2 August 2018
'You have the right strategy and the right politics': Ronnie Kasrils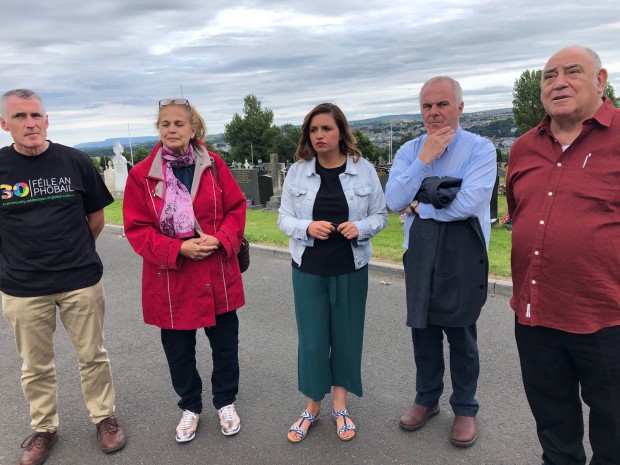 "We all need to be able to draw inspiration from history, past sacrifice, leadership and determination."
Lifelong anti-apartheid campaigner and veteran of the national liberation struggle in South Africa, Ronnie Kasrils was in Belfast and Derry recently to launch his new book 'A Simple Man'.
Martin McAuley asked me to interview Ronnie for a Sinn Féin video.
My last question was to ask what continues to inspire him and his vision for the future.
He explained how much today's youth inspire him, and in particular young Ahed Tamimi from the occupied territories in Palestine.
Last Sunday Ahed was released from prison.
I met her daddy in Ramallah three months ago. He and her mammy met Ahed upon her release.
There were joyful scenes. I was delighted. It was a good start to a Sunday.
Ronnie Kasrils words and Ahed's spirit and commitment made me think of Fian John Dempsey who was killed on active service aged sixteen years old, around now 37 years ago during the Hunger Strikes.
Every generation in struggle throws up inspirational young people like Ahed.
They help keep older activists grounded; they challenge complacency; push back boundaries; they are, rightly impatient for change.
I had just turned 16 when the 1981 hunger strikes occurred.
Back then I thought the hunger strikers seemed much older. In fact, they were on average only nine years older than me.
The intensity of political struggle distorts the significance of age difference. Ten to 15 years between comrades can sometimes seem like an age.
I said this recently to Jim Gibney as we talked about Ronnie Kasrils' visit.
Ronnie will be 80 years-old this November. He has spent all of his life as a political activist.
But he looks, and interacts socially, like someone much younger.
Before he came to Ireland he inquired about the current ages of my own children.
I joked that as they were getting older I was getting younger!
He replied that of course I'd be getting younger, because 'The struggle keeps us all alert and in fine fettle.
I first became aware of Ronnie Kasrils in 1992 when the march on Bisho occurred during the phase of mass action in South Africa.
He was interviewed on international news as one of the key leaders and was very articulate.
The South African national liberation struggle was at a decisive period. History was clearly being made.
Some years later in 2004 as Sinn Féin's Northern Chairperson I proposed we invite an ANC representative to Ireland as part of the Cúige's Céad (centenary) celebrations.
The Cúige leadership agreed.
By then Ronnie Kasrils was the South African Minister of Intelligence.
So I chanced my arm and sent off a letter more in vain hope than any real expectation.
Remarkably Ronnie wrote back accepting our invitation to visit Ireland, and, would do so as a representative of Thabo Mbeki's government.
Needless to say we were delighted (and, the Cúige had just been saved a fortune of money in plane fares!)
A tremendously successful programme of events was organised and Ronnie Kasrils had a big impact everywhere he visited and spoke.
He and other South African comrades returned the following year to share the ANC's experience of transition in government as we launched the big debate within the republican base on policing.
Very many comrades have vivid memories of Ronnie's contribution to our internal political discussions during this period.
He also attended and addressed Ard Fheiseanna with his then wife Eleanor; and then after her untimely death in 2009 he wrote a brilliant book about her own role in the liberation struggle entitled the 'Unlikley Secret Agent'.
His latest book 'A Simple Man' is a compelling critique of current day South Africa.
Ronnie was a senior figure in the collective leadership of the ANC; MK, or Unkhonto we Sizwe (Spear of the Nation); and the South African Communist Party, as well as a Deputy Minister of Defence, and later Minister of Intelligence in South Africa.
The new book provides an analysis of the ANC's transition from resistance to power which is essential reading for all political activists.
Joe Slovo, the former MK Chief of Staff, said to Ronnie Kasrils towards the end of 1994 that very few people had enjoyed the unique privilege of serving in a liberation struggle and then in government as they had.
As a committed internationalist he has consistently stood in support of the people of Palestine, Cuba and freedom loving people across the world.
He has made an important contribution to the Basque peace process.
Along with others in South Africa he has strongly supported the Irish peace process, and Sinn Féin's work to achieve an agreed, united Ireland.
During two speaking engagements in Belfast and Derry he kept the audiences enthralled with his political analysis. They reciprocated with standing ovations.
In the Gasyard centre in Derry's Bogside he raised the roof with a funny story of meeting Ché Guevara in Dar-es-Salaam where he said the revolutionary icon gave a speech on armed struggle in Africa which was "bollocks"!!!
We held a very dignified wreath laying ceremony at Martin McGuinness' grave, during which Ronnie spoke very emotionally of Martin's legacy, before giving a military salute as one freedom fighter to another.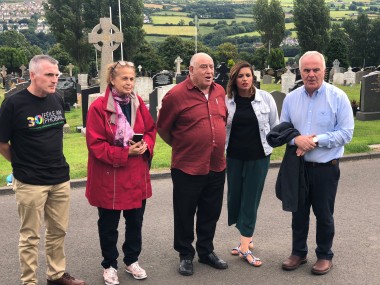 In a separate moment towards the end of his stay he said to me warmly: "You've got the right strategy; you've got the right politics. The humanity of your people and their commitment is so tremendous.
We all need to be able to draw inspiration from history, past sacrifice, leadership and determination.
Hero worship is something altogether different. That's the stuff of sycophancy and the notion that the celebration of personality is the end itself.
The phrase that "we stand on the shoulders of giants" refers to those who have gone before us, but left a legacy of inspiration and leadership by example.
This Sunday the National Hunger Strike commemoration will take place in Castlewellan, County Down.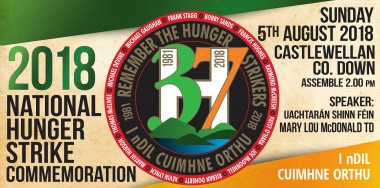 The Irish Hunger strikers are now among a pantheon of iconic Irish and international figures who symbolise the struggle for a better world alongside the leaders of 1916; Mary Ann McCracken; Nelson Mandela; Ché Guevara; and Ho Chi Minh.
Bertolt Brecht the socialist poet wrote:
      "There are those who struggle for a day and that is good;
                 There are those who struggle for a year and that is better;
                 And there are those who struggle for twenty tears and that is better still;
  Then there are those who struggle all their lives, and they are the ones we cannot do without"
Ronnie Kasrils continues to politically campaign enthusiastically for a better world even while approaching the autumn of his life.
The struggle for Irish unity, independence, and an Ireland of equals has been enriched by his friendship and solidarity.
Sinn Féin and other progressives in Ireland are proud to call him our comrade and our friend.    
Ronnie Kasrils pays tribute to Martin McGuinness
An Phoblacht Magazine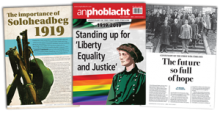 AN PHOBLACHT MAGAZINE:
Don't miss your chance to get the first edition of 2019 published to coincide with the 100th anniversary of An Chéad Dáil and Soloheadbeg.
In this edition Gerry Adams sets out the case for active abstentionism, Mícheál Mac Donncha takes us back to January 21st 1919, that fateful day after which here was no going back and Aengus Ó Snodaigh gives an account of the IRA attack carried out on the same day of the First Dáil, something that was to have a profound effect on the course of Irish history.
There are also articles about the aftermath of the 8th amendment campaign, the Rise of the Right and the civil rights movement.
An Phoblacht on Twitter

An initiative for dialogue 
for reconciliation 
— — — — — — —
Contributions from key figures in the churches, academia and wider civic society as well as senior republican figures