29 July 2018
Ahed Tamimi released from prison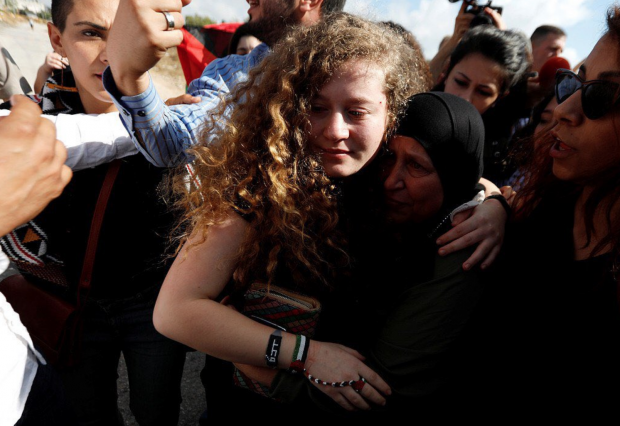 "Ahed was persecuted for defending her family and community from brutal, aggressive Israeli oppressors. She was not prepared to bow down." - Pat Sheehan
Palestinian teenager, Ahed Tamimi, was released today after spending eight months in an Israeli jail. 
Ahed was arrested in December after a video of her challenging Israeli occupation forces to leave her West Bank family home went viral on social media.  
Since her arrest, Tamimi has become an icon of resistance to occupation and the international face of Palestinian child prisoners. 
Sinn Féin's Pat Sheehan MLA said Ahed's imprisonment was 'completely wrong' and welcomed her release back to her family. 
"Ahed was persecuted for defending her family and community from brutal, aggressive Israeli oppressors. She was not prepared to bow down.
"There are currently 350 other Palestinian children held in Israeli prisons today, the case of Ahed Tamimi brought their struggle to the national stage," he said.
The party's Middle East spokesperson called on the international community to uphold the rights of children and branded their silence as 'deafening'. 
"The Irish government must live up to their commitments by recognising the State of Palestine as agreed by the Dáil, but also to do the right thing by immediately expelling the Israeli ambassador," he concluded.
A large crowd gathered in the occupied West Bank village of Nabi Saleh this morning to welcome home Ahed and her mother, Nariman Tamimi, who also served an eight month sentence. 
In an emotional address to the crowd, Ahed Tamimi thanked everyone who had supported her and paid tribute to all female prisoners.
Sinn Féin MEP and former political prisoner, Martina Anderson also paid tribute to Ahed Tamimi and her mother, in a Tweet this morning, describing their plight as 'courageous and proud'. 
An Phoblacht Magazine
AN PHOBLACHT MAGAZINE:
Don't miss your chance to get the second edition of the 2019 magazine, published to coincide with Easter Week
This special edition which focuses on Irish Unity, features articles by Pearse Doherty, Dr Thomas Paul and Martina Anderson.
Pearse sets out the argument for an United Ireland Economy whilst Pat Sheehan makes the case for a universally free all-island health service.
Other articles include, 'Ceist teanga in Éirinn Aontaithe', 'Getting to a new Ireland' and 'Ireland 1918-22: The people's revolution'.
An Phoblacht on Twitter

An initiative for dialogue 
for reconciliation 
— — — — — — —
Contributions from key figures in the churches, academia and wider civic society as well as senior republican figures