27 July 2018
A cold house for the Irish identity - Declan Kearney
"Like everywhere else in Ireland the rich local heritage and history of townlands, place names, geography, and topography of South Antrim cannot be understood without reference to the Irish language" - Declan Kearney
Antrim and Newtownabbey Borough council is overwhelmingly unionist.
The Borough makes up the larger part of my South Antrim constituency.
On the 26th February last the council rejected a petition to support the provision of bilingual (English and Irish) streets/roads signage in the area.
Unionist councillors then decided to go a step further and passed a motion committing Antrim and Newtownabbey council to an 'English only' policy.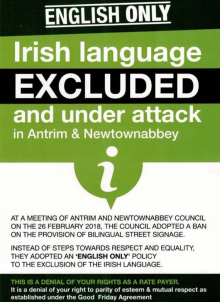 That was a ridiculous and stupid stance to adopt.
It is also unlawful.
This new council policy is in breach of Article 11 of the Local Government Order 1995, and it violates the European Charter for Regional and Minority Languages.
But it is also an affront to the principles of parity of esteem, mutual respect and equality enshrined within the Good Friday Agreement (GFA).
The decision taken was a deeply insulting message aimed directly at those who live and pay rates within Antrim and Newtownabbey who identify as Irish citizens, who cherish the Irish language, and Gaelic cultural traditions.
It does not matter in the narrow, blinkered world of those who control political unionism in Antrim and Newtownabbey council that the Irish language and cultural identity actually matters to a significant section of rate payers in the borough.
The Gaelic Athletic Association runs deep in this part of County Antrim. It is central to community life and is active across the local community, working collaboratively with other sporting codes and community and civic organisations.
There are eight Gaelic Athletic Clubs active within the local council boundaries, with a combined membership reaching into thousands.
Promotion and use of the Irish Language has been historically strong in the area. The language has become even stronger in the last 30-40 years particularly.
Today in terms of Irish medium education (IME), four Naíscoileana (preschools) flourish, and there are two gaelscoileanna (primary schools), and another English medium school with IME provision.
The demand for IME in South Antrim is growing.
So, many citizens in South Antrim possess an innate sense of their own Irishness. It really matters to them.
Like everywhere else in Ireland the rich local heritage and history of townlands, place names, geography, and topography of South Antrim cannot be understood without reference to the Irish language.
To take two local examples: Cranfield has its origins in Creamh choill, the woodland of the wild garlic: Farranflugh is the anglicised version of Fearainn Fliuch, otherwise, the boggy or wet ground.
Bilingual signage captures that rich heritage by making it visible and providing an educational reference point for the local community and visitors.
The council's 'English only' policy effectively air brushes out access to a heritage we all share regardless of political allegiance.
The English language is only a small part of who we are and where we have come from as a community.
Some in the leadership of both the DUP and UUP have sought to weaponise the Irish language and to demonise those who support its use and visibility.
They have prosecuted their own version of a 'project fear' which deliberately misrepresents the campaign for Irish language rights as cultural warfare.
That type of exclusive and bigoted mind-set goes right to the crux of why the political institutions do not currently exist in Stormont.
The DUP wrecked power sharing and partnership in recent years as the culmination of their 20-year campaign opposing the GFA since 1998.
Those presently in charge of the DUP don't want to exercise proper power sharing with Sinn Féin and are opposed to a rights-based society. 
That's the message which comes from the leadership of the DUP, and as a result, why unionist councillors in Antrim and Newtownabbey have now adopted an 'English only' policy in an act of abject disrespect to their Irish neighbours.
Political unionism in South Antrim has form in the history of exclusion.
Never once in the history of local government in Antrim and Newtownabbey have unionists shared the position of Mayor or deputy mayor with a Sinn Féin councillor.
In the 2017 Westminster general election 18.1% of the electorate voted for Sinn Féin in South Antrim.
That section of the electorate is synonymous, albeit not exclusively, with those citizens who consider themselves to be Irish.
An additional 12.9% voted for other non-unionist political parties.
Importantly some citizens who vote for the unionist parties consider themselves to be both Irish and British. Unionism is not a culturally homogeneous bloc.
So when the unionist councillors in Antrim and Newtownabbey vote to adopt an 'English only' policy that tells a substantial cross section of local rate payers that they are unequal and do not deserve to be treated with parity of esteem and respect.
The only conclusion is that those in charge of the local unionist parties are not committed to a shared future and inclusion, and instead want to make South Antrim a cold house for the Irish identity.
And, that mind-set is a throwback to the days of the old apartheid, orange state in the north of Ireland.
The 'English only' policy in Antrim and Newtownabbey borough council is now the subject of a judicial review.
Local Irish language activists and rate payers have begun a campaign to overturn this disgraceful policy.
I have been encouraging local people to register their objections with the Chief Executive.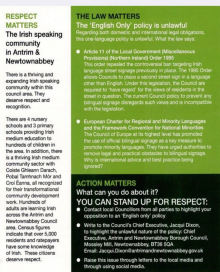 If there is ever to be a shared and united future in the north that must also apply within Antrim and Newtownabbey council politically, culturally and in respect of every aspect of community and civic life.
Local councillors and council officers have an obligation to ensure the operation of this council is conducted in a legally compliant, fair, equal, inclusive, transparent and democratic matter.
They should be actively promoting and ensuring adherence to the principles of parity of esteem, mutual respect, equality, and anti-sectarianism enshrined in the GFA.
That is what the republican and nationalist electorate and other progressives and fair-minded people in South Antrim expect from those charged with administering local government.
Citizens in Antrim and Newtownabbey pay high rates with the expectation of good quality council services.
They do not pay high rates to be treated with such abject disrespect.
An Phoblacht Magazine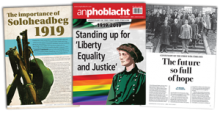 AN PHOBLACHT MAGAZINE:
Don't miss your chance to get the first edition of 2019 published to coincide with the 100th anniversary of An Chéad Dáil and Soloheadbeg.
In this edition Gerry Adams sets out the case for active abstentionism, Mícheál Mac Donncha takes us back to January 21st 1919, that fateful day after which here was no going back and Aengus Ó Snodaigh gives an account of the IRA attack carried out on the same day of the First Dáil, something that was to have a profound effect on the course of Irish history.
There are also articles about the aftermath of the 8th amendment campaign, the Rise of the Right and the civil rights movement.
An Phoblacht on Twitter

An initiative for dialogue 
for reconciliation 
— — — — — — —
Contributions from key figures in the churches, academia and wider civic society as well as senior republican figures