23 July 2018
Sinn Féin leaders to meet Barnier in Brussels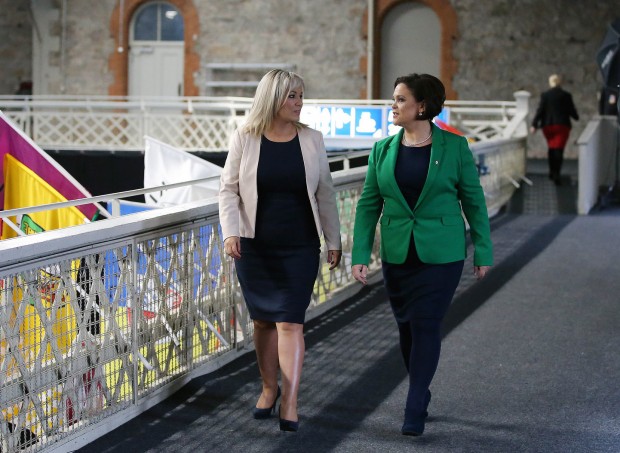 Sinn Féin leaders will meet the EU's chief Brexit negotiator Michel Barnier later today to make it clear that the issues of Ireland and the border need to resolved before the next EU summit in October. 
Party President Mary Lou McDonald TD and deputy leader Michelle O'Neill MLA will meet Mr Barnier in Brussels later today at the headquarters of the EU Commission. 
At today's meeting, the pair are expected to tell the EU negotiator that the backstop already agreed between the EU and the British government must be maintained and form part of the legal text of the Withdrawal Agreement. 
That backstop would see the north remain in the customs union and elements of the single market and would avoid the imposition of a hard border on the island of Ireland. 
The Sinn Féin leaders will also call on Michel Barnier to ensure the issues of the border and Ireland are resolved ahead of the next planned EU summit in October. 
One way of doing this would be to hold a special EU summit in September to deal specifically with Irish issues, they are expected to tell he chief negotiator. 
Today's meeting will be the latest in a series of meetings between Sinn Féin and Michel Barnier both in Brussels and Ireland in recent months. 
An Phoblacht Magazine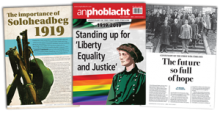 AN PHOBLACHT MAGAZINE:
Don't miss your chance to get the first edition of 2019 published to coincide with the 100th anniversary of An Chéad Dáil and Soloheadbeg.
In this edition Gerry Adams sets out the case for active abstentionism, Mícheál Mac Donncha takes us back to January 21st 1919, that fateful day after which here was no going back and Aengus Ó Snodaigh gives an account of the IRA attack carried out on the same day of the First Dáil, something that was to have a profound effect on the course of Irish history.
There are also articles about the aftermath of the 8th amendment campaign, the Rise of the Right and the civil rights movement.
An Phoblacht on Twitter

An initiative for dialogue 
for reconciliation 
— — — — — — —
Contributions from key figures in the churches, academia and wider civic society as well as senior republican figures