19 July 2018
Parties' concern at lack of progress on protecting rights from Brexit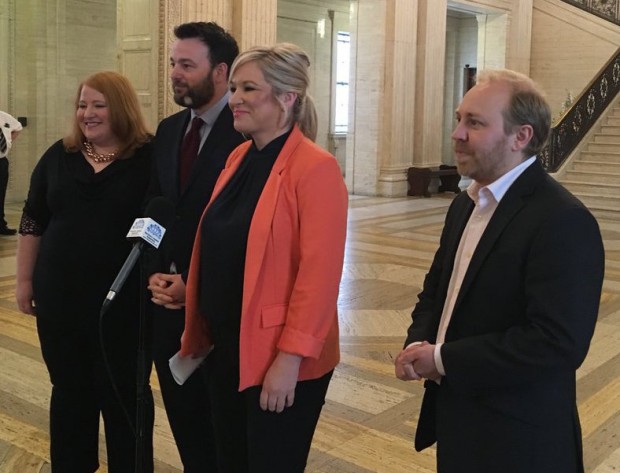 "Guarantees were given in the Joint Report between the British government and the EU in December that there would be no diminution of rights as a result of Brexit, on the rights of people resident here and that the Good Friday Agreement would be protected. These guarantees have yet to be fully translated into legally binding text and reflected in the Draft Protocol on Ireland/Northern Ireland." - Joint statement
The leaders of the parties representing the anti-Brexit majority at Stormont have expressed concern at the lack of "tangible progress" on rights in the Brexit negotiations. 
In a joint statement, the leaders of Sinn Féin, the SDLP, Alliance and the Green Party said guarantees on rights have still not been given legal effect. 
It is the third such joint statement from the four parties on Brexit in recent months. 
It was released as British Prime Minister Theresa May began a two-day visit to the north during which she will meet party leaders over Brexit and deliver a speech in Belfast. 
The joint statement issued by the parties states that the Brexit negotiations are now at "a crucial point" and urges more work to ensure rights are protected. 
"Guarantees were given in the Joint Report between the British government and the EU in December that there would be no diminution of rights as a result of Brexit, on the rights of people resident here and that the Good Friday Agreement would be protected. 
"These guarantees have yet to be fully translated into legally binding text and reflected in the Draft Protocol on Ireland/Northern Ireland," it states. 
The party leaders also expressed concern about specific areas regarding rights and all-Ireland healthcare. 
"Significant areas of concern remain, and there is little sign of any tangible progress on a range of important matters, including: continued access to third-level study with status of EU students; continued access to the European Health Insurance Card; continued provision for cross-border health services, such as the Northwest Cancer Centre and the Children's Heart Centre; and safeguards for EEA migrant workers in Northern Ireland, as well as a broad range of other areas reflected in our earlier Joint Declaration on Human Rights and Equality. 
"We note the proposals put forward by civic society groups for amendments to the Draft Protocol and we urge further dialogue and consideration of changes to ensure that the Protocol is amended in a manner that faithfully reflects and translates into law all rights and equality commitments made in the first phase of the negotiations," the statement said. 
An Phoblacht Magazine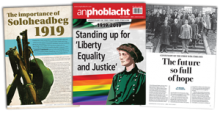 AN PHOBLACHT MAGAZINE:
Don't miss your chance to get the first edition of 2019 published to coincide with the 100th anniversary of An Chéad Dáil and Soloheadbeg.
In this edition Gerry Adams sets out the case for active abstentionism, Mícheál Mac Donncha takes us back to January 21st 1919, that fateful day after which here was no going back and Aengus Ó Snodaigh gives an account of the IRA attack carried out on the same day of the First Dáil, something that was to have a profound effect on the course of Irish history.
There are also articles about the aftermath of the 8th amendment campaign, the Rise of the Right and the civil rights movement.
An Phoblacht on Twitter

An initiative for dialogue 
for reconciliation 
— — — — — — —
Contributions from key figures in the churches, academia and wider civic society as well as senior republican figures