26 June 2018
Young people in Brussels for One Thing delegation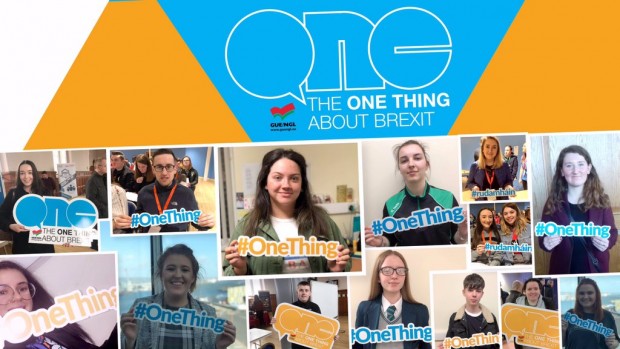 "During the course of the delegation's visit, young people who took part in the campaign from across the north and the border region in the European Parliament in Brussels where they will have the opportunity to raise their concerns with EU legislators." - Martina Anderson
Young people from north and south will be in the European Parliament in Brussles today to discuss how Brexit will impact their lives.
They are travelling as part of a delegation hosted by Sinn Féin MEP Martina Anderson to highlight the One Thing campaign, an initiative designed to give young people a platform to raise their concerns over Brexit.
Over the last number of months, young people from across Irelandwereencouraged to take to social media to highlight the one thing about Brexit that most concerns them.
Large numbers of young people from north and south took part in the campaign and their views have now been compiled into a report which will be presented to the EU's Brexit negotiating team in Brussels during the delegations's visit.
Speaking from Brussels, Martina Anderson said:
"Earlier this year I launched the One Thing campaign which was designed to give young people the opportunity to use social media platforms to highlight how Brexit will impact on them.
"They responded with concerns about their education, European study programmes, freedom of movement, the rights of women, equality, workers' rights and many other issues.
"During the course of the delegation's visit, young people who took part in the campaign from across the north and the border region in the European Parliament in Brussels where they will have the opportunity to raise their concerns with EU legislators.
"They will also present a report on the One Thing campaign to those conducting the Brexit negotiations on behalf oF the EU.
"This is all part of my pledge to ensure that the voices of the people of the north are heard and listened to in Europe." 
An Phoblacht Magazine
AN PHOBLACHT MAGAZINE:
Don't miss your chance to get the second edition of the 2019 magazine, published to coincide with Easter Week
This special edition which focuses on Irish Unity, features articles by Pearse Doherty, Dr Thomas Paul and Martina Anderson.
Pearse sets out the argument for an United Ireland Economy whilst Pat Sheehan makes the case for a universally free all-island health service.
Other articles include, 'Ceist teanga in Éirinn Aontaithe', 'Getting to a new Ireland' and 'Ireland 1918-22: The people's revolution'.
An Phoblacht on Twitter

An initiative for dialogue 
for reconciliation 
— — — — — — —
Contributions from key figures in the churches, academia and wider civic society as well as senior republican figures