13 June 2018
Parties join together to call for rights to be protected from Brexit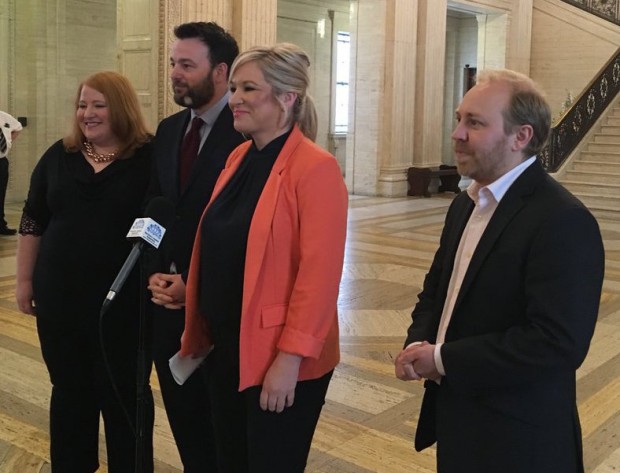 "We share a profound concern that Brexit will result in further regression on equality and rights." - Joint statement
The leaders of the anti-Brexit parties in the North have issued a joint statment calling for rights and equality to be protected from Brexit. 
The joint statement, signed by Michelle O'Neill from Sinn Féin, Colum Eastwood of the SDLP, Naomi Long of Alliance and Steven Agnew of the Green Party, follows on from a similar initiative by the leaders voicing their opposition to Brexit. 
In the joint statement, the parties express "profound concern that Brexit will result in further regression on equality and rights." 
It also welcomes the commitment in the joint report from the EU and British government in December that there should be no diminution of rights as a result of Brexit and called for this to be reflected in the Withdrawal agreement and protocol. 
The leaders express a common position that the current Brexit negotiations should ensure there is "no diminution of rights, safeguards and equality, including as set out in the Good Friday Agreement 1998 and subsequent agreements" and call for an explicit guarantee to be given in relation to the European Convention on Human Rights and the European Charter of Fundamental Rights. 
"We urge all political parties and both governments to intensify their efforts to ensure that outstanding rights and equality matters (including the Bill of Rights) are advanced as a matter of urgency," it states. 
An Phoblacht Magazine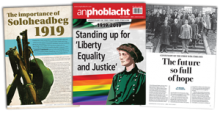 AN PHOBLACHT MAGAZINE:
Don't miss your chance to get the first edition of 2019 published to coincide with the 100th anniversary of An Chéad Dáil and Soloheadbeg.
In this edition Gerry Adams sets out the case for active abstentionism, Mícheál Mac Donncha takes us back to January 21st 1919, that fateful day after which here was no going back and Aengus Ó Snodaigh gives an account of the IRA attack carried out on the same day of the First Dáil, something that was to have a profound effect on the course of Irish history.
There are also articles about the aftermath of the 8th amendment campaign, the Rise of the Right and the civil rights movement.