6 June 2018
North needs to acknowledge victims of institutional abuse - Linda Dillon
"The north needs to be part of that changing Ireland. I want to see the state acknowledge the damage it did or allowed to happen to so many vulnerable women and young people." - Linda Dillon MLA
Of late a lot has been said and written about a changing Ireland.  A changing Ireland which has addressed important social issues such as marriage equality and women's healthcare, bringing legislation into line with a modern democracy.
There has also been major changes in how the state has dealt with its failings to protect women and young people from abuse.  While we have seen the inquiries into clerical abuse and the Magdalene Laundries, it would be fair to say there is still unfinished business to be done.  I hope the government will not only conclude on these matters quickly but will do so in a manner that ensures victims are not re-traumatised.
Yesterday, saw that changing Ireland take a major step forward when President Higgins not only hosted a gathering of Magdalene Laundry survivors but apologised to them.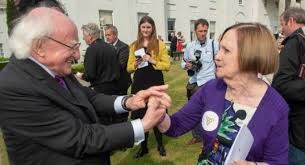 His words of apology and his acknowledgement that;
"You were failed by Governments that knowingly relied on the existence and practices of these institutions rather than addressing your particular needs in other, more sympathetic ways.
"You were also failed by a society that actively colluded by their silence in your incarceration and treatment or chose to look the other way, averted their gaze, as vulnerable girls and women were subjected, in so many cases, to further abuse and degradation.
  "Ireland failed you. When you were vulnerable and in need of the support of Irish society and its institutions, its authorities did not cherish you, protect you, respect your dignity or meet your needs and so many in the wider society colluded with all that through their silence."
President Higgins' genuine words and the heartfelt manner in which they were delivered clearly had a cathartic effect on many of the women who attended the event at Áras an Uachtaráin.
In contrast to what happened in Dublin we here in the north have yet to fully address the issues of abuse that many children suffered at the hands of state, religious and charitable organisations.
The recommendations of the Historical Institutional Abuse Inquiry are still to be implemented and we are only starting to scope out the scale of abuse in the Mother and Baby homes.  On top of that the religious institutions have failed to provide all the information they hold on  abuse in their institutions and schools.
The north needs to be part of that changing Ireland.  I want to see the state acknowledge the damage it did or allowed to happen to so many vulnerable women and young people.  I want to see the religious institutions and charitable organisations acknowledge that harm and damage that they inflicted on so many people.
The scenes in Dublin when crowds turned out to support the victims of the Magdalene Laundries and the comments of many of those women who had suffered in the laundries made my heart cry.
I know from personal experience and from talking to many of the victims of abuse here in the north that they are still suffering.  They are crying out for help and support and they deserve that from us.  They deserve to have their pain and hurt acknowledged.  They deserve to hear that the state, the religious institutions and charitable organisations are sorry for the wrongs inflicted upon them.  They deserve to be compensated for what they were forced to endure.
My hope is that all of these things will come to pass.  That one day we can put our hands on our hearts and say that we are part of a changing Ireland.  An Ireland that is compassionate, an Ireland that acknowledges its failings and an Ireland which no longer covers them up.
An Phoblacht Magazine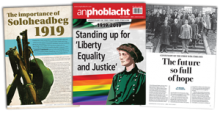 AN PHOBLACHT MAGAZINE:
Don't miss your chance to get the first edition of 2019 published to coincide with the 100th anniversary of An Chéad Dáil and Soloheadbeg.
In this edition Gerry Adams sets out the case for active abstentionism, Mícheál Mac Donncha takes us back to January 21st 1919, that fateful day after which here was no going back and Aengus Ó Snodaigh gives an account of the IRA attack carried out on the same day of the First Dáil, something that was to have a profound effect on the course of Irish history.
There are also articles about the aftermath of the 8th amendment campaign, the Rise of the Right and the civil rights movement.
An Phoblacht on Twitter

An initiative for dialogue 
for reconciliation 
— — — — — — —
Contributions from key figures in the churches, academia and wider civic society as well as senior republican figures