30 May 2018
No one can be left behind in illegal adoption scandal investigation - Mary Lou McDonald TD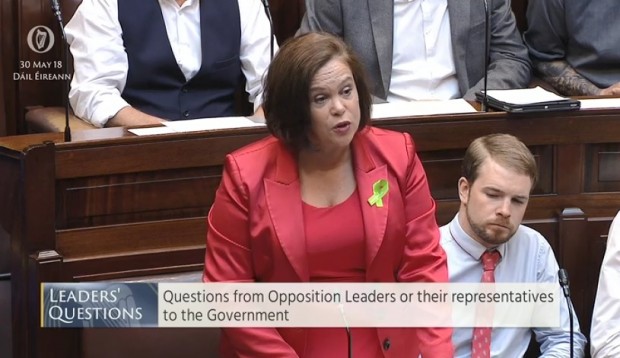 "These one hundred and twenty-six cases account for only one organisation involved in adoptions in this state. There was an estimated one hundred and eighty-two such organisations." - Mary Lou McDonald TD
Sinn Féin Leader Mary Lou McDonald TD has called on the Taoiseach to ensure a comprehensive and properly resourced investigation into the illegal adoptions scandal is carried out. 
This comes after Childrens' Minister Katherine Zappone finally revealed that at least one hundred and twenty-six children adopted from St Patrick's Guild in Dublin were incorrectly registered as the biological children of their adoptive parents. This news will not come as a surprise to many, as successive previous governments have known about this for decades.
Speaking in the Dáil this afternoon Deputy Mc Donald called for the investigation into this scandal to cover all agencies, individuals and homes involved in adoption in the state and the estimated two thousand babies who were illegally sent to the United States.
The Dublin Central TD said: "These one hundred and twenty-six cases account for only one organisation involved in adoptions in this state. There was an estimated one hundred and eighty-two such organisations.
"This is potentially only the tip of the iceberg. Any investigation must have as its basis a complete and comprehensive survey of all adoption files held by the state.
"I want to acknowledge that Minister Zappone has taken the initiative. However it needs to be said that successive government have known of this scandal. Yet they failed to name it and they failed to act despite reams of documentary evidence."
The Sinn Féin President said Irish society was again being confronted with the scandalous mistreatment of citizens by this state, particularly women and children.
Deputy McDonald continued: "We know that campaigners have been raising these issues with successive governments since at least 2002. They raised the specific matter of St Patrick's Guild in 2003 with the then Fianna Fail Children's Minister but no action was taken.
"Over the years, the Adoption Rights Alliance has raised the specific issue of illegal adoption with successive Ministers, the joint Oireachtas Committee and with the Adoption Authority of Ireland. No significant action ever followed.
"There are citizens who were illegally adopted but who have no idea that they are adoptees. Many have lived for decades unaware of their identities and with no access to their records.The investigation must now ensure that no affected person is left behind."
An Phoblacht Magazine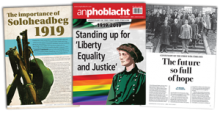 AN PHOBLACHT MAGAZINE:
Don't miss your chance to get the first edition of 2019 published to coincide with the 100th anniversary of An Chéad Dáil and Soloheadbeg.
In this edition Gerry Adams sets out the case for active abstentionism, Mícheál Mac Donncha takes us back to January 21st 1919, that fateful day after which here was no going back and Aengus Ó Snodaigh gives an account of the IRA attack carried out on the same day of the First Dáil, something that was to have a profound effect on the course of Irish history.
There are also articles about the aftermath of the 8th amendment campaign, the Rise of the Right and the civil rights movement.
An Phoblacht on Twitter

An initiative for dialogue 
for reconciliation 
— — — — — — —
Contributions from key figures in the churches, academia and wider civic society as well as senior republican figures