29 May 2018
DUP delegation giving succour to apartheid Israel - Sheehan
"It is war crimes inspectors who should be visiting Palestine, not self-styled DUP delegations that only provide succour to an apartheid state." - Pat Sheehan MLA
The DUP are giving succour to an apartheid state which massacres civilians by sending a delegation to Israel to strengthen economic and cultural links with the state, a Sinn Féin MLA has said. 
West Belfast MLA Pat Sheehan made the comment after the DUP announced it was sending a party delegation to Israel. 
The move comes after Israel shot dead more than 100 Palestinians and wounded thousands of others during protests recently amid a wave of international outrage at the actions of the Israeli military. 
Mr Sheehan said the planned visit shows the DUP's disregard for Israel's repeated breaches of international law. 
"It is war crimes inspectors who should be visiting Palestine, not self-styled DUP delegations that only provide succour to an apartheid state," he said. 
"This is a time when the international community should be standing up to the Israeli state for the indiscriminate slaughter and the ongoing discrimination of Palestinians, not a time for seeking stronger ties with the state. By doing so, the DUP disregard Israel's consistent refusal to abide by international law and UN resolutions.
"This is wrong and Sinn Féin again reiterate our support for the BDS and offer our strong solidarity to the people of Palestine," the West Belfast MLA added. 
An Phoblacht Magazine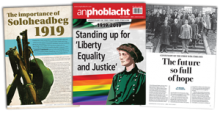 AN PHOBLACHT MAGAZINE:
Don't miss your chance to get the first edition of 2019 published to coincide with the 100th anniversary of An Chéad Dáil and Soloheadbeg.
In this edition Gerry Adams sets out the case for active abstentionism, Mícheál Mac Donncha takes us back to January 21st 1919, that fateful day after which here was no going back and Aengus Ó Snodaigh gives an account of the IRA attack carried out on the same day of the First Dáil, something that was to have a profound effect on the course of Irish history.
There are also articles about the aftermath of the 8th amendment campaign, the Rise of the Right and the civil rights movement.
An Phoblacht on Twitter

An initiative for dialogue 
for reconciliation 
— — — — — — —
Contributions from key figures in the churches, academia and wider civic society as well as senior republican figures