22 May 2018
Northern party leaders in joint call to remain in customs union and single market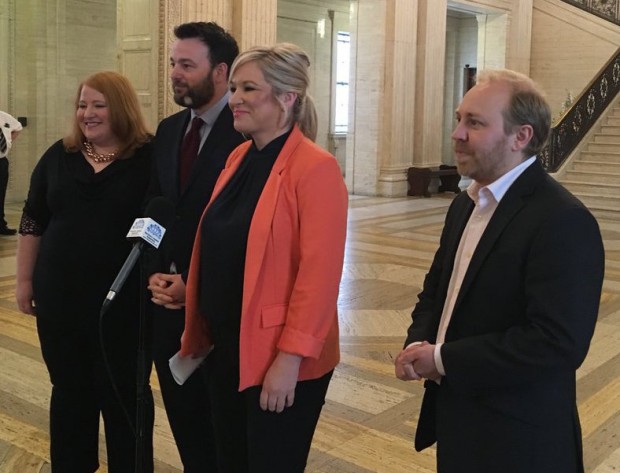 Sinn Féin's leadership joined with the leaders of other anti-Brexit parties in the north to make a joint call for the north to remain in both the customs union and single market and to avoid a hard border on the island of Ireland. 
The party's deputy leader, Michelle O'Neill MLA, issued a joint statement together with the leaders of the SDLP, Alliance and Green Party which said staying in the customs union, as well as avoiding a hard border in Ireland or in the Irish Sea is "critical to protecting investment, jobs, trade and the hard-won peace." 
The political leaders said the Brexit negotiations are entering a critical phase this week and when the outstanding issues relating to Ireland and the Withdrawal Agreement will be discussed. 
The statement said that the backstop option already agreed, which would see the north remain in the customs union and significant elements of the single market, must be protected. 
The joint statement reads: 
"The political parties in the Northern Ireland Assembly wish to reaffirm our common position that we cannot withstand exclusion from the single market or customs union; 
"That the protection of the Good Friday Agreement in all of its parts, including North/South and East/West co-operation is critical to maintaining relationships within, and between these islands;
"That the backstop agreed by both the British Government and the EU27 is the bottom line in order to safeguard our political and economic stability now and for the future."
An Phoblacht Magazine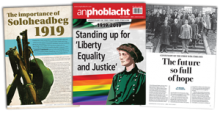 AN PHOBLACHT MAGAZINE:
Don't miss your chance to get the first edition of 2019 published to coincide with the 100th anniversary of An Chéad Dáil and Soloheadbeg.
In this edition Gerry Adams sets out the case for active abstentionism, Mícheál Mac Donncha takes us back to January 21st 1919, that fateful day after which here was no going back and Aengus Ó Snodaigh gives an account of the IRA attack carried out on the same day of the First Dáil, something that was to have a profound effect on the course of Irish history.
There are also articles about the aftermath of the 8th amendment campaign, the Rise of the Right and the civil rights movement.
An Phoblacht on Twitter

An initiative for dialogue 
for reconciliation 
— — — — — — —
Contributions from key figures in the churches, academia and wider civic society as well as senior republican figures