4 May 2018
'Stunning victory' for Órfhlaith Begley in West Tyrone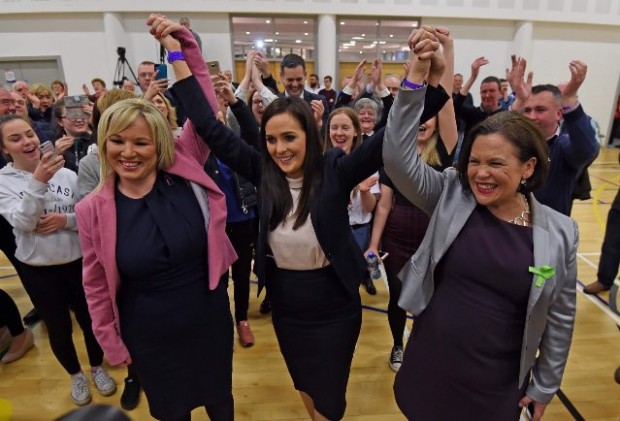 "The people of West Tyrone have elected their first female MP but, more than that, they have given a huge endorsement to our vision for a new type of politics and an Ireland that treats every single citizen with equality and respect." - Órflaith Begley MP
The election of Órfhlaith Begley in the West Tyrone by-election was a "stunning victory" for Sinn Féin, party leader Mary Lou Mc Donald has said. 
The 27 year-old was elected as the new MP for West Tyrone in the early hours of the morning with a majority of almost 8,000 after polling 16,346 votes. 
She becomes the first female MP to be elected in the constituency and the North's youngest MP with her election. 
Speaking after her election, the newly elected MP thanked supporters and pledged to represent everyone in the constituency. 
"The people of West Tyrone have elected their first female MP but, more than that, they have given a huge endorsement to our vision for a new type of politics and an Ireland that treats every single citizen with equality and respect.
"The electorate seized the opportunity to vote for equality and fairness and to reject borders and division and I want to thank every single person who voted for me and Sinn Féin," she said. 
Sinn Féin President Mary Lou McDonald, who was in Omagh at the count centre, said the election was Órfhlaith Begley has made history. 
"That is a stunning victory for Órfhlaith and for Sinn Féin," she said. 
"This election was the first time the people have been to the polls since the DUP walked away from the draft agreement and collapsed the talks process.
"Tonight the people have given their verdict on that and it is a huge endorsement for genuine power-sharing based on rights, equality and respect for all.
"The DUP should now end their blockage on a return to power-sharing and if they refuse, there is an onus on the two governments to urgently convene the British Irish Intergovernmental Conference to resolve the equality and rights issues at the heart of the crisis," she added. 
An Phoblacht Magazine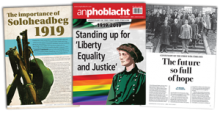 AN PHOBLACHT MAGAZINE:
Don't miss your chance to get the first edition of 2019 published to coincide with the 100th anniversary of An Chéad Dáil and Soloheadbeg.
In this edition Gerry Adams sets out the case for active abstentionism, Mícheál Mac Donncha takes us back to January 21st 1919, that fateful day after which here was no going back and Aengus Ó Snodaigh gives an account of the IRA attack carried out on the same day of the First Dáil, something that was to have a profound effect on the course of Irish history.
There are also articles about the aftermath of the 8th amendment campaign, the Rise of the Right and the civil rights movement.
An Phoblacht on Twitter

An initiative for dialogue 
for reconciliation 
— — — — — — —
Contributions from key figures in the churches, academia and wider civic society as well as senior republican figures