9 April 2018
Brexit protests held along the boder
Protests have been held along the border tonight calling for the Good Friday to be protected from Brexit on the eve of the 20th anniversary of the signing of the historic accord. 
The protests, which were organised by anti-Brexit lobby group Border Communities Against Brexit, were held at six locations from the Derry-Donegal border to Armagh-Louth border. 
New posters reading 'Listen to our voices, respect our vote, no EU frontier in Ireland' were erected along the border as part of the protests. 
More than 100 people attended the protest at Bridgend on the Derry - Donegal border, close to the site of the former British army border checkpoint to voice their opposition to any return to a hard border on the island. 
At the protest, veteran journalist and commentator, Pat McArt, told the crowd that Brexit could see a return to the hard borders of the 1970s and 1980s and result in the undermining of the Good Friday Agreement. 
"The Good Friday Agreement was about rights and there is no doubt that Brexit will have severe consequences for those rights.
"Erecting a hard border and the checkpoints that come with it undermines the psychology and spirit of the Good Friday Agreement," he said. 
He also called on the Irish government to stand firm against any plans to erect hard border in Ireland. 
Dermot O'Hara from Broder Communities Against Brexit said the Tory Brexit agenda would damage rights of citizens and called for protests to continue to send a clear message to those involved in the Brexit negotiations. 
An Phoblacht Magazine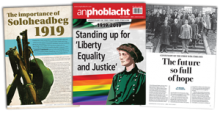 AN PHOBLACHT MAGAZINE:
Don't miss your chance to get the first edition of 2019 published to coincide with the 100th anniversary of An Chéad Dáil and Soloheadbeg.
In this edition Gerry Adams sets out the case for active abstentionism, Mícheál Mac Donncha takes us back to January 21st 1919, that fateful day after which here was no going back and Aengus Ó Snodaigh gives an account of the IRA attack carried out on the same day of the First Dáil, something that was to have a profound effect on the course of Irish history.
There are also articles about the aftermath of the 8th amendment campaign, the Rise of the Right and the civil rights movement.
An Phoblacht on Twitter

An initiative for dialogue 
for reconciliation 
— — — — — — —
Contributions from key figures in the churches, academia and wider civic society as well as senior republican figures