9 April 2018
West Tyrone by-election campaign launched
"Órfhlaith Begley is a symbol of a new era and that is what Sinn Féin is asking the people of West Tyrone to endorse when they go to polls in a few weeks time." - Michelle O'Neill
The campaign to elect Órfhlaith Begley as the next Sinn Féin MP for West Tyrone was launched today with Sinn Féin deputy leader Michelle O'Neill saying the by-election is an opportunity to oppose Brexit and demand a better future. 
The by-election campaign was launched in Strabane today by Michelle O'Neill ahead of next month's poll. 
Speaking at the launch, the Sinn Féin deputy leader said Órfhlaith Begley epitomises a new generation of Sinn Féin activists and a new era for the party. 
"Órfhlaith is an incredible young woman. A tireless, dedicated activist who in many ways epitomises where Sinn Féin is as a party.
"We are a dynamic, vibrant, forward-looking party. A reinvigorated party with a new leadership team that is bursting with articulate, passionate young activists like Órfhlaith Begley," she said. 
Michelle O'Neill also said major challenges remain with the impact of Brexit and continual DUP denial of rights but added that the upcoming by-election providers voters with an opportunity to have their say. 
"The DUP walked away from an agreement and are still opposing equality and rights for all citizens.
"Their toxic pact with the Tories is poisoning the political process and together, they are pursuing a reckless and damaging Brexit and austerity agenda.
"I have no doubt the people of West Tyrone will make their feelings known about all of that when they cast their vote on May 3rd.
"But it is easy to get people to vote against something. In this election we are asking them to vote for something.
"We are asking them to vote for a better future, to vote for rights and equality for all and to vote for a new Ireland, an agreed Ireland.
"Órfhlaith Begley is a symbol of a new era and that is what Sinn Féin is asking the people of West Tyrone to endorse when they go to polls in a few weeks time.
"A new future is possible. Go out there and grab it," she told the campaign launch. 
An Phoblacht Magazine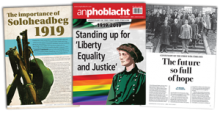 AN PHOBLACHT MAGAZINE:
Don't miss your chance to get the first edition of 2019 published to coincide with the 100th anniversary of An Chéad Dáil and Soloheadbeg.
In this edition Gerry Adams sets out the case for active abstentionism, Mícheál Mac Donncha takes us back to January 21st 1919, that fateful day after which here was no going back and Aengus Ó Snodaigh gives an account of the IRA attack carried out on the same day of the First Dáil, something that was to have a profound effect on the course of Irish history.
There are also articles about the aftermath of the 8th amendment campaign, the Rise of the Right and the civil rights movement.
An Phoblacht on Twitter

An initiative for dialogue 
for reconciliation 
— — — — — — —
Contributions from key figures in the churches, academia and wider civic society as well as senior republican figures