9 April 2018
Good Friday Agreement anniversary to be marked in Brussels tomorrow
"The Good Friday Agreement is not just a historic document and should not be regarded as such. It is currently under threat from Brexit and the policies of the Tories and DUP and must be protected." - Martina Anderson MEP
The 20th anniversary of the signing of the Good Friday Agreement will be marked in the European Parliament in Brussels tomorrow with an exhibition and keynote address from Sinn Féin's Michelle Gildernew. 
A delegation from the North, hosted by Sinn Féin MEP Martina Anderson, will travel to Brussels for the event to highlight the threat posed to the Good Friday Agreement by Brexit and to call for its full implementation two decades on.
Among those included in the delegation will be Sinn Féin's John Finucane, South Down MLA Emma Rogan, former deputy leader of the Ulster Unionist Party, John McCallister. 
It will also include representatives of bodies representing the Irish language community, the LGB&T+ sector and victims of state violence, as well as individuals from bodies set up under the Good Friday Agreement. 
The event will include an exhibition of photographs from the time of the signing of the Good Friday Agreement and images highlighting the unfinished business of the Agreement. 
Speaking ahead of the event, Martina Anderson said it is important to mark the anniversary of the Good Friday Agreement in Brussels given the impact of Brexit. 
"The Good Friday Agreement is not just a historic document and should not be regarded as such. It is currently under threat from Brexit and the policies of the Tories and DUP and must be protected. 
"The EU have made it clear in successive resolutions and agreements that it values the Good Friday Agreement and hat it must be protected in all its parts," she said. 
An Phoblacht Magazine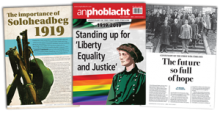 AN PHOBLACHT MAGAZINE:
Don't miss your chance to get the first edition of 2019 published to coincide with the 100th anniversary of An Chéad Dáil and Soloheadbeg.
In this edition Gerry Adams sets out the case for active abstentionism, Mícheál Mac Donncha takes us back to January 21st 1919, that fateful day after which here was no going back and Aengus Ó Snodaigh gives an account of the IRA attack carried out on the same day of the First Dáil, something that was to have a profound effect on the course of Irish history.
There are also articles about the aftermath of the 8th amendment campaign, the Rise of the Right and the civil rights movement.
An Phoblacht on Twitter

An initiative for dialogue 
for reconciliation 
— — — — — — —
Contributions from key figures in the churches, academia and wider civic society as well as senior republican figures