29 March 2018
Pearse Doherty TD questions Minister Murphy's ability to handle housing crisis
"Tánaiste you are a family man. Can you imagine your children living in emergency accommodation? I shudder to think if they were my children. - Pearse Doherty TD
Sinn Féin's Deputy Leader in the Dáil, Pearse Doherty TD, has questioned the level that the homelessness crisis must reach before Housing Minister Eoghan Murphy's position becomes untenable.
Speaking in the Dáil this afternoon, the Donegal TD urged the Tánaiste, Simon Coveney, to accept the Government's failure to handle the homelessness crisis, and for Deputy Coveney to outline their plan to get the situation under control.
In January Minister Murphy claimed he was making progress on tackling the homelessness crisis. He said the modest fall in the number of adults and children in emergency accommodation in December demonstrated that Rebuilding Ireland was working.
Yesterday the latest homeless figures from the Department of Housing show a dramatic increase in adult and child homelessness - the second month of such increases.
Deputy Doherty said: "There are now almost 10,000 adults and children living in Department of Housing founded emergency accommodation.
"These figures do not include rough sleepers, don't include adults and children in Tulsa funded domestic violence shelters, or refugees forced to use Direct Provision as emergency accommodation after having secured their right to remain.
"More than 3755 children last night slept in hotels, B&B's and Family HUBs."
Deputy Doherty criticised the 50% increase in homelessness over the past 12 months, which has been allowed to happen under a Government who created a stand-alone Housing Department and a Minister for Housing.
Pearse Doherty TD asked the Tánaiste to put himself in a homeless person's shoes.
He said:  "Tánaiste you are a family man. Can you imagine your children living in emergency accommodation? I shudder to think if they were my children.
"The Minister's claim that he is getting a grip on the homelessness crisis is simply not true. His position is becoming increasingly untenable."
Earlier Housing Campaigner Father Peter McVerry and Focus Ireland founder Sister Stan, brought some non-political criticisms to the Tánaiste.
Speaking on Morning Ireland today, Sister Stan said: "I have lost all confidence in this Governments ability to solve this crisis.
She stated that, "Rebuilding Ireland has failed", and accused the Government of failing to protect tenants at risk of homelessness.
Yesterday veteran campaigner, Father Peter McVerry, stated that the Government's housing plan was "deeply flawed" and dismissed it as "a stack of press statements aimed primarily at presenting a positive picture".
Deputy Doherty stressed that people are asking how, at a time of economic growth, homelessness can rise so dramatically, and that the Government is refusing to take the steps necessary to end the crisis.
"Do you accept that you are failing to tackle the homelessness crisis? Do you accept that what you are doing, and not doing, is making the crisis worse?
"Will you outline what you will now do to get this crisis under control? And what level must child homelessness reach before your position and that of Minister Murphy becomes untenable?"
Tánaiste Simon Coveney responded with facts and figures of increased spending over the past year, all of which have done nothing to combat this crisis.
Deputy Doherty concluded: "Tánaiste not only are you failing to get to grips with the homeless crisis. Your actions and inactions are making it worse.
"Every time you are given a solution to the homeless crisis you look the other way. This is why the number of adults and children in emergency accommodation is increasing. This on you and your Housing Minister."
An Phoblacht Magazine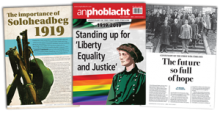 AN PHOBLACHT MAGAZINE:
Don't miss your chance to get the first edition of 2019 published to coincide with the 100th anniversary of An Chéad Dáil and Soloheadbeg.
In this edition Gerry Adams sets out the case for active abstentionism, Mícheál Mac Donncha takes us back to January 21st 1919, that fateful day after which here was no going back and Aengus Ó Snodaigh gives an account of the IRA attack carried out on the same day of the First Dáil, something that was to have a profound effect on the course of Irish history.
There are also articles about the aftermath of the 8th amendment campaign, the Rise of the Right and the civil rights movement.
An Phoblacht on Twitter

An initiative for dialogue 
for reconciliation 
— — — — — — —
Contributions from key figures in the churches, academia and wider civic society as well as senior republican figures