27 March 2018
Sinn Féin pressure sees Government Spin Unit set to close
"This does not diminish my belief that the Taoiseach must present himself to the PAC because there is in my view an abuse of public money in this process and the Taoiseach and his officials need to account for that (money) during that process" – Pearse Doherty TD
News has broken today that the Government is set to close its Strategic Communications Unit by July, after the cabinet has been informed. The decision comes after months of sustained pressure from Sinn Féin calling for the spin unit to be disbanded, and for the Taoiseach and relevant personal to come before the Public Accounts Committee to account for funding and procedure within the unit.
The Taoiseach initially claimed that the unit would be cost neutral, yet this was quickly disproven after it emerged that the unit would have a budget of €5m from taxpayers' money. This amounts to one third of the extra funding allocated for mental health services in Budget 2018.
Sinn Féin heavily criticised the Taoiseach and the spin unit for promoting Fine Gael candidates and Ministers throughout the Ireland 2040 campaign, as well as through exploiting print media with prepaid for advertorials.
Heading up the Sinn Féin campaign to bin the spin was the party's Finance spokesperson Pearse Doherty, who was one of a number of TDs to put their name on a Dáil motion calling for the disbandment of the SCU.
The motion passed 85 votes to 49, after Fine Gael were left as the sole defendants of their vanity unit.
In a statement to An Phoblacht today, Pearse Doherty said that the decision of the Taoiseach to wind down the unit is a vindication of Sinn Féin's calls for the disbandment of the "deceitful project".
The Sinn Féin Dáil deputy leader went on to say that "While I welcome the news, this does not diminish my belief that the Taoiseach must present himself to the PAC because there is in my view an abuse of public money in this process and the Taoiseach and his officials need to account for that (money) during that process."
The Taoiseach will appear before the Dáil Finance committee this Thursday where Pearse Doherty will use the opportunity to tackle the Taoiseach on his Fine Gael propaganda unit.
An Phoblacht Magazine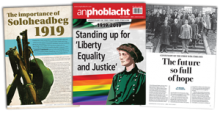 AN PHOBLACHT MAGAZINE:
Don't miss your chance to get the first edition of 2019 published to coincide with the 100th anniversary of An Chéad Dáil and Soloheadbeg.
In this edition Gerry Adams sets out the case for active abstentionism, Mícheál Mac Donncha takes us back to January 21st 1919, that fateful day after which here was no going back and Aengus Ó Snodaigh gives an account of the IRA attack carried out on the same day of the First Dáil, something that was to have a profound effect on the course of Irish history.
There are also articles about the aftermath of the 8th amendment campaign, the Rise of the Right and the civil rights movement.
An Phoblacht on Twitter

An initiative for dialogue 
for reconciliation 
— — — — — — —
Contributions from key figures in the churches, academia and wider civic society as well as senior republican figures