27 March 2018
Martin's legacy will be a new Ireland - Gerry Adams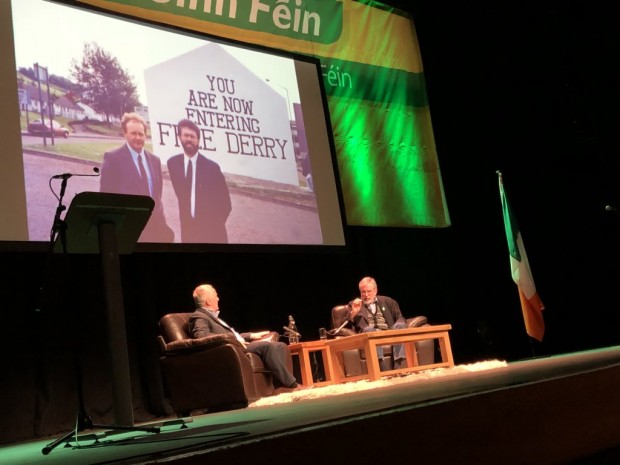 "He obviously made his mark and those of us who were privileged and honoured to be close to him share a common loss with many, many people who never knew Martin but felt an affinity with him." - Gerry Adams
More than 800 people packed into the Millennium Forum Theatre in Derry last night for the 'Remembering the Chieftain' event which saw former Sinn Féin President Gerry Adams recount his memories of the late Martin McGuinness.
It was the culmination of a series of events organised in Derry over the last week to celebrate the life and legacy of Martin McGuinness on the first anniversary of his death.
At the event, Gerry Adams was interviewed by Foyle MLA Raymond McCartney about his memories of Martin McGuinness and their long partnership which stretched more than 45 years.
The McGuinness family, including Martin's wife, Bernie, and their children and grandchildren, were among the large crowd who listed as the Louth TD spoke of his personal and political relationship with Martin.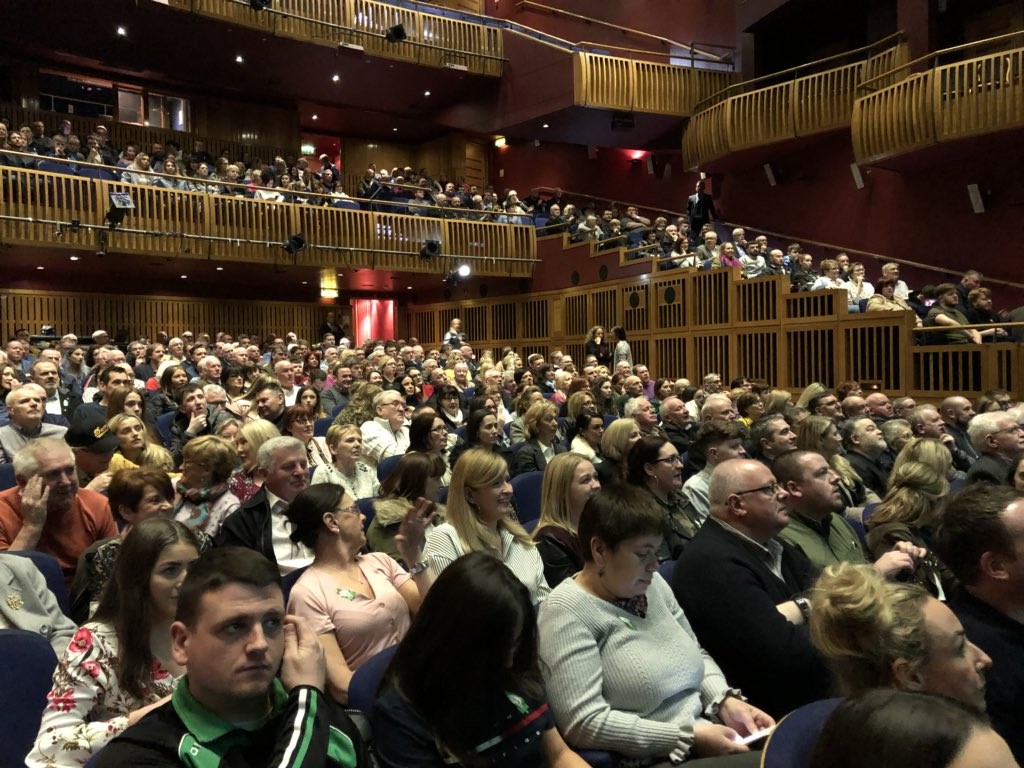 Over the course of the evening, Gerry Adams recounted his first meetings with Martin, including their first encounter when they were part of a republican delegation and the British government.
Discussing their first meeting, Gerry Adams said: "A meeting of us who were going was held in Dublin in Myles Shevlin's home. That was the first time I met Martin. We were young guys. The older men there were planning a very formal meeting and I took a different approach and said that's what they'd be used to, let's approach this in a different way and Martin made the same point. So even though we didn't know each other then it was clear we shared common notions of how to conduct ourselves."
The former Sinn Féin President also said he misses Martin McGuinness every day. 
"What is really striking about Martin's death and the impact that it has is that it was so unfair. He was looking forward so much to coming out of the deputy First Minister position. And he was looking forward to being with Bernie and the kids and grandkids and spending time in Donegal.
"I do miss him everyday now. I thought at the second Ard Fheis (in February) that it was a bit more therapeutic but I found the event at Stormont when the portrait was unveiled very emotional. I found The Chieftain's Walk event very uplifting, so it is different. It comes at me in all sorts of ways and most of it isn't political. When the Sunday Game comes on Martin comes into my head because I know he would have been watching it. 
"I spent three days on my own in Donegal and I couldn't get him out of my head for the whole three days. 
"If the likes of me is going through those processes I can only guess how difficult it is for Bernie, Fionnuala, Grainne, Emmet and Fiachra," he explained.
Gerry Adams also said Martin McGuinness had an impact that went far beyond politics.
"When we were fighting the recent two elections in the north I was struck by the number of people, mostly in their 30s or 40s who said to me that they grew up with me and Martin in their sitting rooms on their TVs, including people who were very hostile to us, who were very taken by Martin's death and the suddenness of it. So he obviously made his mark and those of us who were privileged and honoured to be close to him share a common loss with many, many people who never knew Martin but felt an affinity with him," he told the audience.
The Louth TD said Martin McGuinness will always be remembered by all those who met him and that his legacy will be a new Ireland.
"Martin wouldn't like to be singled out and for people to say it was down to him, buta huge amount of it is. What a lot of people take for granted now would not have happened without him. So his legacy is a new Ireland," he said.
An Phoblacht Magazine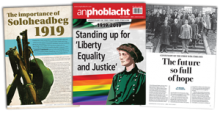 AN PHOBLACHT MAGAZINE:
Don't miss your chance to get the first edition of 2019 published to coincide with the 100th anniversary of An Chéad Dáil and Soloheadbeg.
In this edition Gerry Adams sets out the case for active abstentionism, Mícheál Mac Donncha takes us back to January 21st 1919, that fateful day after which here was no going back and Aengus Ó Snodaigh gives an account of the IRA attack carried out on the same day of the First Dáil, something that was to have a profound effect on the course of Irish history.
There are also articles about the aftermath of the 8th amendment campaign, the Rise of the Right and the civil rights movement.
An Phoblacht on Twitter

An initiative for dialogue 
for reconciliation 
— — — — — — —
Contributions from key figures in the churches, academia and wider civic society as well as senior republican figures