12 March 2018
Derry to host Sinn Féin National Youth Congress
"The Congress gives young people a chance to have their say and help to build a young, vibrant and a mass movement for unity. I would encourage young people across the island to sign up and take part." - Fintan Warfield
Ógra Shinn Féin is set to hold its 2018 National Youth Congress/Comhdháil Náisiúnta in Derry City on Saturday, 24th March 2018. 
Delegates from across the island will gather in the Gasyard Centre to host a number of workshops and debates on a range of issues including youth and social affairs, education and international affairs. 
A number of invited guests from international youth movements in Catalonia, Basque Country, Kurdistan and Palestine will also take part in the event, participating in a number of panel discussions. 
Speaking ahead of the Congress, Chairperson of Ógra Shinn Féin, Fintan Warfield said:
"We look forward to hosting the National Youth Congress in Derry following a successful conference in 2017. This is the largest gathering of young Republicans on the island of Ireland.
"It will take place in the Gasyard Centre in the Bogside on Saturday 24th March from 10am to coincide with the Chieftain's Walk in memory of Martin McGuinness. 
"The theme this year is 'Rights & Equality' - we feel this is fitting given the current political situation in the north where people are being denied language rights, marriage equality and access to coroners inquests. This year is also significant as we approach the referendum on the repeal of the 8th amendment. 
"Ógra Shinn Féin provides a political space for progressive young people to shape policy, debate and educate themselves on our key political objectives. 
"The Congress gives young people a chance to have their say and help to build a young, vibrant and a mass movement for unity. I would encourage young people across the island to sign up and take part."
Those wishing to register can do so online at: 
https://www.eventbrite.ie/e/sinn-fein-national-youth-congress-2018-tickets-43475112231?aff=es2
An Phoblacht Magazine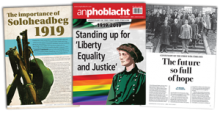 AN PHOBLACHT MAGAZINE:
Don't miss your chance to get the first edition of 2019 published to coincide with the 100th anniversary of An Chéad Dáil and Soloheadbeg.
In this edition Gerry Adams sets out the case for active abstentionism, Mícheál Mac Donncha takes us back to January 21st 1919, that fateful day after which here was no going back and Aengus Ó Snodaigh gives an account of the IRA attack carried out on the same day of the First Dáil, something that was to have a profound effect on the course of Irish history.
There are also articles about the aftermath of the 8th amendment campaign, the Rise of the Right and the civil rights movement.
An Phoblacht on Twitter

An initiative for dialogue 
for reconciliation 
— — — — — — —
Contributions from key figures in the churches, academia and wider civic society as well as senior republican figures