8 March 2018
Tánaiste urged to call for 'promised review into domestic homicides'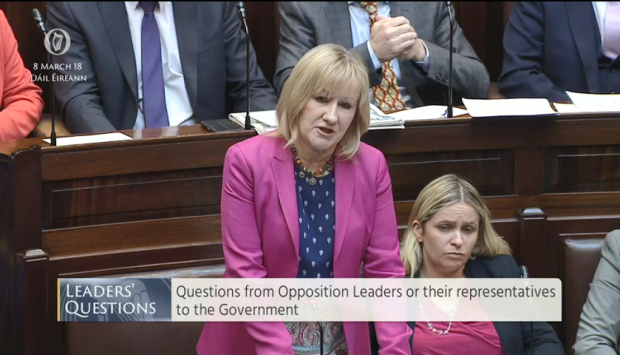 "Going back to 2016, the then Tánaiste Frances Fitzgerald, gave a commitment that the review would be published in February 2017. This is now March 2018 Minister. When can we expect that review to be completed?" - Imelda Munster TD
Sinn Féin's Imelda Munster TD has called for the review into domestic homicides to be completed, whilst speaking in the Dáil this afternoon.
This comes after yesterday's evidence from two civilian members of An Gardai Síochána's statistics unit, who outlined how some homicides were not being properly recorded.
The deputy head of the Garda Síochána Analysis Service, Lois West, and her colleague Laura Galligan, commented on how they were "belittled and treated very poorly" when they tried to raise concerns about misreporting of homicides with senior officers.
Deputy Munster urged Tánaiste Simon Coveney to call for completion of the review.
The Louth TD said: "Going back to 2016, the then Tánaiste Frances Fitzgerald, gave a commitment that the review would be published in February 2017. This is now March 2018 Minister. When can we expect that review to be completed?"
Deputy Munster also took time to acknowledge International Woman's Day, describing it as an "important occasion on which we remember the great stride forwards in women's equality over many decades".
She continued: "Whilst progress has been made by the efforts of generations of Irish women in addressing the historic injustices forced on women by this State, the legacy of that treatment remains with us today.
"On issues like pay equality - or the lack of it - the scarcity of women from many aspects of public life, politics or leadership positions in government and academia there is a lot of work left to do."
The government's promise to update research on sexual abuse was also brought to the forefront by the Sinn Féin TD. The Savi (Sexual Abuse and Violence in Ireland) report was carried out in 2002, and in November last year it was decided by the Cabinet sub-committee on social policy, that a new inquiry should be carried out.
Deputy Munster questioned whether or not the new report would include policy areas that were not previously covered.
The Sinn Féin TD said: "Late last year, Sinn Féin welcomed the decision by government to update the SAVI report of 15 years ago.
"However, we said at that time that the inclusion of policy areas not covered in the previous report - including significant shortfalls in data collection and management within State agencies such as An Garda Síochána, the Court Services and Tusla was vital. Are these to be included in the SAVI report?"
An Phoblacht Magazine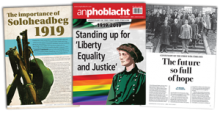 AN PHOBLACHT MAGAZINE:
Don't miss your chance to get the first edition of 2019 published to coincide with the 100th anniversary of An Chéad Dáil and Soloheadbeg.
In this edition Gerry Adams sets out the case for active abstentionism, Mícheál Mac Donncha takes us back to January 21st 1919, that fateful day after which here was no going back and Aengus Ó Snodaigh gives an account of the IRA attack carried out on the same day of the First Dáil, something that was to have a profound effect on the course of Irish history.
There are also articles about the aftermath of the 8th amendment campaign, the Rise of the Right and the civil rights movement.
An Phoblacht on Twitter

An initiative for dialogue 
for reconciliation 
— — — — — — —
Contributions from key figures in the churches, academia and wider civic society as well as senior republican figures