6 March 2018
Pressure mounts on Taoiseach to bin spin unit
"The underhand communications strategy to promote Fine Gael was carried out using public money. It was political propaganda. It was not done to benefit the people. It was done to benefit Fine Gael."
Pressure is increasing on Taoiseach Leo Varadkar to disband his Department's strategic communications unit after being challenged by Sinn Féin president Mary Lou McDonald at leader's questions today.
Recent revelations show that the Taoiseach sought to centralise government communications not long after his election as Fine Gael leader which was met with unilateral criticism from opposition parties across the divide. 
One key point of contention was the recent surfacing of 'advertorials' across regional and national print media that were published in partnership with the Government.
According to the Government, the advertorials were published to promote the Ireland 2040 project and no publishing laws have been broken. Critics argued the advertorials were framed to look like regular editorials in what seems to be an attempt to market Fine Gael as a brand to the public by infiltrating print media with pre-paid 'advertorials' promoting government figures and key election candidates. 
Deputy McDonald called on the Taoiseach to disband the spin unit, saying that Sinn Féin will move a motion to do so, as well as calling upon him and all relevant officials to come before the Public Accounts Committee to explain how public money was spent by the SCU. Budget 2018 revealed that the SCU was allocated €5m for operational purposes, which amounts to 30% of the additional funding allocated to mental health services in the same year.
The Dublin Central TD went on to read a segment from an email sent to media which read "Part of the deal is that we don't have a moniker such as 'Advertorial' or 'special feature' or anything like that - it simply runs as normal editorial." This was followed with the phrase "I do hope your editorial team understands this."
In a fiery exchange, Taoiseach Varadkar insisted that nobody from his office sent such and email claiming it was a sub-contractor company but the Sinn Féin leader argued that the spin unit has implemented this very sly strategy of placing paid-for political advertising as regular news articles.
In a statement after leader's questions, Deputy McDonald said that the underhand communications strategy to promote Fine Gael was carried out using public money, and that "this was not about informing citizens. It is about promoting your party among them."
"This was not news. It was political propaganda. It was not done to benefit the people. It was done to benefit Fine Gael."
Teachta McDonald said that that Taoiseach must now move to disband the unit and must come before the PAC and give an explanation as to whether public money has been spent on and by the Strategic Communications Unit, and whether such money was spent appropriately. 
Sinn Féin's motion to disband the strategic communications unit will be put to the Dáil later this month and is expected to win unanimous opposition support.
An Phoblacht Magazine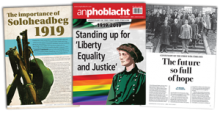 AN PHOBLACHT MAGAZINE:
Don't miss your chance to get the first edition of 2019 published to coincide with the 100th anniversary of An Chéad Dáil and Soloheadbeg.
In this edition Gerry Adams sets out the case for active abstentionism, Mícheál Mac Donncha takes us back to January 21st 1919, that fateful day after which here was no going back and Aengus Ó Snodaigh gives an account of the IRA attack carried out on the same day of the First Dáil, something that was to have a profound effect on the course of Irish history.
There are also articles about the aftermath of the 8th amendment campaign, the Rise of the Right and the civil rights movement.
An Phoblacht on Twitter

An initiative for dialogue 
for reconciliation 
— — — — — — —
Contributions from key figures in the churches, academia and wider civic society as well as senior republican figures