27 February 2018
Ireland's interests must be defended during Brexit negotiations
"The legal text must explicitly state that there will be no Brexit Border on the island of Ireland. The text must also ensure the Good Friday agreement is protected in all its parts and it must make clear that there will be no loss of rights for citizens."
Sinn Féin president Mary Lou McDonald has called on Taoiseach Leo Varadkar to confirm whether tomorrow's draft legal text will see Ireland's interests protected during the Brexit negotiations.
Tomorrow will see the publication of the text giving legal affect to the political agreement between the EU and the British government during the Brexit negotiations. The principles of the agreement published to date showed some progress, but came under heavy criticism due to contradictions which significantly undermine it. 
The main contradictions were that there will be no hard border on the island of Ireland, but that the North will be dragged out of the Customs Union and the Single Market. Following this, it says that there is no threat to the Good Friday Agreement, yet an estimated 142 areas of all-Ireland co-operation could be adversely affected by the Tory Brexit agenda.
Crucially, it also says that there will be no erosion of rights for citizens living in the North, but that Britain will forcibly remove the North from accessing the European Courts of Justice.
The newly-elected Sinn Féin leader told the Taoiseach he had to resolve these contradictions before the political agreement could be converted to a legally binding text. 
Speaking in the Dáil, the Dublin Central TD said;
"In converting December's political agreement into a legally binding withdrawal text, it is absolutely crucial that these contradictions are resolved. This is the only way to bring clarity and certainty for our people, our all-island economy, and our agreements.
"This means that the legal text must explicitly state that there will be no Brexit Border on the island of Ireland. The only way to guarantee this is for the North to remain with the Customs Union and the Single Market.
"The text must ensure the protection of the Good Friday agreement in all its parts and it must make clear that there will be no loss of rights for citizens."
Taoiseach Varadkar previously stated that in light of Brexit we "cannot afford a leap into the dark" in these negotiations. However, it is clear that any legal withdrawal agreement that doesn't resolve such contradictions would clearly constitute such a leap.
An Phoblacht Magazine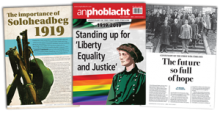 AN PHOBLACHT MAGAZINE:
Don't miss your chance to get the first edition of 2019 published to coincide with the 100th anniversary of An Chéad Dáil and Soloheadbeg.
In this edition Gerry Adams sets out the case for active abstentionism, Mícheál Mac Donncha takes us back to January 21st 1919, that fateful day after which here was no going back and Aengus Ó Snodaigh gives an account of the IRA attack carried out on the same day of the First Dáil, something that was to have a profound effect on the course of Irish history.
There are also articles about the aftermath of the 8th amendment campaign, the Rise of the Right and the civil rights movement.
An Phoblacht on Twitter

An initiative for dialogue 
for reconciliation 
— — — — — — —
Contributions from key figures in the churches, academia and wider civic society as well as senior republican figures