11 February 2018
Gerry Adams - a sound man! - Raymond McCartney
Leaders lead and in those history altering moments, in an bearna baol, when others may falter or wish to be cautious, Gerry Adams was decisive. That is what makes him stand apart. Fearless, courageous, knowing what needs to be done, when and how. - Raymond McCartney
I was interned on the 1st November 1973.
After a few weeks in Cage 2, I was moved to Cage 6.
It was there I met Gerry Adams for the first time.
In two and half huts, designed at best for 50 people, there were over 80 of us.
Men and boys of every age and from all arts and parts.
Radios, TVs, guitars, readers, letter writers, chess players, hands of cards, hands for handicrafts, all competing for that wee bit of space, to put some routine into what was in essence, organised chaos.
Playing football in a small yard as walkers and joggers weaved in and out, and us sidestepping them.
Forging friendship and comradeship that was valued then, and cherished now, learning by watching, listening and observing.
Alex Maskey and his brother Liam, Tommy Todler Tolan, Seamie Kelly, Micky Blue Kelly, Tucker McCrory, Seamus Hickey, Marshall Mooney, Jimmy Duffy, Mickey Brady to name some, among many.
From Derry, Eugene Lafferty, Coleman Moore, Johnny McLaughlin, Tom Ryan, Paddy Mullan people who became friends, mentors.
One abiding memory which will remain so, because of a conversation some 30 years after it first happened. Football matches were always competitive, always looking for the added edge, best provided by, 'our hut' versus 'theirs.
Being selected as one of six, and after the game, battle even, Big Marshall Mooney, who for me was twice my size and viewed as one of the respected old hands, saying to me, "Son, you have a heart like a lion."
Then in Conway Mill all those years later, meeting again, him lifting me off my feet in a gigantic hug and then reminding me of that football match all those years ago. I think my heart filled even more than at the time. Now all the more poignant since Marshall's passing.
And yet amidst of all this anarchic order, there was room for political discussion.
It was here that I experienced the calm, assured nature of Gerry Adams.
Instilling in us, by urging us, to ask questions, seek answers and never rely on something merely by who said it.
Even then, Gerry A was well known to all of us. His release from the Kesh in 1972 to be part of the delegation to meet Willie Whitelaw, is stuff of the great accolade of that time – "he's a sound man." Nowadays, the facebook generation would have it, "legend."
So when he spoke, there was an authority about it, but his approach was, "find this out for yourself."
Be that by reminding you, chiding you on, to stick at the Irish class when he knew the yard and the ball was a better attraction.
Or leaving a book on your bed, and a wee word in passing that you might find this helpful.
He wasn't without a bit of a devilment himself and as the Ballymurphy lads would remind us every now and again when he was at it, "Told you, he is as daft as a brush."
I am not going to say that I knew then that he would be the finest republican leader of my generation, not that I am tempted!
However I can say, that it came as no surprise to me that in subsequent years that Sinn Féin with him as our President, that we would become the largest political party on the island of Ireland and all that comes with that. And this is plentiful and familiar to us all.
In any setting I have found myself in the presence of Gerry Adams those same qualities from Cage 6 were obvious and ever present.
Ask questions, come to accept it by understanding it, was his approach.
Of course, leaders, lead. They must have no fear of facing the challenge, setting out the vision, devising the strategy and then implementing the tactical plan to take us to where we need to be. Time out of number, and then one more time!
In over thirty years of leading our party, our struggle, the vision was laid out before us and we can reflect on it today with a sense of satisfaction and achievement.
Gerry Adams knows better than any, all of us that this could only have happened because of the dedication, commitment, sacrifice of many, many people.
He epitomises the role and relationship of the individual in collective struggle.
But as I have said, leaders lead and in those history altering moments, in an bearna baol, when others may falter or wish to be cautious, Gerry Adams was decisive. That is what makes him stand apart. Fearless, courageous, knowing what needs to be done, when and how.
So as he steps away from the President's office and Mary Lou steps forward, it isn't really the time to say "slán go foill" and the manner of the man will not want to be told "well done". However, it is appropriate to show our appreciation, acknowledge a lifetime of activism and observe, "Ní bheidh a leithid aris"
Gerry Adams, as we said back then, and I say now "you are a sound man."
An Phoblacht Magazine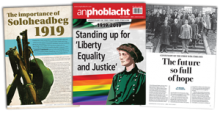 AN PHOBLACHT MAGAZINE:
Don't miss your chance to get the first edition of 2019 published to coincide with the 100th anniversary of An Chéad Dáil and Soloheadbeg.
In this edition Gerry Adams sets out the case for active abstentionism, Mícheál Mac Donncha takes us back to January 21st 1919, that fateful day after which here was no going back and Aengus Ó Snodaigh gives an account of the IRA attack carried out on the same day of the First Dáil, something that was to have a profound effect on the course of Irish history.
There are also articles about the aftermath of the 8th amendment campaign, the Rise of the Right and the civil rights movement.
An Phoblacht on Twitter

An initiative for dialogue 
for reconciliation 
— — — — — — —
Contributions from key figures in the churches, academia and wider civic society as well as senior republican figures