10 February 2018
New chapter on road to Republic has begun
"A new chapter on the road to the republic has begun. We all have a part to play in writing it." - Sinn Féin President Mary Lou McDonald TD
New Sinn Féin President Mary Lou McDonald has said a new chapter in the road to the creation of a true republic has begun. 
The Dublin Central TD was formally elected as the new Uachtarán Shinn Féin at the party's special Ard Fheis in Dublin's RDS this afternoon. 
Thousands of republicans across Ireland, as well as international guests, gathered in the RDS for the special Ard Fheis, where the new Sinn Féin leadership team of Mary Lou McDonald and vice-president, Michelle O'Neill were elected. 
The new Sinn Féin President said she was "honoured and privileged" to be selected as leader, and paid tribute to her predecessor, Gerry Adams. 
"Gerry Adams, more than anybody else, built Sinn Féin. His leadership has guided our party to its strongest position since partition. He has defined politics on this island for a generation or more," she said. 
Mary Lou McDonald was formally proposed for the role by north Belfast's John Finucane and that nomination was seconded by Louise O'Reilly TD. 
Speaking to the packed hall, Mary Lou McDonald said she is ready to lead Sinn Féin into the future. 
"Now as a new generation takes the reins of leadership, our job is to bring innovative and modern ways of advancing our politics.
"Shoulder to shoulder with our Leas Uachtaráin Michelle O'Neill and our collective leadership, we will lead from the front, with determination and courage," she added. 
The new President said she wants to build a new republic where all citizens are respected. 
"We are United Irelanders. We want to secure and win a referendum on Irish Unity.
 "I want us to achieve this with respect, graciousness and generosity.
"We do not want a 32 county free state. We want a new Ireland, in which rights are guaranteed, cultures respected, and the diversity of our identities embraced," she said. 
Mary Lou McDonald also said genuine prosperity should be the hallmark of a new republic. 
"Real prosperity is shared prosperity. A prosperous society is an equal society. A prosperous society funds and resources public services, provides healthcare on the basis of need and equal educational opportunities for all. Our party is on the side of the ordinary people," she added. 
The new Sinn Féin leader called on all republicans and those who believe in progressive politics to play their part in creating a new Ireland. 
"A new chapter on the road to the republic has begun. We all have a part to play in writing it.
 "How the chapter unfolds is up to everybody here. We are the generation of republicans who will see the rising of the moon with Sinn Féin in government both North and South," she said. 
An Phoblacht Magazine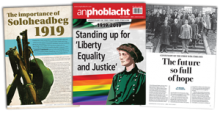 AN PHOBLACHT MAGAZINE:
Don't miss your chance to get the first edition of 2019 published to coincide with the 100th anniversary of An Chéad Dáil and Soloheadbeg.
In this edition Gerry Adams sets out the case for active abstentionism, Mícheál Mac Donncha takes us back to January 21st 1919, that fateful day after which here was no going back and Aengus Ó Snodaigh gives an account of the IRA attack carried out on the same day of the First Dáil, something that was to have a profound effect on the course of Irish history.
There are also articles about the aftermath of the 8th amendment campaign, the Rise of the Right and the civil rights movement.
An Phoblacht on Twitter

An initiative for dialogue 
for reconciliation 
— — — — — — —
Contributions from key figures in the churches, academia and wider civic society as well as senior republican figures