10 February 2018
Talks resolution can be found - Michelle O'Neill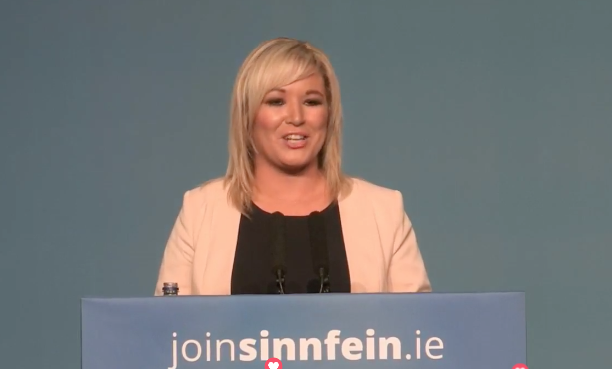 "I believe that the issues which caused the collapse of Stormont can be resolved with political will and mutual respect." - Michelle O'Neill
The newly elected Sinn Féin vice president, Michelle O'Neill, has said she believes a resolution to the outstanding issues in the northern talks can be found in the week ahead. 
Speaking at the Sinn Féin Special Ard Fheis in Dublin this afternoon, where she was ratified for the role by party delegates, Michelle O'Neill said she was honoured to be joining Sinn Féin President Mary Lou McDonald in the party leadership. 
Addressing the packed hall of party delegates, the Mid Ulster MLA sad: "It is a huge honour and it's very humbling for me to be elected, by you - our national grassroots membership - to this role, within this great party." 
Discussing the ongoing talks in the north and increasing speculation about the possibility of a breakthrough, the Sinn Féin Vice President said that her focus remains establishing an Executive based on equality that delivers for all. 
"As in any negotiation there has been give and take and at this point we have not yet resolved or over-come all our differences to satisfaction.
"There is no doubt progress has been made, but there are outstanding issues which remain unresolved," she said. 
She also said that she believes the outstanding matters can be resolved when talks reconvene next week. 
"We will continue to meet with the DUP and both governments and will re-engage on Monday and I anticipate that talks will conclude next week.
"I believe that the issues which caused the collapse of Stormont can be resolved with political will and mutual respect.
"I sincerely hope that the political will is there from all parties and both governments to ensure we get a resolution that comprehensively deals with the issues and puts sustainable, genuine power-sharing institutions in place," she explained. 
Ms O'Neill also said Sinn Féin needs to grow in the time ahead in order to meet the challenges of Brexit and to build support for Irish unity. 
"We are entering a defining period in Irish political history – not least in the context of Brexit. Let's be clear – the whole of Ireland must remain within the EU together.  
"The North cannot withstand exclusion from the single market and customs union if we are to avoid economic apartheid and a hard border in Ireland.
"Sinn Féin is a growing political force – a national movement for reunification, for social justice and for economic prosperity. We stand for progressive republican politics. We are a party of Government North and South." 
An Phoblacht Magazine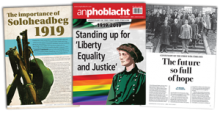 AN PHOBLACHT MAGAZINE:
Don't miss your chance to get the first edition of 2019 published to coincide with the 100th anniversary of An Chéad Dáil and Soloheadbeg.
In this edition Gerry Adams sets out the case for active abstentionism, Mícheál Mac Donncha takes us back to January 21st 1919, that fateful day after which here was no going back and Aengus Ó Snodaigh gives an account of the IRA attack carried out on the same day of the First Dáil, something that was to have a profound effect on the course of Irish history.
There are also articles about the aftermath of the 8th amendment campaign, the Rise of the Right and the civil rights movement.
An Phoblacht on Twitter

An initiative for dialogue 
for reconciliation 
— — — — — — —
Contributions from key figures in the churches, academia and wider civic society as well as senior republican figures