9 January 2018
Refusal to accept second class citizenship is not a red line - Declan Kearney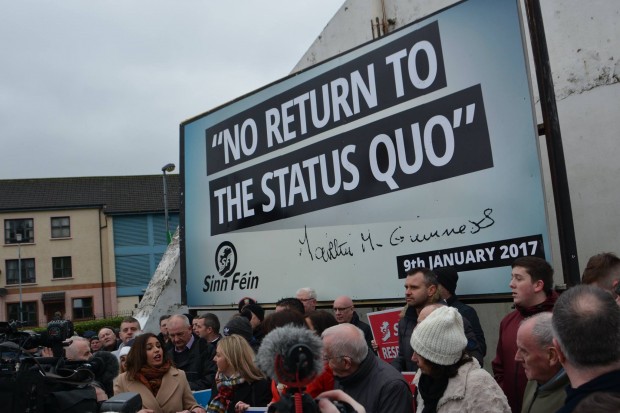 When the Sinn Féin leadership repeats there will be no return to the status quo we mean every word of that. Our position carries the same meaning and determination one year on from when Martin immortalised the phrase. - Declan Kearney
Christmas has rarely provided much of a break for the Sinn Féin leadership. In recent years we have invested heavily in the Haass/O'Sullivan, Stormont House and then Fresh Start talks processes.
During the Christmas and New Year break of 2016/17 we met continuously to review the political situation in the north, which had been brought to a tipping point by the Renewable Heating Incentive scheme financial scandal.
At this time last year I was preparing to travel to Dublin.
Many very important Sinn Fein Ard Chomhairle and National Officer Board meetings have taken place in recent decades.
One year ago on Sunday 8 January another of those landmark meetings took place at Ard Oifig Shinn Féin in Dublin.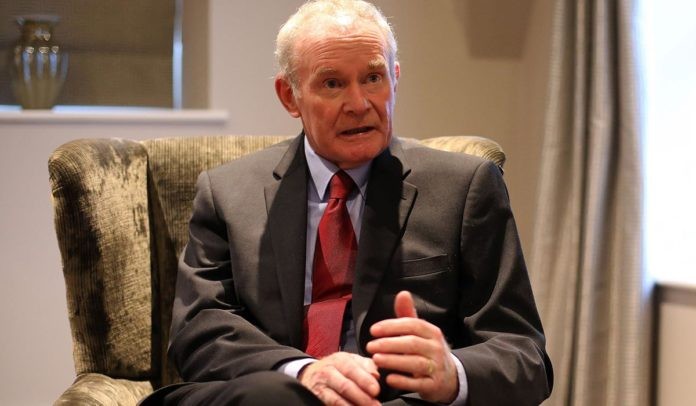 Martin McGuiness had sent a proposal that he should resign as deputy First Minister. This was unanimously endorsed by our Ard Chomhairle.
Martin was not at that meeting.  He was too weak to travel, having spent a period in hospital undergoing treatment.
After the Ard Chomhairle, our National Officer Board met and Martin joined that meeting by conference call.
He was absolutely resolute about the need to resign.The political situation had become unsustainable. It was untenable for Martin and other Sinn Fein ministers to remain in the Executive with the DUP given the cumulative build-up of financial scandals; that party's institutionalised bigotry and bad faith; and, the hallmark disrespect and sneering contempt shown by DUP members towards northern nationalists, the LGB&T community, ethnic minorities and women, which had come to define the political institutions.
A fair bit of that second meeting revolved around the communication of the party's decision.
Martin was insistent, against the advice of others for health reasons, that he should travel to Belfast the next day to meet and personally inform Arlene Foster, before making himself available to do media.
He wanted to tell the DUP leader himself because he believed that was the right thing to do. He was very clear about that even though similar courtesy and respect had rarely been afforded him by so many in the DUP.
He was also insistent that he should directly communicate his decision to wider Irish society through the media because that too was the right thing to do. Martin was totally vindicated in doing so, because all across Ireland nationalists, republicans and other progressive minded citizens knew the correct decision was being made. One senior unionist politician said to me he didn't know how Sinn Féin had held its patience for so long.
Martin travelled to Belfast on Monday 9th January. Afterwards he said privately that the journey from Derry to Belfast and home that day felt like climbing Everest, such was the physical toll it had on him.
That particular day has now forever immortalised the phrase that 'there would be no return to the status quo,' which Martin used in his press conference.
Those words have come to symbolise the deep-rooted nature of the unfolding political crisis at the heart of the institutions.
In the subsequent days of that same week there was understanding, if not explicit agreement with the resignation, and from many surprising sources, including the Irish Times.
Since then and in recent weeks, some commentators have taken to saying that while it was the right thing to do then, it's now time to stand logic on its head and effectively revert back to the status quo.
That view is echoed increasingly by some parties who one year ago also agreed with Sinn Féin's decision and the consequent collapsing of the institutions.
They have set aside once trenchant positions for a restoration of the political institutions effectively at any price.
Perhaps their positions were nothing more than postures in the first place. Maybe their purported commitment to the rights agenda and integrity at the heart of government was always half hearted. Maybe they just wanted a stunt in the vain hope that the DUP would wise up and then behave differently.
But here's the reality check:
Martin Mc Guinness' resignation was not a stunt. Sinn Féin's commitment not to return to the status quo is not superficial or expedient.
When the Sinn Féin leadership repeats there will be no return to the status quo we mean every word of that. Our position carries the same meaning and determination one year on from when Martin immortalised the phrase.
As 2018 begins the political crisis is deepening.
Deliberately or not, the DUP and British government have seriously miscalculated the fundamental nature of this crisis.
The continuous bellicose language and sabre rattling from some in the DUP in particular, reveals a serious lack of political capacity and leadership.
They completely underestimate Sinn Féin if they think the resolution of the impasse can be played out like some game of chicken, waiting for Sinn Féin to blink and capitulate.
The Good Friday Agreement is now faced with its greatest ever threat.
The denial of rights; disrespect for the Irish cultural tradition and republican and nationalist political identity; abuse of the political institutions; rejection of proper power sharing based upon a commitment to anti-sectarianism; and, refusal to implement past agreements, most notably on legacy; is all directly in conflict with sustainable institutions.
When these issues are properly resolved the political institutions can be re-established.
That view is widely shared within civic nationalism and other sections of progressive opinion in the north.
The DUP leadership knows exactly what must be done.
It knows that talk of red lines and humiliation is a smoke screen, and entirely bound up with the internal dynamics of that party.
The reality is the DUP is not a monolith. There are decent pragmatic people in that party.  They know, as does the DUP leadership, that an Irish language act, marriage equality, a bill of rights, dealing with the past, and anti-sectarianism measures pose no threat to anyone in this society. But those individuals are not in charge.
The British government also knows exactly what it must do, but refuses to move.
Its joint political alliance with the DUP has become the block to progress.
If there is to be a political breakthrough in 2018, both the DUP and British government must agree to full implementation of the Good Friday Agreement, and the formation of a rights based power sharing Executive which is avowedly anti-sectarian.
It is not a red line to state that the days of second class citizenship in the north are over.
Nor is it a red line that Sinn Féin will not tolerate mind sets, actions or government policies which will push anyone or section of our society to the back of the bus ever again.
There will be no return to the status quo.
And, if the either the DUP or British government, or even any other political party or commentator, imagine otherwise, then they are indeed living in a fool's paradise.
An Phoblacht on Twitter

An initiative for dialogue 
for reconciliation 
— — — — — — —
Contributions from key figures in the churches, academia and wider civic society as well as senior republican figures