26 September 2017
Solidarity with the Mayors of Catalonia from Mayor of the City of Dublin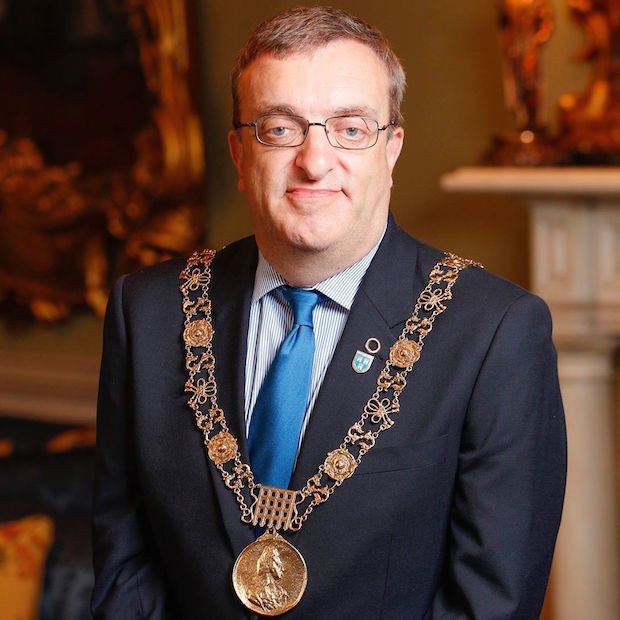 'I firmly believe that backing a purely democratic exercise desired by 80% of Catalans should never be a reason to prosecute elected politicians'
THE Lord Mayor of the City of Dublin, Mícheál Mac Donncha, has written the following letter to the head of the Spanish Government, Prime Minister Mariano Rajoy, to "find a political solution to Catalonia's legitimate claims and ask you to stop threats on my fellow Mayors".
Mícheál Mac Donncha is also a councillor for Sinn Féin in Dublin Bay North.
●
Mr Mariano Rajoy
Prime Minister of the Spanish Government
22nd September 2017
I as Lord Mayor would like to express my deep concern regarding the fact that at least 712 Catalan Mayors (75% of the total) have been summoned by Spain's prosecutor because of their public support to the self-determination referendum scheduled for October the 1st.
According to a letter delivered by the prosecutor to the local authorities last week, they could be charged with civil disobedience, abuse of office and misuse of public funds if they collaborate with the vote. If the Mayors do not answer the summons, they could even be arrested by the police.
I firmly believe that backing a purely democratic exercise desired by 80% of Catalans should never be a reason to prosecute elected politicians. Democratic demands should always be dealt with within the framework of democratic values and political dialogue, not with threats and court cases against citizens of public authorities.
We the Mayors are the politicians closest to the people. Therefore we understand that those Catalan Mayors that have freely committed themselves with helping to organise the referendum in their towns and cities are standing by their fellow citizens and protecting their fundamental rights to political participation and vote.
Finally, I urge you to find a political solution to Catalonia's legitimate claims and ask you to stop threats on my fellow Mayors.
Kind regards
Mícheál Mac Donncha
Ardmhéara Bhaile Átha Cliath
Lord Mayor of Dublin
An Phoblacht Magazine
AN PHOBLACHT MAGAZINE:
Don't miss your chance to get the second edition of the 2019 magazine, published to coincide with Easter Week
This special edition which focuses on Irish Unity, features articles by Pearse Doherty, Dr Thomas Paul and Martina Anderson.
Pearse sets out the argument for an United Ireland Economy whilst Pat Sheehan makes the case for a universally free all-island health service.
Other articles include, 'Ceist teanga in Éirinn Aontaithe', 'Getting to a new Ireland' and 'Ireland 1918-22: The people's revolution'.
An Phoblacht on Twitter

An initiative for dialogue 
for reconciliation 
— — — — — — —
Contributions from key figures in the churches, academia and wider civic society as well as senior republican figures