12 September 2017
Red Hand Commando should disband, not seek legalisation, says Gerry Kelly MLA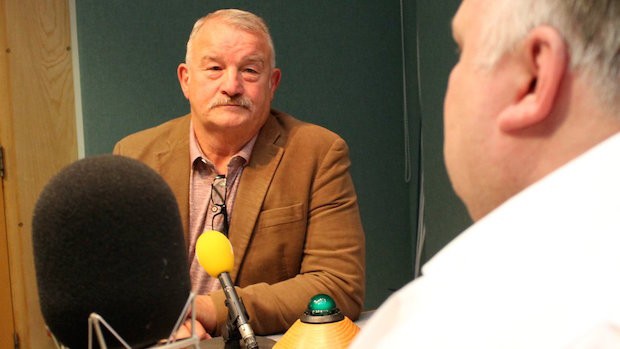 Ex-members of armed groups don't need legalisation to become involved in community organisations and to seek to play a positive role in society, says Sinn Féin member of Assembly
THE Red Hand Commando death squad, an acknowledged part of the Ulster Volunteer Force, has formally applied to the British Government to have its proscription under the Terrorism Act 2000 lifted and be made a legal organisation.
It has been confirmed that unionist representatives, including former members of the RHC, have met officials of the British Home Office to present their case.
The British Home Secretary has 90 days from 6 September to respond to the 100-page application.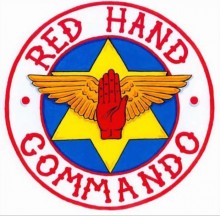 Sinn Féin MLA Gerry Kelly said the idea that the Red Hand Commando could in any way become a community organisation is "ludicrous".
"How – and, more importantly, why – would you have a paramilitary organisation working as a community group?
"And what does that say to the victims of this organisation if their status and their activities is to be somehow legitimised?"
The North Belfast MLA said he was sure victims of the RHC's sectarian murder campaign would find that "abhorrent".
"It is well known that the Red Hand Commando was created as part of the UVF, just as the UFF was created as part of the UDA," Gerry Kelly said.
"They also used a number of other flags of convenience such as the Protestant Action Force and the Orange Volunteers to carry out a campaign of sectarian murder.
"These organisations are all still involved in criminal activity including extortion, drug dealing and murder. That activity is actually on the increase and just this week the Red Hand Commando's partners in the UVF were blamed for a gun attack which targeted a bedroom with three young children in it."
Gerry Kelly said that of course ex-prisoners and ex-members of these groups are free to become involved in community organisations and to seek to play a positive role in society.
"That should be welcomed but they don't need a legalised paramilitary group which is still connected to criminal activity in order to do that.
"What the Red Hand Commando, along with all other paramilitary organisations, should do is disband."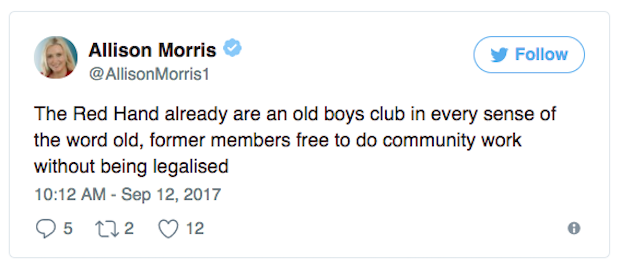 ● Allison Morris of the Irish News tweets about the RHC application
In a statement, the Red Hand Commando said:
"On Wednesday 6th September 2017 an application was submitted under section 4 of the Terrorism Act (2000) for the deproscription of the Red Hand Commando with the British Home Secretary Amber Rudd.
"On behalf of our organisation we echo the words of Gusty Spence in offering true and abject remorse to all innocent victims of the conflict here."
Particularly mentioning William 'Plum' Smith and Winston Churchill Rea "for their guidance to what we have become today" as well as Gusty Spence, David Ervine, Ken Gibson, Billy Mitchell, Jim McDonald, John McMichael and Gary McMichael, "who have worked for peace within loyalist communities", it ended:
"In closing, we would encourage all those working within loyalist areas to continue their sterling efforts in helping to maintain peaceful resolutions to many of the serious issues which continue to blight our community against a backdrop of those mindless few who refuse to recognise the ongoing positive framework within loyalism."
An Phoblacht on Twitter

An initiative for dialogue 
for reconciliation 
— — — — — — —
Contributions from key figures in the churches, academia and wider civic society as well as senior republican figures