4 September 2017 Edition
Always coming home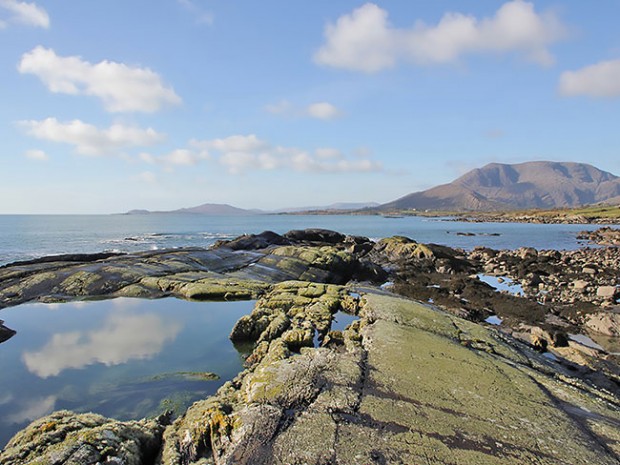 SEAFARER Alec O'Donovan always returned home, every other month for 25 years, and the fear that he would leave Bantry Bay forever dissipated.
SEAFARER Alec O'Donovan always returned home, every other month for 25 years, and the fear that he would leave Bantry Bay forever dissipated. 
He was lucky. 
Many left and never came back; others left and came back to a place they did not know or understand. 
Bantry changed overnight in May 1969 when Taoiseach Jack Lynch unveiled a statue of St Brendan and ushered Gulf Oil into the bay. Gulf also changed young O'Donovan's life. 
Born into a farming family with six siblings and 50 acres on the foreshore at the top of the town, back from the road to Ballylickey and Beara, he realised farming was not for him when he finished school in 1964 and did a bit of cattle farming and a bit of salmon fishing.
The sea had got into his blood. That was the start and end of it. 
"Whiddy Island terminal construction began in 1967 and I had been asking for a job for about four months," Alec says. "I could easily have got a job on the island in construction but I knew I needed marine experience to eventually obtain long-term employment on the tugs when they would commence later."
Alec O'Donovan was employed by Marine Transport, the company that ferried construction workers to the island, in 1967. When the terminal was opened in 1969, he worked with the tug company until 1976. 
The Suez Canal reopened in 1975 and the Whiddy Island terminal became redundant. A Waterford company started a container shipping line and Alec, with several of his tug worker friends, jumped ship. He was 31. For the next 21 years he worked for Bell Lines – who operated cargo and container ships between Ireland, Wales, the Netherlands and England – and came home every other month. 
"It was one month at sea, one month at home," he says.  A union man who had fought for the extra shore time, he persevered and stayed with Bell Lines until 1997, when the company went bankrupt.
Haven 
In the 1960s, Bantry Bay became a haven. It was one of the few places left that had maintained its natural, raw beauty, unaffected by Ireland's burgeoning industrialisation. To Evelyn Hardy it was Summer in Another World.
This idyll attracted blow-ins of Irish and non-Irish extraction. Collectively they were people who had either made their money and wanted to live in idyllic rural surroundings or they were hippies who had rejected consumerism and materialism and wanted to escape society. Bantry's demographic structure appealed to them. 
But times were changing. Old customs were dying out. Others (like the Spanish "carrying off all the fish without let or hindrance") remained the same. In one week in the 1950s, a Welsh boat caught hake worth £2,000 in the old currency. It was a trawler. "We used to fish in row-boats," complained one fisherman. "Now versatile trawlers are all the thing."
It was mostly the newcomers who objected (perhaps naturally, given their reasons for being in Bantry) to Gulf's plans, but they were a minority and held no positions of power in the town's political infrastructure. Their objections were swamped by the middle-class business owners and the working class who stood to benefit from the spin-off to the local economy from Gulf's presence.
The arrival of Gulf Oil was an omen of things to come.
• Alec O'Donovan 
Gulf in the community
Bantry came to epitomise the corporate mantra of the pursuit of profit at all cost but it was one that benefitted the town with the creation of an affluent and assertive industrial proletariat.
The oil company might have saved the young O'Donovan's life but its presence in Bantry became untenable at the end of the 1970s when one of its oil tankers exploded, plunged the area into uncertainty and changed everything – again. Ironically, former Gulf workers took up a challenge from a marine biologist who claimed the bay was perfect for the cultivation of mussels and so a new industry emerged. 
It was another false dawn, and the people around the bay began to wonder what was happening. They had been elevated into an Arcadian existence that was both modern and rustic, and promised salvation and now did not know what they were. 
They weren't the only ones. All along the west coast, people were wondering whether they had a future in an increasingly urban-centred world. 
In 2001, O'Donovan came home for good, following a five-year spell with Arklow Lines, after being offered the Assistant Master job with the Harbour Commissioners. It was in this role that he encountered the "experimental" Bantry Bay Coastal Zone Charter, with an obligation to get involved.
This was an EU-sponsored pilot programme for an integrated consultation system that included aquaculture, conservation, development, fishing, shipping and tourism, which would embrace "innovative dispute resolution techniques" and achieve agreement through consensus.
He warmed to the dynamic that characterised the facilitation meetings and the clear actions that were agreed. Local people had a mechanism to resolve problems themselves without resort to councillors or TDs and this made him cheerful. 
"The charter was adopted by Cork County Council as part of their development plan and they committed to follow the principles of the charter." 
Except it didn't work out like that.
Public involvement
A European Union initiative to implement "integrated coastal zone management" €846,089.86 was allocated for a three-year period from 1 September 1997 to 15 October 2000 (€351,624.42 paid by the EU under their LIFE programme). The project was co-ordinated by Cork County Council in partnership with UCC and Cork IT. 
When the EU money ran out, the council allocated funds to extend the project into 2002 but the state said no to a funding request to take it further. 
The coastal zone management scheme set up by the Department of the Marine in 1997 – to support sustainable development through new policies and plans that included public consultation – was dead in the water.
Charter facilitator Dr Harriet Emerson accuses Government agencies, including Marine, who she said "were reluctant to engage meaningfully" with a "flexible approach" to "achieve improvements". 
"The Government in Ireland," she says, "seems to have little grasp that the goal of increased successful and positive public participation will not be achieved without a clear demonstration of genuine respect for public involvement."
On the contrary, it was naive to expect something that challenged bureaucratic authority and political hegemony to become law.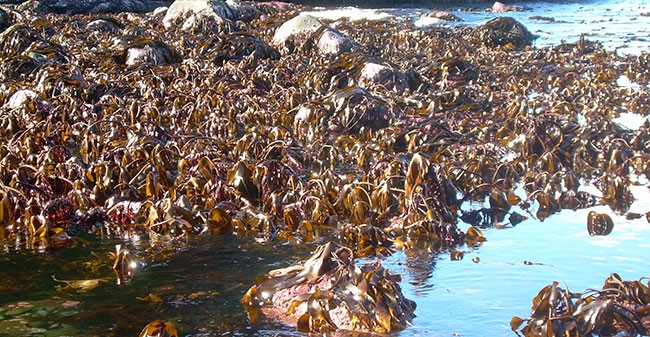 • Kelp –  RTÉ TV's  'EcoEye'  revealed was to be mechanically harvested
Talk of the town
Alec O'Donovan was crestfallen at first. Then he was optimistic. 
"There is no charter," he says. "Looking back on the termination of the charter, those of us involved were extremely disappointed. We saw the exercise in action and found the process as being very positive, clear and constructive.
"There had been a lot of conflict in the greater Bantry Bay area from the construction of the oil terminal and other projects between locals, who were happy to see jobs being created, to mostly retired foreigners, who were nervous of oil pollution and the changing of the local environment from countryside idyllic to commercialisation of the area.
"The meetings brought various individuals into a room where there was complete freedom to express opinions. They were quite lively and bitter at times but, overall, produced consensus."
He became optimistic again this year when a Tralee company was granted a licence to mechanically harvest kelp from the bay. There was outrage. 
"Why were we not told about this?" cried the people when the development was revealed in an EcoEye RTÉ TV broadcast. Suddenly, the charter was the talk of the town. 
And there are particular points coming from those charter meetings.
"The public often see it as difficult to get involved in the planning process and feel excluded from a process that affects the local community. Generally, when the public are involved it takes up considerable time and effort and in many cases people feel that they cannot make a real difference to the result."
There was no public consultation about the kelp because it was not required by EU law.
No one in the EU wants to discuss integrated coastal zone management anymore, and especially not to put a strategy of protection in a law-changing EU directive. 
It was dropped, said an EU official, because it was "felt that the directive should not interfere with member states' competence for town and country planning". So instead of a "framework for maritime spatial planning and integrated coastal management" we now have a "maritime spatial planning" directive without the public consultation element. 
A disingenuous move, some would argue, given the purpose of EU directives.
Questions and seeds
This prompted questions. Why did Cork County Council allocate funds to a project that was politically sensitive and subject to negativity? And why should communities bother to engage in initiatives that waste their time? 
Alec O'Donovan is not so cynical. 
For him the consultation process of the Bantry Charter created a seed in the minds of the people.
"People don't have time, that's true; it does not mean they won't take time. Who knows what will happen?"
Tom Barrington argued that it was the relative weakness of the people's power that allowed a system of government heavily biased towards bureaucracy instead of one based on democracy galvanised by vigorous local government to have its way.
Epitomised by the attitude of Alec O'Donovan and his like, the people of Bantry proved they were not weak, and the officials of Cork County Council showed they were prepared for change. Instead, it was the apathy of the state and the weakness of the EU that shut them down. 
Meanwhile, Bantry has morphed from an agricultural place into a small industrial town. And the bay is up for grabs – again.