4 September 2017 Edition
What would Thomas Davis think now?
A radical voice on so many subjects and – most importantly – his concept of the spirit of a nation
I'M CERTAIN that Thomas Davis would have been on Twitter. And I reckon that the 19th century political activist, writer, Young Irelander and co-founder of The Nation newspaper would have had a Facebook page and followers on Instagram and Snapchat too.
The anniversaries of Davis's birth and death in 1845 fall in September and October, as does the publication of the first edition of The Nation in 1842. Maybe it is time to look closer at the Davis of the 1840s and wonder what he would make of Ireland today.
He wrote expansively but his works are sadly out of print. An Internet search will find some complete PDFs of his collected writings: one in the 20th century by T. W. Rolleston (another great but now almost-forgotten writer) and a previous edition completed in the months after his death by Charles Gavan Duffy.
The 19th century Davis had none of today's confessional journalism. There is no commentary on his journey from being the son of surgeon attached to a British Army regiment to a radical anti-imperialist who was writing a biography of Wolfe Tone in his last months before his death from scarlet fever.
Davis is a radical voice on art, poetry, the Irish language, history, education, the economy, archaeology, the politics of the day and – most importantly – his concept of the spirit of a nation. 
The Ireland that Davis wrote about is of a people – all the people, no matter their religion, wealth or status. Davis could see Ireland slipping and diluting its essence of nationality into a subservient role as a region, little more than a county of Britain. In an essay titled 'The Library of Ireland', Davis articulates his fear that Ireland "promised to become a farm for Lancashire". Davis wanted us to wake up, to embrace our heritage, our language, and rebuild ourselves as a self-governing people.
On education
Davis wrote extensively about education. "The first business of life is the improvement of one's own heart and mind," he said.
In terms of the British-designed school system emerging at the time, Davis wrote:
"These schools are very good so far as they go . . . but they are not national, they do not use the Irish language, nor teach anything particularly Irish."
He wanted parents to "procure books on the history, men, language, music and manners of Ireland for their children".
In Influences of Education he writes:
"Educate that you may be free."
Knowledge was a key step in Ireland becoming a nation, he maintained. 
He believed that education should be entirely secular and in holding to this he fell out with Daniel O'Connell, who supported British Prime Minister Sir Robert Peel's introduction of separate schools and universities for Catholics and Protestants.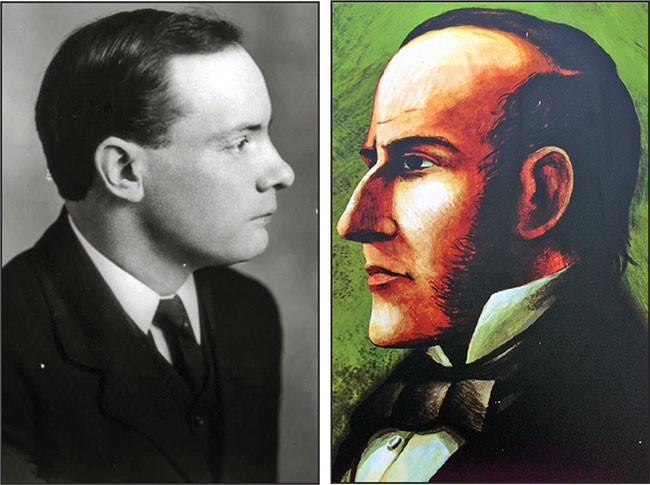 • Pádraig Pearse and James Fintan Lalor 
On history
Davis felt that Irish history was being forgotten; a key essence of Ireland was being lost. 
He used ballads and poems as one means to rectify this as well as using The Nation newspaper to print chronologies of historical events and people. The reasoning for this approach was that the new school system of the time promoted rote learning. Davis adapted The Nation's content to take advantage of a reader ready to learn things off by heart. 
Today we still sing A Nation Once Again, and other writers of the time, including the poet Clarence Mangan, were given a platform for their work that didn't exist elsewhere in Ireland at the time.
 "Something has to be done to rescue Ireland from the reproach that she was a wailing and ignorant slave," are the opening words of Davis's essay on The History of Ireland.
"We must know our history," writes Davis, because "We want to win Ireland and keep it." We don't want to give it away to "a bribing, a bullying, or a flattering minister". 
"A mockery of Irish independence is not what we want" writes Davis, which makes one wonder what he would think of our involvement in the EU, the rerunning of the Nice and Lisbon Treaty referendums, and what he would make of trade deals such as TTIP and CETA being negotiated in secret.
I think in this decade of centenaries Davis would have been thrilled at the mass interest in remembering and marking our revolutionary past. He would have had some searching questions as to the decades of censorship preceding this and the revisionist historians whose work was hyped and promoted by institutional Ireland.
Davis himself fell victim to this historical censorship in 1945. Seán Cronin's definitive book (and again out of print), Irish Nationalism: A History of Its Roots and Ideology, points out that the centenary commemorations booklet printed ignored all the writings of Davis on education because of his support for secular schools and universities.
On Ireland's archaeology
Davis attacked plans to build a road through Newgrange, now recognised as one of the oldest human-made structures on the island but then just an overgrown mound.
Davis described these "Irish antiquities" as "a thing to be proud of" which must be "guarded as an illustration of her early creed and arts". The Newgrange road plan is described by Davis as a "brutal outrage" and, if carried out, we would "bitterly repent the desecration".
Davis exhorts his readers to visit museums, ancient historical sites and learn about our past.
Spirit of a Nation
"We must keep our own souls and try, by teaching and example, to lift up the souls of all our family and neighbours to that pitch of industry, courage, information and wisdom necessary to enable an enslaved, dark, and starving people to become free, rich, and rational."
Davis was not known as a great orator. He captured people's attention in his writing. Amongst his readers were James Fintan Lalor and Pádraig Pearse.
What Davis articulated was the idea of a spirit of a nation, that being Irish is something expressed in thought, language, art, music and a communal care for each other. Davis promoted the idea of national academies for preserving music, art, literature, and paintings of living and dead artists.
Davis wanted an Ireland that knew its language. 
"A people without a language is only half a nation," he wrote, adding:
"To lose your native tongue and learn that of an alien is the worst badge of conquest; it is the chain on the soul."
Davis was certainly prescient when he wrote that any attempt to introduce Irish "either through the national schools or the courts of law to the eastern side of the island would certainly fail".
Instead, Davis believed:
"The Irish language should be cherished, taught, and esteemed, and that it can be preserved and gradually extended."
•  'A mockery of Irish independence is not what we want,' said Thomas Davis 
Orange and Green
The sectarian nature of Irish politics is often addressed by Davis. 
In The Orange and the Green he was inspired by an Evening Mail article that supported an all-Ireland repeal movement. 
Davis said he hoped "as the Orangemen become more enlightened they will more and more value the love of their countrymen, be prouder of their country, and more conscious that their ambition, interest, and even security are identical with nationality".
The Evening Mail had written:
 "The repeal banner might then be orange and green, flying from the Giant's Causeway to the Cove of Cork and proudly look down from the walls of Derry upon a new-born nation."
(Someone please send this article to Jeffrey Donaldson and Arlene Foster.)
An economic vision
Davis addressed topics such as unfair taxes, inequality, exploitation, the negative impact of the emerging factory system and British imperialism. 
The shadow of the coming famine years is evident when he writes:
"Irish artisans, without work, must live on the refuse of the soil, and Irish peasants must eat lumpers or starve. Part of the exports go to buy rags and farming tools which once went for clothes and all other goods to Irish operatives, and the rest goes to raise money to pay absentee rents and imperial taxes."
Addressing the growing industrialisation of the economy, Davis believes that "the factory system seems everywhere a poison to virtue and happiness". 
Davis is repeatedly clear about the need for an independent, free Ireland, especially in the context of being bribed by the British state. Davis writes that  "[we] will not sacrifice to pursue the chance of being allowed a third or a half even of the offices, profligacy, and oppression of the British Empire".
'The Nation' and Davis today
The strength of Davis is in the persistence of his political activism and vision. 
He, Charles Gavan Duffy and John Blake Dillon were journalists. Sitting under a tree in Phoenix Park in 1842, they came up with the idea of starting The Nation. 
To puts its success in context, The Freeman's Journal was selling 1,293 papers daily and The Freeman's Weekly had a circulation of 6,650. The first edition of The Nation printed 12,000 copies and sold out within the day. At its height, the paper had 250,000 weekly readers.
I wonder how many Twitter followers Thomas Davis would have today.
• Thomas Davis, Charles Gavan Duffy and John Blake Dillon discuss founding 'The Nation' newspaper under a tree in the Phoenix Park, Dublin
10 Thomas Davis quotes
"The first business of life is the improvement of one's own heart and mind."
(Means and Aids to Self Education)
"A people without a language is only half a nation." 
(Our National Language)
"Educate that you may be free."
(Influences of Education)
"As well you might leave the fairies to plough your land or the idle winds to sow it as sit down and wait for freedom."
(The Right Road) 
"The people of the country are its wealth. They till its soil, raise its produce, ply its trade. They serve, sustain, support, supply, save it." 
(The Irish People)
"The factory system seems everywhere a poison to virtue and happiness." 
(Home Manufactures)
"Are the Irish people so forgetful of the common cause which binds them to the Indian and the American as to give their flexible genius, their valour, and their passions to holding down the subject races?"  
(Ireland and England)
"It is not a gambling fortune, made at imperial play, Ireland wants."  
(Irish Ideals)
"To get her peasants into snug homesteads with well-tilled fields and placid hearths; to develop the ingenuity of her artists, and the docile industry of her artisans; to make for her own instruction a literature wherein our climate, history, and passions shall breathe; and to gain conscious strength and integrity, and the high post of holy freedom. These are Ireland's wants."  
(Irish Ideals)
"Our oppressors have belied us to excuse their tyranny, and the Irish too often dissembled for shelter and bragged for consolation." 
(Irish Literature)