4 September 2017
Sinn Féin Summer School, 8/9 September
Vincent Browne, TV economist-turned-activist journalist Paul Mason and Alt-Right expert Anna Nagle join line-up at @SFSummerSchool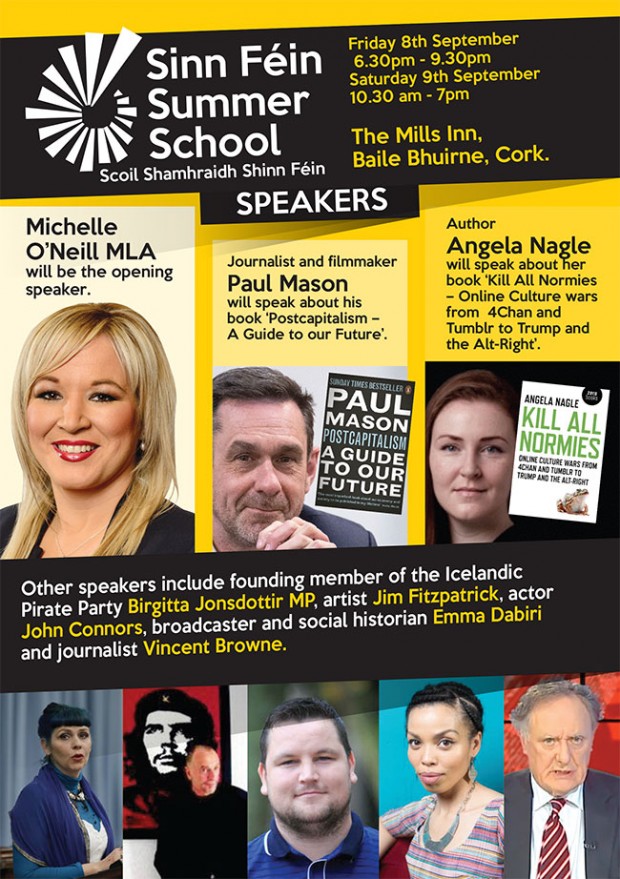 The opening address at the Sinn Féin Summer School will be given by Sinn Féin's leader in the North, Michelle O'Neill MLA
VINCENT BROWNE, award-winning former BBC Newsnight and Channel 4 Economics Editor Paul Mason, Che Guevara artist Jim Fitzpatrick and actor John Connors (Love/Hate, Cardboard Gangsters) are amongst the headline names at this year's Sinn Féin Summer School over the weekend 8/9 September.
As the shockwaves from the Charlottesville violence by neo-Nazis shake the political foundations under Donald Trump, Angela Nagle, author of the newly-published Kill All Normies: The Online Culture Wars from Tumblr and 4chan to the Alt-Right and Trump, will be amongst the speakers in Baile Bhúirne, County Cork.
'After Brexit and Trump, is this the end of globalisation?' will be debated by a panel that includes Icelandic Pirate Party Member of Parliament Birgitta Jónsdóttir, Nasos Iloupolous of SYRIZA, Dr Cara Augustonborg (Chairperson of Friends of the Earth Europe) and Sinn Féin MEP Matt Carthy.
Paul Mason
Journalist, film-maker and Guardian columnist Paul Mason will speak about the Corbyn surge in Britain and his book Postcapitalism – A Guide to Our Future, a best-seller now translated into 16 languages. 
Paul has covered Greece, the Gaza war and the Scottish referendum as a TV reporter and in 2015 he produced the documentary series about the first six months of SYRIZA in Greece, #ThisIsACoup.
He won the Wincott Prize for Business Journalism in 2003, named Workworld Broadcaster of the Year in 2004, and was given the Diageo African Business Reporting Award in 2007. His report on the social movements behind Bolivian president Evo Morales was cited when Newsnight was awarded the Orwell Prize in the same year.
Angela Nagle
Author Angela Nagle has written for the The New Yorker, The Baffler, The Irish Times and many other publications. Since completing her PhD on anti-feminist online subcultures, she is recognised as an expert on the right-wing, white nationalist 'Alt-Right' that has hit world headlines after the Charlottesville 'Unite the Right' rally and its reverberations.
Her book, Kill All Normies – The Online Culture Wars from 4Chan and Tumblr to Trump and the Alt-Right, has been described as "a timely exploration of the Alt-Right as a cultural and political force – a reactionary political movement whose adherents include white nationalists like Richard Spencer and more influential people like Steve Bannon and Stephen Miller, both of whom serve as key advisers for President Trump".
John Connors
John Connors, whose highly acclaimed film Cardboard Gangsters is currently showing in Irish cinemas, is widely recognised for playing Patrick Ward in the acclaimed RTÉ TV crime drama Love/Hate.
As a Traveller, John is no stranger to discrimination and has since presented and produced groundbreaking TV documentaries on Travellers, race and identity. He will join Sinn Féin's John Finucane and broadcaster and social historian Emma Dabiri (presenter of Is Love Racist? on Channel 4 and The Sweet Makers on BBC) to discuss if we can build an inclusive Irish identify that embraces those from all backgrounds and communities.
Jim Fitzpatrick
Artist Jim Fitzpatrick is renowned for his cover designs for the Thin Lizzy albums, his images of the seven signatories and his elaborately-detailed work inspired by the Irish Celtic tradition but is best known for his iconic and internationally-famous  portrait of Cuban revolutionary Che Guevara.
In 2011, Jim announced his intention to copyright his Che Guevara graphic, which he initially released copyright-free for intended use among revolutionary groups in Europe and elsewhere. He has blamed "crass commercial" exploitation of the image for his decision and he plans to hand over the copyright and all rights, in perpetuity, to Che Guevara's family in Cuba.
Vincent Browne
Vincent Browne may have bowed out from his TV3 politics chat show but he'll be taking the stage again to bring the curtain down on this year's Sinn Féin Summer School to debate Eoin Ó Broin TD on the question of whether Sinn Féin is the party that is going to radically transform Ireland.
The place
The opening address at the Sinn Féin Summer School will be given by Sinn Féin's leader in the North, Michelle O'Neill MLA. Other Sinn Féin speakers include Liadh Ní Riada MEP as well as John Finucane, Matt Carthy MEP and Eoin Ó Broin TD.
The 2017 Sinn Féin Summer School takes places at the Mills Inn, Baile Bhúirne, County Cork, on the Friday and Saturday, 8/9 September. 
There is an entrance fee of €10.
Doors open at 6pm on Friday and Saturday's debates kick off at 10:30am. 
For further information or queries on accommodation, contact Tom Hanlon at 087 763 9911.
Follow on Twitter @SFSummerSchool
An Phoblacht on Twitter

An initiative for dialogue 
for reconciliation 
— — — — — — —
Contributions from key figures in the churches, academia and wider civic society as well as senior republican figures