4 September 2017 Edition
Tackling the Costs of Education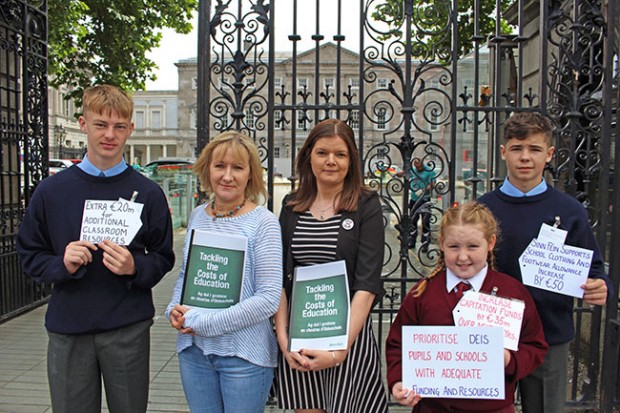 THE COST OF EDUCATION at all levels in the 26 Counties is placing an even heavier burden on already-struggling families and making it harder to afford school and college, according to a Sinn Féin proposals in Tackling the Costs of Education, published in August.
Sinn Féin Dáil Education spokesperson Kathleen Funchion TD said that successive governments have failed families who "are at the end of their tether each year in battling excessive back-to-school costs". 
For families on low or average incomes, she said, these costs are a real burden:
"Sinn Féin believes that, with investment and political will, we can remove the prohibitive cost barriers to education and ensure that all children, irrespective of their background, can access education on an equal footing."
The annual Irish League of Credit Unions survey reported in July this year that one in four parents will have to deny their children some basic school items this year as they continue to struggle to fund the back-to-school spend.
The average return-to-school spend continues to increase and has now reached €1,209 per child – up from €1,185 last year (a 2% rise) and more than a quarter say the costs will negatively impact on paying household bills.
Almost three quarters of parents continue to see the back-to-school spend as a financial burden, despite a 2% drop in the numbers getting into debt for the new school year.
School Uniforms | Éide Scoile 
Research by Barnardos shows that the average spend on school uniforms per student ranges from €170 in primary school to €255 in secondary school.
Sinn Féin proposals include:-
Schools be legally obliged to consult with parents in determining school uniform policy or dress code policy;
The principle of ensuring school uniforms are affordable should be established on a statutory footing similar to the School Admissions Code in England;
Statutory obligation to provide generic school uniforms where it is clear that there is sufficient demand from parents.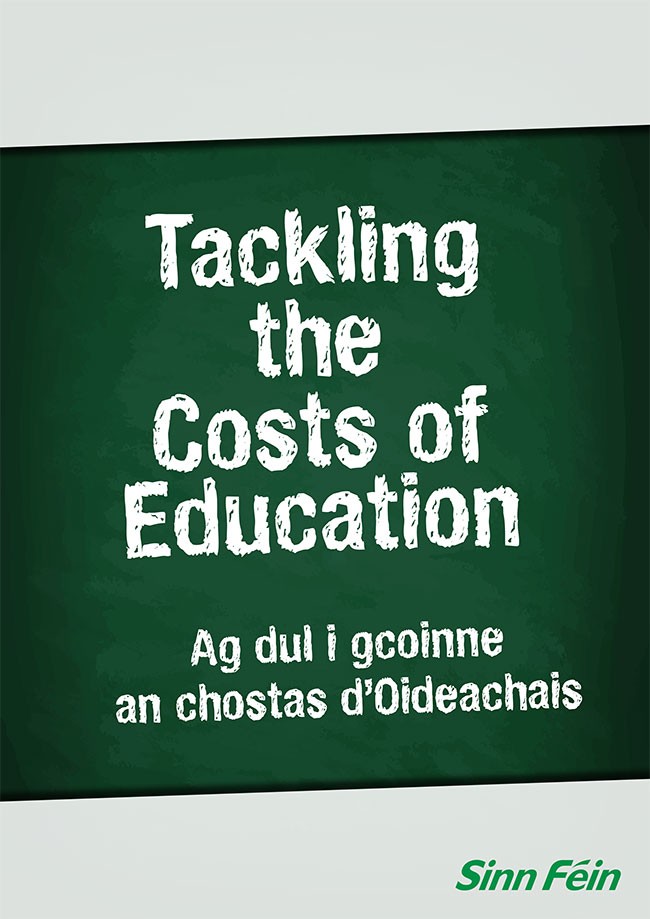 Schoolbooks | Leabhair scoile 
According to children's charity Barnardos, the average cost of schoolbooks per child ranges from €70 for a primary school pupil to €275 for a secondary school pupil.
Figures from the Department of Education and Skills show that while 95% of primary schools operate a schoolbook rental scheme, only 65% of secondary schools operate such a scheme. 
The extensive use of workbooks has been a key concern of parents as these often cannot be purchased secondhand and represent extremely poor value for money. 
The Joint Oireachtas Report on Tackling School Costs recommended that the use of workbooks should be discontinued in all schools.
Sinn Féin proposals include:-
The Department of Education and Skills should review the arrangements with educational publishers, particularly in relation to the operation of the Voluntary Code of Practice and the promise to provide textbooks at a discount to schools. A new MANDATORY code of practice should be established if necessary;
Instructions should be issued to schools on the use of workbooks and changing textbooks with a view to reducing these practices where possible to create savings for parents;
Funding for Schoolbook Schemes should be increased over the next five years to a budget of €60million by 2022 to provide free schoolbooks to all children in line with the recommendation of the Joint Oireachtas Report.
Voluntary Contributions | Dréacht Dheonach 
Sinn Féin wants to end so-called 'voluntary' contributions. Until the level of funding to schools is restored to an acceptable level to allow that to happen, Sinn Féin's Education (Regulation of Voluntary Contributions Bill) 2017 seeks to give the Minister for Education and Skills power to strictly regulate the area of voluntary contributions.
A 'voluntary' contribution can range between €80 and €150 per child.
In some cases, the children of parents who resist making contributions are denied access to facilities such as lockers until the money is paid. 
Sinn Féin proposals include:-
Government regulates the practice of seeking voluntary contributions and ensures that no child is treated unfavourably because their parent did not make a voluntary contribution;
Capitation funding to schools be increased by €35million over the next five years to restore the rates to pre-recession levels;
Additional funding of €20million be made available to schools for the purposes of additional classroom resources such as photocopying, art supplies and other equipment.
School Meals and School Transport | Béile scoile agus taistil scoile 
The emphasis of the school meals programme has been on the operation of breakfast clubs with funding extended in recent years to school lunch programmes. 
Sinn Féin proposals include:-
Doubling the funding to the school meals programme over the next five years to increase access to the scheme;
Prioritise the provision of lunches and breakfasts to all DEIS pupils and allocate the full funding required to provide this for the full school term;
A full review of the operation of the value for money recommendations of the school transport scheme from a child rights perspective;
Increase funding to the school transport scheme by €30million over the next five years with a view to making the service more flexible and affordable for parents.