1 August 2017 Edition
Colombian trade union leader freed from prison speaks in Belfast
Patriotic March National Organiser Huber Ballesteros addresses Irish Congress of Trade Unions conference and Sinn Féin activists
In Ireland on his first international visit after being released from prison, Huber spoke with a delegation of Sinn Féin activists in Belfast on 5 July
SENIOR Colombian trade unionist and recently-released political prisoner Huber Ballesteros has told Irish republicans in Belfast of his frustration at the Colombian Government's failure to fully implement the peace deal recently signed with the Revolutionary Armed Forces of Colombia (FARC) guerrilla movement that has ended a 52-year-long conflict.
Huber Ballesteros is one of Colombia's best-known trade union and opposition leaders. 
He was arrested on 25 August 2013 and imprisoned for over three years without being convicted.
At the time of his arrest he was one of the spokespersons of the nationwide strikes taking place across Colombia in agricultural, health, transport and energy sectors in opposition to Colombian President Santos's policies and particularly against the free trade agreements.
Since his release from prison in January of this year, Huber himself has received eight death threats, including against his daughter and partner. He travels everywhere in an armoured vehicle and with bodyguards.
In Ireland on his first international visit after being released from prison, Huber spoke with a delegation of Sinn Féin activists in Belfast on 5 July.
The trip was organised by the Justice for Colombia campaign group, a British-based NGO that campaigns for human rights, workers' rights and the search for peace with social justice in Colombia. 
During his stay, Huber was also a speaker at a packed fringe meeting at the Irish Congress of Trade Unions biannual conference in Belfast, highlighting the current situation in his country and continued threats against Colombian social activists such as himself.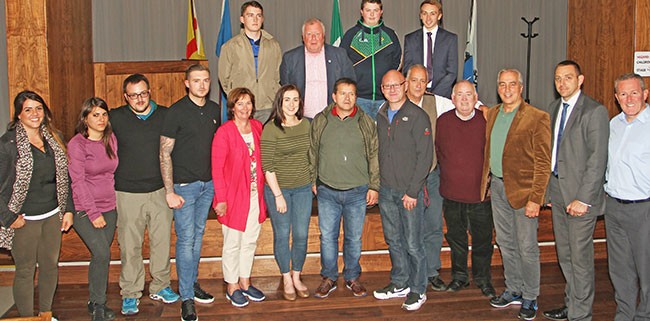 • Some of those who attended the briefing on Colombia with Huber Ballesteros in the Felons' Club in Belfast
Since the 1980s, 3,000 Colombian trade unionists have been assassinated.
He described how, over the past year, 150 civil society activists have been assassinated in Colombia.
More than 50 killings have been carried out so far in 2017.
He wanted to make people aware of the continued need "for international support to ensure the full implementation of the Colombian peace agreement".
He thanked Sinn Féin for the party's continued solidarity with the people of Colombia and its support for the Justice for Colombia campaign group, who organised his trip.
The Sinn Féin delegation included a number of senior party figures who have travelled to Cuba where they had met with representatives of all sides to the talks process. These included former ministers in the Executive government at Stormont, Megan Fearon, Conor Murphy and Jennifer McCann.
Also present was Paul Maskey MP, who has travelled to Colombia on a number of occasions as a member of international delegations. MLAs Fra McCann and Pat Sheehan attended, as did members of the Mairéad Farrell Republican Youth Committee.
Belfast City Councillor Séanna Walsh and Michael Culbert, representing the republican ex-prisoner network Coiste na nIarchimí and who had travelled to Cuba during the peace talks to brief FARC representatives on developments around the political prisoner issue, also attended the briefing.
Huber is National Organiser for the Patriotic March, a social and political movement of more than 1,500 groups from across the political spectrum and rural as well as urban communities. It includes grassroots organisations from the most conflictive rural zones, as well as national trade unions, student groups, leading peace activists and many more within its ranks. 
Over 130 leading activists of the Patriotic March have been murdered.
Huber raised the concerns of Colombian civil society and the Patriotic March over delays in the implementation of the 2016 peace agreement.
Among those concerns are that, despite the United Nations recently confirming that they have received all of the individual weapons from FARC combatants (see An Phoblacht Online) and the FARC has begun its transition to a non-armed group, the Colombian Government has failed to implement several areas of the peace agreement.
The Government has not completed the 26 temporary zones where FARC members have been living since the laying down of arms process. In August, these zones are due to become "reincorporation areas" for FARC members after the decommissioning process.
The delay in releasing almost 2,000 FARC and other political prisoners under the amnesty law passed at the end of December 2016 is another area of concern. Some 1,400 FARC prisoners began a hunger strike on 26 June in protest against this situation, including FARC commander Jesus Santrich.
While the international media focuses largely on the peace accords signed by FARC, the activities of the right-wing death squads and drug cartels who feel threatened by the peace process continue.
• Pictured in the Felons' Club before their meeting on 5 July: Councillor Séanna Walsh, Huber Ballesteros (Colombian trade unionist and Patriotic March organiser), Mariela Kohon (Director, Justice for Colombia), former MLA Jennifer McCann and Director of Coiste na nIarchimí Michael Culbert
Huber Ballesteros reminded the Sinn Féin delegation that the economic, social and political exploitation and inequality that gave rise to the FARC and its guerrilla war still affects the lives of the majority of Colombian citizens and needs to be resolved.
He outlined how the concentration of land ownership is second-highest in the world – 1% of landowners have 66% of land. Colombia is the second-most unequal country in the world, after Haiti – 10% of Colombia's richest people have four times the wealth of the nation's poorest people.
"There are seven million internally displaced people in the country, the highest in the world – more than in Iraq and Syria.
"Added to this there are 8 million of Colombia's working population exploited on informal and unstable work contracts, with little security or benefits. Only 4% of Colombian workers are unionised."
Huber is an executive member of Colombia's largest trade union confederation and Vice-President of Fensuagro, the Colombian Agricultural Workers' Union, the second-largest union in the country. Over a thousand of its members have been assassinated in recent years.
The Justice for Colombia fringe meeting at ICTU Congress was chaired by ICTU President Brian Campfield and included interventions from Irish trade union leaders who have supported Justice for Colombia's peace campaign. 
Kevin Callinan (IMPACT Deputy General Secretary), ICTU Vice-President John Douglas (also Mandate General Secretary), Tom Geraghty (PSEU General Secretary), Patricia McKeown (UNISON Regional Secretary), Jimmy Kelly (Unite Ireland Regional Secretary) all spoke about the importance of the role of Irish trade unions in the international campaign for Huber's release.
Huber personally thanked the trade unions in Ireland for their unwavering solidarity when he addressed the plenary. 
He received a standing ovation from delegates, many of whom had developed a personal connection to Huber through the stream of video messages smuggled out of his prison cell and had played an active part in the campaign for his freedom.
At ICTU Congress, Huber also met with President Michael D. Higgins and International Trade Union Confederation General Secretary Sharan Burrows.
Congress moved an emergency motion in support of the work of Justice for Colombia and calling for the release of remaining prisoners.
Dramatic rise in femicides in Colombia
SINCE the beginning of 2016, alarming statistics on femicides – sex-based hate crimes in the form of the intentional killing of women or girls – have been reported in Colombia.
There have been multiple killings of women throughout the country. In the department of Valle del Cauca, in south-west Colombia, there were 14 femicides in only 28 days. 
The majority of victims are killed by their own partners or former partners, many of whom had already been reported to authorities for domestic abuse.
The National Institute for Forensic Science has stated that, from 2014 to mid-2015, there were 1,351 femicides in Colombia. Even though the Colombian Government signed the "Rosa Elvira Cely" law against femicides in July 2015, feminist and women's activists have criticised the authorities for failing to safeguard women's rights. 
There have been reports of police brutality against sex workers and in Bogotá a woman who died in the street was left there for seven hours. The riot police were sent when the local community called for a response.