3 July 2017 Edition
Another Europe is possible – Treo eile don Eoraip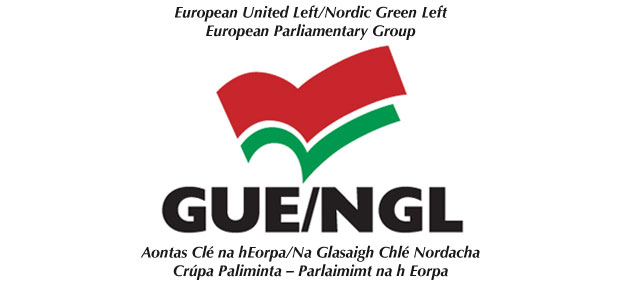 GUE/NGL urges end to 'criminal blockade' on Cuba
THE GUE/NGL Group has called for the urgent removal of "the criminal blockade imposed on Cuba by the United States which, for almost six decades, continues to violate the rights of the entire Cuban population and has caused immense suffering and scarcity".
Speaking after President Trump's announcement in June ramping up sanctions against Cuba, GUE/NGL also demanded that the US administration "immediately devolve the illegally-occupied Cuban national territory in Guantanamo Bay to the Cuban people".
The statement from GUE/NGL ended:
"GUE/NGL warmly reaffirms its solidarity with the Cuban revolution and with the struggle of the Cuban people in defence of their integrity and sovereignty."
EU-Brazil trade talks raise concerns
MATT CARTHY has criticised the European Commission for its controversial and deeply unpopular trade agenda and the Mercosur negotiations with South American countries, including Brazil.
Speaking from Strasbourg Matt Carthy, a member of the European Parliament's Committee on Agriculture and Rural Affairs, said:
"At a time when we are still learning of the full extent of bribery, corruption and consumer deceit over meat and poultry imports from Brazil, the European Commission continues to push ahead with free trade talks with the Mercosur trading bloc."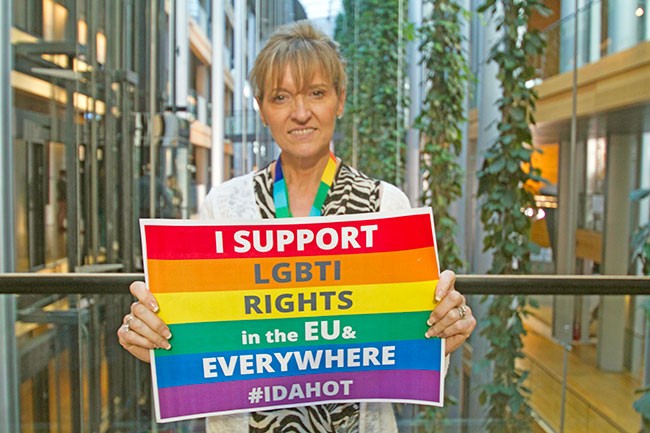 • MEP Martina Anderson in the European Parliament on the International Day Against Homophobia, Transphobia and Biphobia
Border Communities Against Brexit win EP Citizen's Prize
THE Border Communities Against Brexit campaign group has been awarded the 2017 European Parliament Citizen's Prize after being nominated by six Irish MEPs – Matt Carthy, Martina Anderson, Liadh Ní Riada, Lynn Boylan, Nessa Childers and Marian Harkin.
Since 2008, the European Parliament awards the European Citizen's Prize every year "to projects and initiatives that facilitate cross-border co-operation or promote mutual understanding within the EU".
Corporate tax transparency reform nobbled by conservatives
A LOOPHOLE that helps multinationals avoid public scrutiny of their tax affairs has been inserted by conservative groups into a European Parliament report, Ireland Midlands North West MEP Matt Carthy has complained.
The report aimed to ensure that major multinationals operating in the EU have to publicly report on their earnings, staff and tax payments on a country-by-country basis. It had been praised by anti-tax-avoidance groups and development agencies.
Matt Carthy, a member of the Economic & Monetary Affairs Committee and GUE/NGL co-ordinator on the Panama Papers Inquiry Committee, said opponents in the ALDE and EPP groups "introduced a massive loophole that you could drive a truck through and which may make the entire proposal ineffective".

Roaming charge abolition gets wary welcome
THE end of roaming charges across the EU has been welcomed by Liadh Ní Riada – but she warned Border communities and overseas travellers that other hidden charges may still remain.
"There remain fears that hidden charges are still on the table following a side deal between mobile operators and the European Commission as a result of an extensive lobby by the industry," she said, adding that data allowances from individual companies still vary widely from package to package. 
"Going over these limits can still leave consumers open to substantial charges so I urge people to check what their allowance is before using data while roaming."
Liadh gets Sign Language Translation in budget
LIADH NÍ RIADA has welcomed the inclusion of her amendment on Sign Language Translation in the EU 2018 budget.
The Ireland South MEP submitted the amendment through her role on the Culture & Education Committee.
The passing of the amendment means all plenary debates in Europe will now have International Sign Language interpretation.
EU move wants artists to get fair show on YouTube
A NEW European Copyright Directive being drawn up has the potential to deliver fairer compensation for artists whose work is on User Uploaded Content (UUC) services such as Youtube, Ireland South MEP Liadh Ní Riada has said.
Liadh (pictured), a daughter of the iconic composer and musician Seán Ó Riada and a TV producer, said:
"Directives like this will help ensure that the large providers like YouTube  (who made an astonishing €15billion in profits in the first part of 2016) play an active, reciprocal part in that industry rather than just profiting off the backs of artists.
"This is not about penalising the end-users. This is about huge, profitable, multinational corporations playing their part in sustaining the industry they themselves rely on."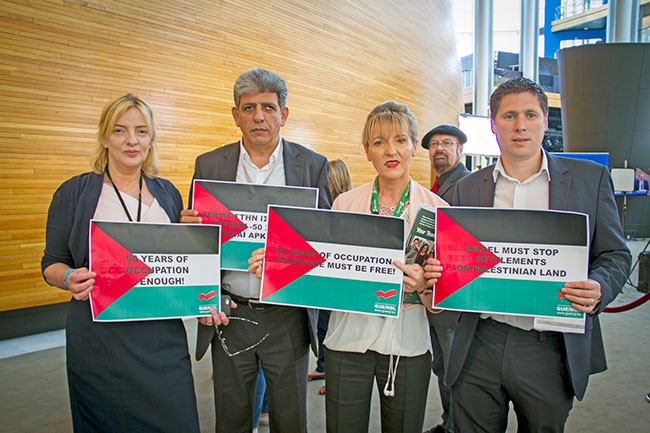 • MEPs Liadh Ní Riada, Martina Anderson and Matt Carthy with (second from left) Cypriot MEP Neoklis Sylikiotis (Chair, Delegation for Relations with Palestine) marking 50 years of Israeli occupation
EU and Ireland must do more for refugees
THE international community must take action to tackle the growing refugee crisis, Ireland North Martina Anderson said on World Refugee Day, 20 June.
"Every minute, 24 people are displaced by war, persecution and terror. The United Nations Agency for Refugees estimates that there are over 22million refugees worldwide. There are a further 40million people internally displaced in their own countries.
"This record of shame is not just statistics – they are people.
"We cannot stand idly by and just let this humanitarian crisis unfold before our eyes. The Irish people share a common history with those escaping conflict and hunger."
Fewer guns and bailouts, more human rights and solidarity
GUE/NGL MEPs called for "Another Europe" during a European Parliament debate on the refoundation of a Europe based on values anchored in effective democratic institutions and promoting a prosperous economy in a fair and cohesive society.
Martina Anderson told the plenary on 14 June:
"Brexit was a wake-up call. The EU must reform to survive. We need a social EU based on democracy, human rights and progressive national sovereignty.
"Instead we hear much talk of a multi-speed Europe, deeper integration, austerity and an EU army. I believe that is a mistake – more integration is the last thing we need.
"With EU funds skewed towards military research, people want more participation, more solidarity and more democracy, not guns and corporate bail-outs."

'Frackopoly' launched in Ireland 
LYNN BOYLAN MEP and GUE/NGL hosted the launching in Ireland of Frackopoly: The Battle for the Future of Energy and the Environment, "a bracing critique of the practice, finance schemes and politics of fracking".
Written by public interest advocate Wenonah Hauter, it is described by TruthDig as a "thorough, up-to-the-minute account of grassroots mobilising to oppose fracking, new oil and gas pipelines, and liquid natural gas export terminals".
With fracking, millions of gallons of water, dangerous chemicals, and sand are injected under high pressure deep into the earth, fracturing hard rock to release oil and gas.
Wenonah Hauter argues that the rush to fracking is dangerous to the environment and treacherous to human health, concerns shared by communities in Ireland fearful of the impact of fracking.
Yemen EP vote'doesn't go far enough'
JUNE'S European Parliament vote expressing "grave concern at the alarming deterioration in the humanitarian situation in Yemen" and which called on all sides and their regional and international backers to comply with international humanitarian law doesn't go far enough, Lynn Boylan MEP said, welcome as it is.
In February, the European Parliament called on the EU to impose an arms embargo against Saudi Arabia, saying Britain, France and other EU governments should no longer sell weapons to a country accused of targeting civilians in Yemen.
Lynn Boylan said the ongoing war and humanitarian crisis in Yemen has been largely ignored in the West while several EU countries continue to sell weapons to Saudi Arabia despite it being complicit in human rights violations in Yemen.
An arms embargo on Saudi Arabia must become a priority for all EU member states, she said.