3 July 2017 Edition
Dublin City gets second Sinn Féin Ardmhéara
An Phoblacht former editor elected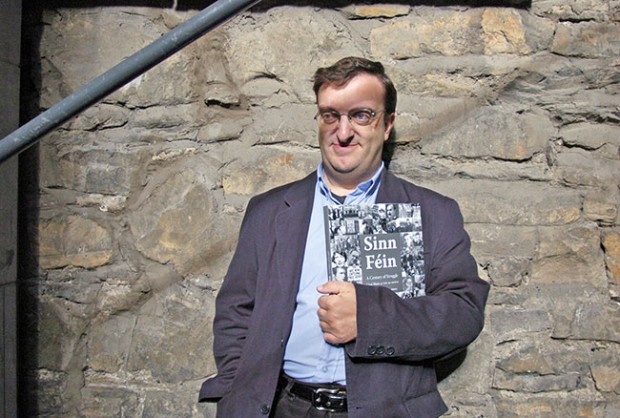 'The housing crisis is a cause of huge hardship across our society. It is also adversely affecting our economy. How can Dublin be expected to develop economically if working people cannot have access to even the most modest of homes in this City?' – Ardmhéara Bhaile Átha Cliath Mícheál Mac Donncha
DUBLIN CITY is to have the second Sinn Féin Ardmhéara in its history – An Phoblacht former editor and regular columnist Councillor Mícheál Mac Donncha.
Mícheál was elected by Dublin City councillors on Monday 26 June for the 2017/2018 term and follows Críona Ní Dhálaigh (another An Phoblacht former staff member!) who was Ardmhéara from June 2015 to June 2016. 
Speaking after his election, Councillor Mac Donncha said his top priority will be addressing the housing crisis. He also prioritised saving the Moore Street 1916 Battlefield Site and its preservation and development as cultural quarter. He said: 
"As Ardmhéara my main priority will be to work with this council, with all our communities, with those in housing need, and with central government to address this crisis. 
"My first act as Ardmhéara will be to request a direct meeting with new Housing Minister Eoghan Murphy. I will also be requesting that he fulfils his predecessor's commitment to report back to a full meeting of Dublin City Council on his Government department's programme to address the dire shortage of housing."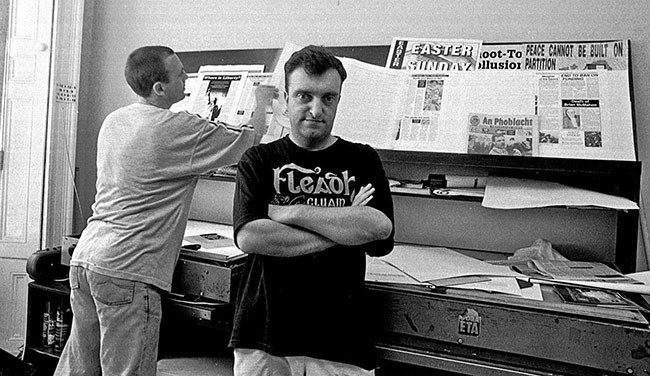 • 1995: An Phoblacht Editor Mícheál Mac Donncha after another edition has been put to bed
Mícheál said he knows he speaks for the members of Dublin City Council and the vast majority of the capital's citizens when he says that there absolutely has to be a step-change in Government housing policy. 
"Dublin City Council must be given the resources and the support – financial, legal, logistical – to build homes, to purchase homes, to refurbish and extend homes to meet the housing needs of the people. 
"I commend the efforts of City Council officials and staff who are doing their best within the confines of central Government policy and allocated resources but much, much more is needed. 
"Some of us on Dublin City Council have facilitated means of supplying housing which would certainly not be our first choice if we were in Government. We have shown flexibility because we know the priority is to get the flow of new housing started, to supply homes as soon as possible. But this is not a blank cheque. We will continue to point out that the priority approach should be the construction by the council of council housing on council land."
• 2002: Larry O'Toole and Mícheál Mac Donncha during the Dáil general election results at the RDS, Dublin, as Aengus Ó Snodaigh is about to be elected
He concluded:
"I take this opportunity to call on Housing Minister Eoghan Murphy and his Cabinet colleagues to release the funding needed for Dublin City Council and the other Dublin local authorities to develop council housing in sufficient quantity. 
"And the Housing Minister must end the stifling bureaucracy in the Department of Housing that is causing seemingly endless delay. To meet an arbitrary deadline – one that will not now be met anyway – we have seen huge energy put into the provision of yet another emergency measure – hub accommodation in this city. We need to see the same energy and urgency put into developing permanent homes for people. 
"Ultimately, it is a question of political will and commitment. Political will and commitment are not lacking on this City Council and I urge the Housing Minister and the Government to step up to the mark also. The minister needs to listen most closely not to departmental mandarins but to those in need of housing, to their public representatives, and to people working at the front line of housing provision. 
"The housing crisis is a cause of huge hardship across our society. It is also adversely affecting our economy. How can Dublin be expected to develop economically if working people cannot have access to even the most modest of homes in this city? 
"The housing crisis can be solved. The solutions are there. I intend to use the coming year to help ensure that those solutions are put into effect."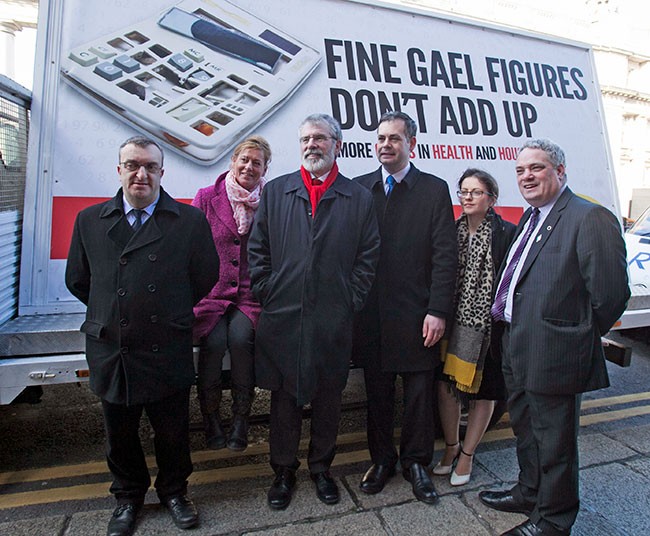 • 2016: Mícheál Mac Donncha, Máire Devine, Gerry Adams, Pearse Doherty, Kathryn Reilly and Aengus Ó Snodaigh during the Dáil general election