3 July 2017 Edition
The talks at Stormont
Editorial | Eagarfhocal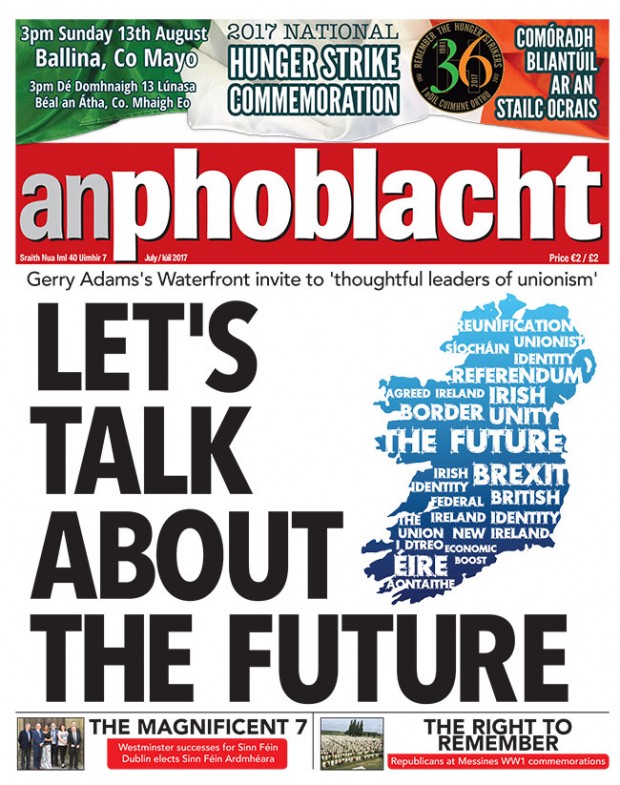 WHILST the DUP's deal to prop up Theresa May's Tory Government has been concluded, talks involving Sinn Féin, the DUP and the other main parties to try and restore the Executive and Assembly at Stormont continue as we go to press.
The negotiations at Stormont have been painstaking and long, stretching out late into the nights as well as including days of intensive engagements between and within the parties as well as with the Irish and British governments, the co-guarantors of the Good Friday Agreement.
Sinn Féin is engaged and working for an agreement.
Republicans want to see the institutions back up and running and a sustainable, credible Executive in place which can deliver first-class public services on the basis of equality, respect and integrity.
As Martin McGuinness noted when he resigned in January, the DUP, despite being nominally engaged in a power-sharing government with Sinn Féin, never really fully embraced the ideals which underpin the Good Friday Agreement. 
They played fast and loose with the joint nature of the joint Office of First and deputy First Minister, he said. 
The DUP acted with disrespect and at times outright bigotry towards the Irish language, blocking an Irish Language Act and withdrawing funding.
They also showed no regard for the identity, traditions and symbols of the nationalist and republican people.
No serious attempt was made to reciprocate the initiatives around reconciliation that Martin McGuinness and other figures in Sinn Féin have taken.
Successive British governments have also failed in their responsibilities to the Good Friday and other agreements. Meanwhile, the Irish Government has failed to hold London to account even though it is an equal partner in the Good Friday Agreement. 
They have totally failed to meet their obligations on addressing the legacy of the past, the introduction of a Bill of Rights, legislation to protect the rights of the Irish-language community and many other issues. 
These, combined with their relentless adherence to a punishing austerity agenda and their determination to drag the North out of the EU against the wishes of the people has deepened the growing crisis of confidence in politics and the political institutions. 
We need to get back to the principles of the Good Friday Agreement: equality, partnership and respect. Without these, we do not have genuine power-sharing institutions.
It remains to be seen if the DUP and the British Government are prepared to fully embrace the ideals of the Good Friday Agreement and be proactive in taking what steps are necessary to make power-sharing work for every citizen.