11 May 2017
Orange Order refuses to deny it's running unionist registration from halls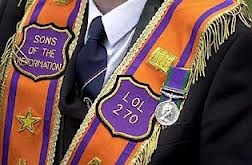 THE ORANGE ORDER has refused to say if it is running the "Defend the Union" Westminster election events being held in Orange halls this weekend.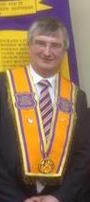 The Orange Order member and Fermanagh & South Tyrone unionist candidate, former Ulster Defence Regiment soldier Tom Elliott, not surprisingly says he has no problem with this apparent political intervention by an organisation that proclaims to be primarily a religious and cultural body.
The Orange Order's refusal to deny that it is behind a unionist voter registration drive, however, does raise questions over its claims to be a Christian religious fraternity.
A Sinn Féin spokesperson said that it is no secret that the Orange Order has previously worked to influence the political process.
"The Orange institution is now encouraging people to vote for pro-Brexit, pro-austerity and anti-equality parties against the wishes of the majority of people in the North," Sinn Féin said.
The events have also been criticised by the SDLP's John Dallatt. He said the news "calls into question the rationale for funding the Orange Order".
People staffing a telephone 'hotline' for the event have also refused to say who exactly is behind the campaign being run from Orange Order halls.
An Phoblacht Magazine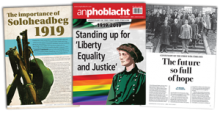 AN PHOBLACHT MAGAZINE:
Don't miss your chance to get the first edition of 2019 published to coincide with the 100th anniversary of An Chéad Dáil and Soloheadbeg.
In this edition Gerry Adams sets out the case for active abstentionism, Mícheál Mac Donncha takes us back to January 21st 1919, that fateful day after which here was no going back and Aengus Ó Snodaigh gives an account of the IRA attack carried out on the same day of the First Dáil, something that was to have a profound effect on the course of Irish history.
There are also articles about the aftermath of the 8th amendment campaign, the Rise of the Right and the civil rights movement.
An Phoblacht on Twitter

An initiative for dialogue 
for reconciliation 
— — — — — — —
Contributions from key figures in the churches, academia and wider civic society as well as senior republican figures