2 May 2017 Edition
I want to be the Health Minister with an all-Ireland NHS
When he was Health Minister, Fianna Fáil's Brian Cowen famously referred to the Department of Health as "Angola" as there's "landmines everywhere". So who on earth would want that job? Louise O'Reilly TD does.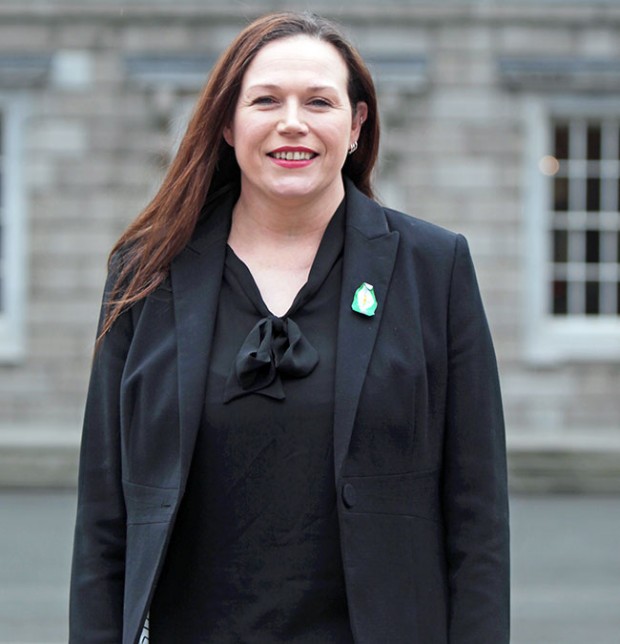 LOUISE O'REILLY TD is straight talking, as Fianna Fáil TD Niall Collins (among others) has found out the hard way during a Dáil debate on workers' rights when she tore him off a strip for heckling her in a video moment that went viral.
"Deputy Collins," the former trade union official hit back, "I did not come in here to do what your mother should have done and put manners on you. Will you please allow me to speak?"
She was no less forthright when she sat down with An Phoblacht.
"I want to be Health Minister," she says without any equivocation and stares at me, waiting, inviting the inevitable question – 'Why?'
"I can see the potential in our health service for change. The only person who can do this is the Minister for Health and that's a job I would love."
Sinn Féin's plans have been developed in consultation with nurses, doctors, allied medical and support staff and families up and down the country, she says:
"So we know they will work; we just need a chance.
"I want to be the next Health Minister – the one that makes change happen."
As an active member of the Oireachtas Joint Committee on Health and the Committee on the Future of Health Care, does she have any sympathy for the Health Minister with the job at the moment, Fine Gael's Simon Harris.
"No," is the unhesitating response. "He's made it worse. I don't have any problem with him personally – it's his politics and the direction he is (or isn't) taking the health service that has such an impact on the communities we are elected to represent that I have a serious issue with.
"Fine Gael have plenty of right-wing, privatisation ideology but they are bereft of new ideas."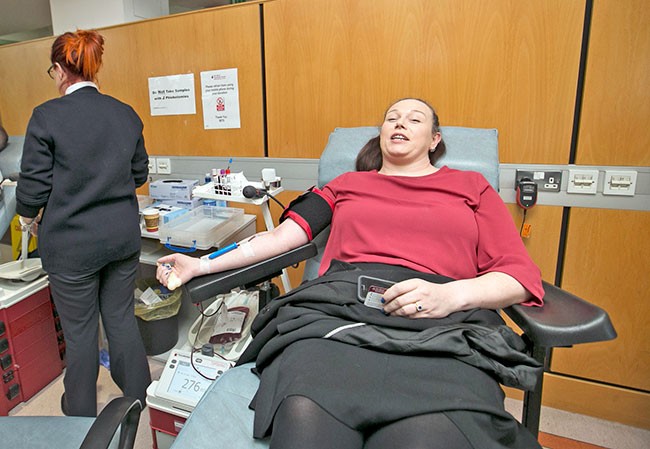 • Louise O'Reilly at the Irish Blood Transfusion Service
The report card for this minister is not good but the report cards for previous ministers – "including Mícheál Martin, let's not forget" – wasn't good either, Louise insists.
"How many Health Ministers have we heard from Fine Gael, Fianna Fáil and Labour down the years telling us that they know what's wrong with the health service in the South but perpetuate a system that clearly doesn't work?
"Sinn Féin has the vision to transform the system.
"Healthcare is a jig-saw with many pieces that need to fit together but you've got to have the vision, the will and the wherewithal to make that happen otherwise patients and staff will suffer."
One of the big issues is hip and knee replacements and what is called elective surgery because it's not an emergency, she says.
"If you put to one side the quality of life and daily impacts on these people, many of whom are in an extreme amount of pain but don't qualify as an emergency, they need to be treated at some time. Until then, they are going to be attending their GP, taking time off work, turning up in A&E, and needing pain relief – costing the state money all the while. So let's find a more effective way to get them better."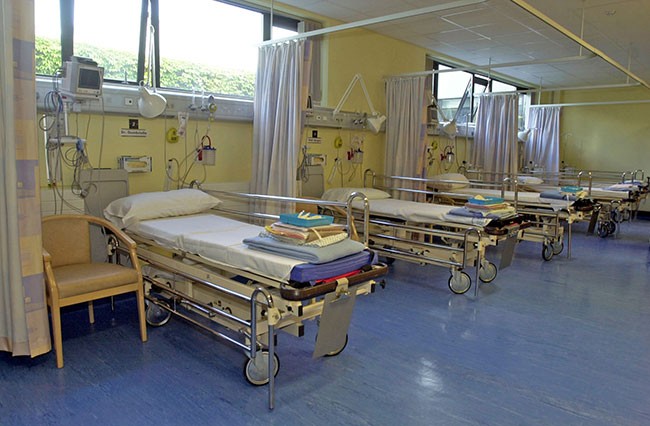 • The trolley crisis could be dramatically eased by Sinn Féin's Alternative Budget costed proposal to open up 500 fully-staffed beds, says Louise O'Reilly
Primary care
Primary care is an area the Government is failing to get to grips with, she says, citing her own Fingal constituency as an example.
"We have a brand new primary care centre being built in Balbriggan, a town with a massive population explosion and huge waiting lists, which is very much needed and appreciated – except that there is going to be no new staff for this shiny new centre."
It will be staffed "from existing resources", Louise has been told by the Health Service Executive. "And that's for all 14 of the primary care centres, not just Balbriggan, to be opened in the next 18 months. No additional staff. When Sinn Féin says 'invest in primary care' we mean not just the buildings but the people needed to deliver primary care."
Trolley crisis and waiting lists
The trolley crisis could be dramatically eased by Sinn Féin's Alternative Budget costed proposal to open up 500 fully-staffed beds, she maintains.
She has already met Health Minister Simon Harris to discuss Sinn Féin's single integrated waiting list system called "Comhliosta". It's based on a system "that has been proven to work in Portugal".
"Under the current system, waiting lists vary drastically across our hospitals. Patients do not know where they stand on the list or how long they will be waiting. People waiting for similar procedures can wait different lengths of time depending on which hospital they have been referred to."
She expressed incredulity that the system in the 26 Counties is "paper-based in this day and age" and explained:
"We would introduce a new IT system – based on the one in use in the Portuguese NHS – which would generate new maximum waiting times by transferring those on the list from hospitals that are struggling to meet demand to those that are in a better position to perform the procedure more timely.
"This would have to be done in conjunction with a major programme of investment in our public hospital system, including beds and staff numbers which is where Minister Simon Harris's plan falls down.
"That is why Sinn Féin, in our health policy published ahead of the general election in February 2016, proposed a massive €3.3billion investment in our health services.
"Others opted for massive tax cuts for the wealthy, which is why the Health Minister does not have the money to solve the hospital waiting list crisis.
"Two million euro a week on agency nurses is a choice that the Health Minister makes when we could invest that in creating direct posts that would save around a third of that money. The minister has even acknowledged to me in Dáil debates that agency nurses do not represent good value for money."
Sinn Féin argues for increased investment in health via a reformed taxation system but even the current spending could be better utilised, Louise O'Reilly insists.
"When we see 400, 500 or 600 patients on trolleys – that's people already suffering pain and stress – there's a reason for that."
Meeting families and frontline staff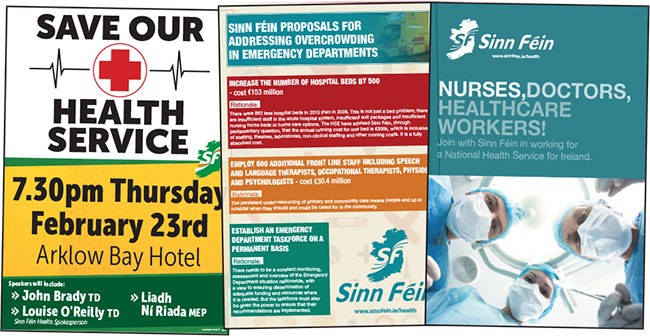 Louise and fellow Sinn Féin Oireachtas members are engaged in an intensive round of public forums and face-to-face meetings with frontline staff to put forward the party's proposals but, most importantly, to listen and learn from families and health service professionals.
The TD for Fingal in County Dublin says it's "really important" for policy-makers to learn from the direct experience of delivering the service every day – everyone else who battles to keep the system working – from nurses and doctors, to diagnostic staff and care assistants to the people in the canteen preparing the meals and the admin staff, the glue that holds it all together.
So far, they've been in Donegal, Sligo, Galway, Westmeath, Kerry, Wicklow, Cork and Clare. Other venues will include Waterford and Offaly.
She said they had met "a fantastic bunch of ladies" who clean Portiuncula Hospital in Ballinasloe General & Maternity Hospital (one of the hospitals in the Galway & Roscommon University Hospital Group). 
They said that, even though many politicians had visited there, this was the first time that any senior political figure with responsibility for health policy had made a point of wanting to speak to the support staff in the hospital.
"In Sligo, we met parents who have a huge issue in trying to access Child & Adolescent Mental Health Services for their kids. Families are literally crying out for help."
When Sinn Féin has been talking to nurses and midwives around the country, frontline workers are concerned not only about the lack of recruitment but problems with staff retention.
While money is obviously an important factor in workers' lives, it's not the only one, she points out.
"A lot of nurses are getting burned out in the health service by the way it's being run at the moment. We have to give them a long-term vision with early contracts, sufficient planning and resources and an agreement that we will make this a good place that you want to work in and to stay in.
"Who wants to go to work in A&E every day when you know you're going to be short-staffed and not have the beds to transfer people to?" 
•  Sinn Féin Stormont Health Minister Michelle O'Neill with Professor Raphael Bengoa at the launch of the 'Health and Wellbeing 2026 – Delivering Together' vision
An all-Ireland NHS 
Sinn Féin's vision is to deliver an all-Ireland National Health Service "where it's not just a good place to be treated but where it's a good place to work"
An all-Ireland NHS isn't simply a nice aspiration – it makes common sense on a small island such as ours with a population of six million.
"If you ask anyone in Donegal about an all-Ireland health service, they will tell you, in no uncertain terms, that they don't recognise the Border when it comes to health care."
People there want access to services in Altnagelvin where there's a service level agreement because it's nearby and it is an efficient use of resources. It's a prime example of how an all-island health service works.
"Cancer doesn't stop at the Border."
And the new children's hospital won't function without the critical mass from both sides of the Border, she says.
The collapse of the power-sharing Executive at Stormont has stalled plans for an all-island health conference that Louise O'Reilly and outgoing Health Minister Michelle O'Neill were planning but she hopes to get this back on track as soon as possible.
She warns that Brexit will have a huge impact on health service delivery and she has been dismayed by the lack of statistics held by the Department of Health in Dublin about the number of people from the 26 Counties being treated by the NHS in England, Wales and Scotland.
A 32-county health service has been developing "because it's necessary", Louise O'Reilly says.
"Separate to any politics, this is an island and it doesn't make any sense to cut off a chunk of the population or to replicate services and administration. 
"It's not an ideological position; it's a very practical position to have a 32-county health service."