2 May 2017 Edition
Building a mass political movement for positive change across this island
Gerry Adams speaking at the Easter Rising Commemoration in Carrickmore, County Tyrone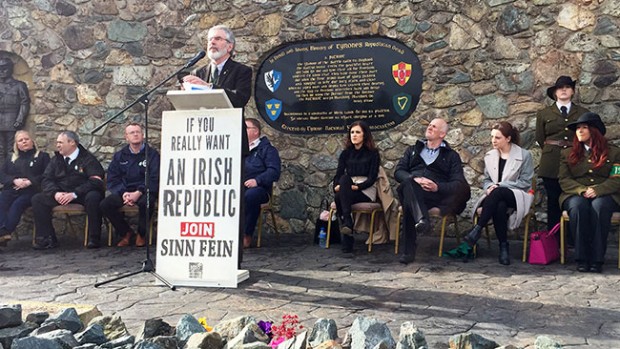 LIKE THOSE in Dublin in Easter 1916 who rose against the British Empire and proclaimed the Irish Republic, the men and women of Tyrone and other parts of the North of our generation took on the formidable military might of the British state after the pogroms of 1969.
With courage and determination, our family members, our friends, neighbours and comrades challenged one of the best-equipped armies in the world.
Over almost three decades they fought it to a standstill.
Among that number was Martin McGuinness.
Like those we honour today, Martin was a freedom fighter, a political activist, a peacemaker, an Irish republican who believed that the course we have charted will achieve Irish reunification.
Nineteen years ago, when I last stood at this commemoration, Sinn Féin held just two Westminster seats: one in West Belfast, the other in Mid Ulster. We had one Dáil seat.
Today we have 23 TDs, seven seanadóirí, four MPs, four MEPs, 27 MLAs, and 250 councillors. 
We now receive more votes than any other party on this island.
Sin mar a d'fhás Sinn Féin ar fud an oileáin.
By using this political strength intelligently and strategically we can advance our republican objectives. This is our strategy for change. Martin McGuinness understood this and worked hard to achieve it. Sinn Féin and Irish republicanism is stronger today because of him. 
But if Martin were here he would be the first to tell us we cannot sit on our hands.
Ni féidir linne bheith rómhuiníneach.
We have to get bigger, stronger, better organised. We have a lot of work still to do. As I said at Martin's graveside, don't mourn him, celebrate his life. So too with our patriot dead. Celebrate their lives but, most important of all, organise and mobilise.
That is the only fitting legacy for Martin and for all of those whose lives we honour today.
Through all of the years of war and politics and building the peace, the republican base in Tyrone and across this island has never let us down. The people never let us down. They didn't let us down in 1998 or in 2017.
Like another Carrickmore republican, Joe McGarrity 100 years earlier, Tyrone republicans have confidence in our struggle. It is no accident that our new leader in the North, Michelle O'Neill, is a Tyrone woman.
None of us are naive. We know today that there are those in the British system, and within the leaderships of unionism, who resent the significant progress that has been made.
The Renewable Heat Incentive scandal, the allegations from within the DUP of corruption and fraud, and the arrogant refusal of that party to honour previous commitments led Martin to resign as deputy First Minister. In doing so he sacked Arlene Foster.
The Assembly election that followed has brought about seismic political change. The unionist electoral majority is gone. The unionist majority in the Assembly is gone.
The Orange State is gone also. Who got rid of it? You and tens of thousands more like you.
But Sinn Féin has not come this far just to come this far. Rights threaten no one. We now have the potential to build progressive political alliances with other parties to tackle the inequalities in our society.
Of course, unionism can regroup on a negative axis. Unionists are still the majority in the North. Their leaders could reverse their recent electoral setbacks. Already there is talk of another unionist electoral pact. 
Unionism could also embrace a more inclusive way forward.
The current talks process has paused.
But let me be very clear – it is the British Government's intransigence on legacy issues and the DUP's rejection of the principles of equality, parity of esteem and of rights that have made it more difficult to reach a deal.
Sinn Féin wants a deal. But if there is no deal then there has to be an election.
The role and responsibility of the Irish Government must be to assert that an election is the only legal course open to the British Government if the current talks fail to elect an Executive.
In this context the progressive parties in the Assembly should not fear an election. It will be an opportunity to strengthen those parties that are for a Bill of Rights, who want a Civic Forum, who believe in marriage equality, and who support an Irish Language Act.
And that's what this is all about – rights for everyone, based on equality: women's rights, religious rights, the right to be free from sectarianism and poverty, the rights of victims of the conflict. They cannot be left out or left behind.
None of these rights threatens anyone– except for the bigots and naysayers and begrudgers.
• Gerry Adams: 'The republican base in Tyrone and across this island has never let us down'
Making politics in the South
In the meantime, Enda Kenny is hanging on as the Taoiseach of a minority government simply because Fianna Fáil is not yet ready for a general election.
But as we have seen in recent days with the controversy around water charges and the crisis in policing and justice, an election could happen at any time.
Is é Sinn Féin an fíor fhreasúra sa Dáil.
Sinn Féin is challenging the Government over the crises in health and housing, the sell-off of NAMA's Northern loan book, and on the Garda scandals and water charges.
The partnership government of Fine Gael and Fianna Fáil is about protecting the status quo.
They take the side of the landlords against tenants, the bosses against the strikers – the elites against the citizens.
This has to change.
But republicans need to understand that Sinn Féin cannot contest a general election in the South unless we are very clear that we want to be in government. That means a step-change in our thinking. It means creating an active culture that moves Sinn Féin into and prepares us for being in government on republican terms.
Building a mass political movement for positive change across this island remains an urgent task for all our activists.
Brexit
Brexit presents the greatest threat to the people of this island at this time.
Without doubt, Brexit on English terms will see the imposition of a hard economic border on the island of Ireland.
While Sinn Féin has many concerns about the EU and its lack of equality and accountability, we are against Brexit for the North.
Cosnóidh sé jabanna.
It will impact badly on agriculture and the agri-food industry.
Brexit also threatens to rip the Good Friday Agreement asunder. This places a huge onus on the Irish Government to uphold the democratic vote in the North to remain. It also requires the Taoiseach to actively campaign for the North to have a 'Special Designated Status Within the EU'. This is the only way to protect Irish interests within the EU. So far, the Taoiseach has failed to do this.
Irish unity makes sense
The cause of uniting Ireland is not the property of any one grouping or party.
Sin seasamh leanúnach Shinn Féin go dtí an lá atá inniu ann.
Alongside our campaigning and outreach activity we are currently exploring the possibility of establishing a Dáil Committee on Irish Unity. This could bring forward proposals for what a united Ireland might look like and how the Irish state needs to plan for reunification across all areas of the economy and society.
There is also a need to discuss a referendum on Irish unity as set out in the Good Friday Agreement – a need to agree on how this can be held and how it will be won.
That will require the support of other parties and Independents in Leinster House and Sinn Féin looks forward to discussing this with everyone there.
We will also endeavour to persuade unionism of the merits of an agreed Ireland.
The opportunities for real change are within our grasp. The old certainties are gone.  The grip of the old parties is loosening, North and South.
The challenge for unionism
The future well-being of our unionist neighbours is a matter of deep concern for us.
Sinn Féin wants the unity of Orange and Green based on equality.
That is the challenge facing the new leader of the Ulster Unionist Party and of the DUP leadership. Arlene Foster needs to reflect over this Easter time on whether she wants to reinforce unionist separation, segregation from the rest of us, or whether she seizes the opportunity to bring unionism in a new direction to respect diversity and end division.
Renewal
Easter is a time for renewal. For redemption. For rebirth.
A new generous unionist approach will be embraced and met with flaithiúlacht from Sinn Féin and other progressives.
However, if what we have seen from the DUP in recent times continues, that will only guarantee that there will be no DUP First Minister and no return to the status quo at Stormont.
So, DUP and UUP – it's over to you.
Sinn Féin is up for the challenge.
We extend the hand of friendship as we commit ourselves again to complete the work of previous generations, the work of those we remember, the work of our leader Martin McGuinness. 
Bígí linn.
Ar aghaidh linn le chéile.
Join the Rising.
Up the Republic! An Phoblacht abú!