2 May 2017 Edition
Givan responsibility
DUP Communities Minister's partisanship in power questioned

Revelations heap more pressure on the former Communities Minister to explain how the criteria for his Community Halls Pilot Programme was set
A SCHEME set up by Arlene Foster's Democratic Unionist Party "to improve community halls" saw the bulk of a £2million fund being spent on Orange Order halls and has been found to be biased towards Protestant and unionist groups, according to official departmental documentation uncovered by the Committee on the Administration of Justice (CAJ).
The Community Halls Pilot Programme was launched last year in a blaze of publicity by the DUP leader and First Minster, Arlene Foster, with her DUP colleague, Communities Minister Paul Givan, in County Derry. The selected venue was Salterstown Orange Hall.
Now official files obtained by CAJ show clearly that the bulk of the funding was directed towards "people of a Protestant religious belief and inferred political opinion".
It has also been confirmed that of the 850 applicants there were 90 successful bids for funding under the scheme. Of those who met the criteria laid out by the department and were successful, 34 are Orange halls and two are Masonic halls. Only two of 60 GAA clubs that applied and two Ancient Order of Hibernians halls were allocated grants of £25,000.
More than £200,000 was given by Givan to community groups, Ulster Scots, cultural, educational and historical societies to carry out improvements to and upgrade Orange halls.
It is now clear that FOUR TIMES the original budget (a total of £1.9million) has been spent on a programme that was originally allocated as £500,000.
According to Daniel Holder of the CAJ, who exposed the bias in the scheme, the department originally refused two requests in January to publish its "Screening Form". Officials ignored these requests until CAJ made an official complaint. It is only then the department  posted the Section 75 Screening Form on their website.
CAJ were still not satisfied and pushed the department who released a version of the Screening Form at the end of March that points directly towards a bias in the allocation of funds.
What is also clear from the information obtained by the CAJ is that the scheme was deliberately launched as a pilot rather than as a fully-fledged funding mechanism that would have required Department of Finance approval if it had tipped the £2million mark or over. Such a proposal would almost undoubtedly have been flagged with the Finance Minister, Sinn Féin's Máirtín Ó Muilleoir, and come under scrutiny on the grounds, of fairness, equality and transparency.
The screening document reveals that the programme was designed to prioritise "low-capacity organisations that have not attracted previous funding" previously on the basis that "faith groups" (such as the Orange Order) do not apply for Big Lottery funds because this is "regarded as benefiting from gambling" [see below].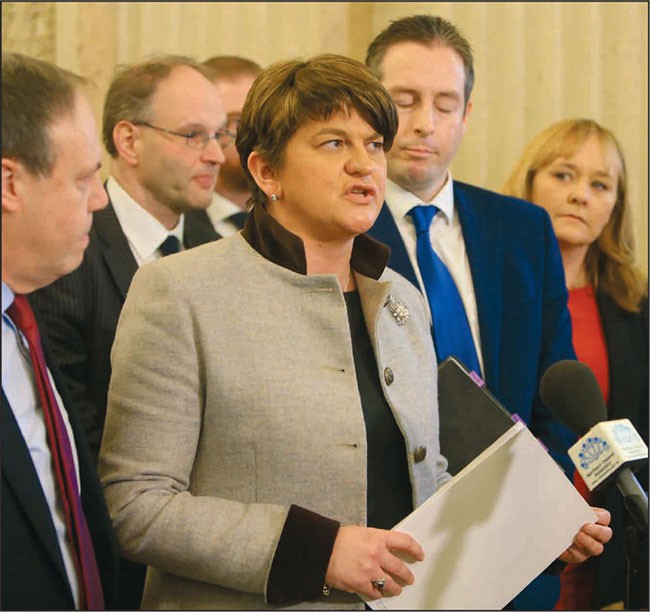 • DUP leader and then First Minister Arlene Foster with Paul Givan, eyes wide shut
Other criteria stating that funding could not be used for "sporting infrastructure" is a clear intention that GAA clubs were to be excluded.
It has now emerged that up to 40 Orange lodges or halls have received in excess of £350,000 grant aid from the Heritage Lottery Fund.
The revelation heaps more pressure on the former Communities Minister to explain how the criteria for his Community Halls Pilot Programme was set.
And this isn't the first time that Paul Givan has thrust himself into the limelight with controversial decisions.
He faced criticism when he posed for photographers with unionist bandsmen and mimicked playing a flute after he reinstated funding for marching bands in a scheme that spent double originally intended, to the tune of £300,000.
The Lagan Valley DUP man also posed for the cameras as he brazenly ignited an Eleventh Night bonfire in County Tyrone, something a Communities Minister in a power-sharing Executive might have thought twice about.
At the end of March, the Environment Department broke its eight-month media silence to confirm that had it investigated Givan's bonfire vanity and had offered him "advice" internally that it was "in essence, an offence".
When he axed a £50,000 grant to the Irish-language Líofa bursary project for young people in an email announcement two days before Christmas Day, many unionists as well as nationalists recognised it as a crass act of provocation, forcing its reinstatement.
But Paul Givan isn't a loose cannon on the deck of the DUP.
Gregory Campbell's mocking in the Assembly of the Irish language three years ago with his "Curry my yoghurt can coca coalyer" parody of "Go raibh maith agat, Ceann Comhairle" set the tone for the DUP's public disdain for the Irish language and nationalists in general. His refusal to apologise (which earned him a one-day suspension from the house) copper-fastened the insult.
Last September, DUP Agriculture, Environment & Rural Affairs Minister Michelle McIlveen gratuitously changed the name of a fisheries protection vessel from 'Banríon Uladh' to its English equivalent, 'Queen of Ulster'.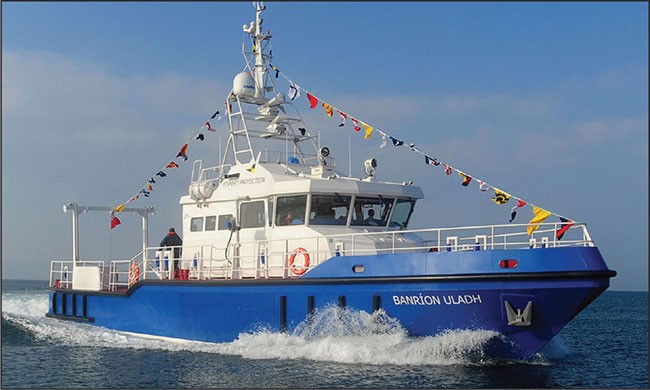 • The fisheries protection vessel 'Banríon Uladh' was needlessly and provocatively renamed by a DUP minister
These are the most public manifestations of DUP disdain that had echoes in leader Arlene Foster's statement in February that more people in the Six Counties speak Polish than speak Irish and the DUP would never agree to an Irish Language Act.
That is the background against which many view her declaration on 12 April that the DUP does want to "respect and indeed better understand the language and culture which we are not a part of".
This newly-professed respect would be most welcome if it were not accompanied with a heavily-qualified stated intention to listen "and to engage with those from the Gaelic/Irish background, those without party political baggage or indeed demands, people who genuinely love the Irish language and don't want to use it as a political weapon". 
It is the DUP that has used Irish as a political weapon, resisting it at every political level, from St Andrews to Stormont, including blocking an Irish Language Act.
Gambling claim doesn't stack up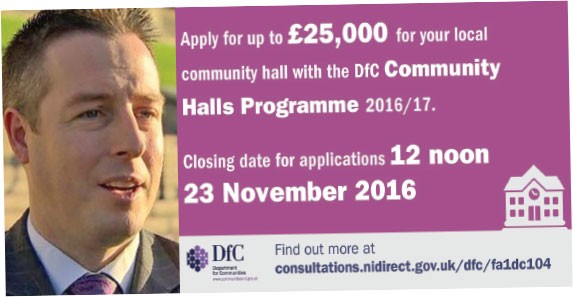 THE CLAIM that the Community Halls Programme was set up to help groups which would not apply for Lottery funding because of a faith-based reluctance to benefit from gambling "simply does not stack up", Sinn Féin National Chairperson Declan Kearney has said after revelations that Orange lodges and other groups which had supposedly not applied for Lottery funding did in fact do so. 
Expressing his "deep concern" about the administration of the Community Halls Programme, which falls under the responsibility of the Department for Communities, the South Antrim MLA said:
"It now transpires that the Randalstown Ulster Scots Cultural Society will receive £8,500 in Big Lottery funding for improvements to Randalstown Memorial Orange Hall despite already receiving £25,000 from the Community Halls Programme.
"Under a DUP minister, the Community Halls Programme budget has almost quadrupled from £500,000 to £1.9million. By contrast, the same minister was responsible for cynically stopping the £50,000 Líofa Gaeltacht bursary fund before last Christmas. 
"Now the department itself has since admitted that funding awards from the Community Halls Programme have been allocated disproportionately in favour of applications from one section of the community. In fact, only two Gaelic athletics clubs have successfully qualified for financial assistance."
He said that this suggests that the Community Halls Programme "has been operated on a differential basis with no regard for objective need criteria or equality". 
This, he said, is a further example of the DUP's "cavalier approach to management of public finances".
Kearney, one of Sinn Féin's Stormont talks negotiators, said that any restored political institutions will depend upon transparency, fairness and equality in the governance of all public funds and decision making:
"There is no place for any form of institutionalised bigotry in terms of public policy or government."