2 May 2017 Edition
Killer of Garda Tony Golden was 'protected Garda agent'
Why did senior gardaí and DPP – who knew the unstable Crevan Mackin had access to guns – release him from prison on reduced bail?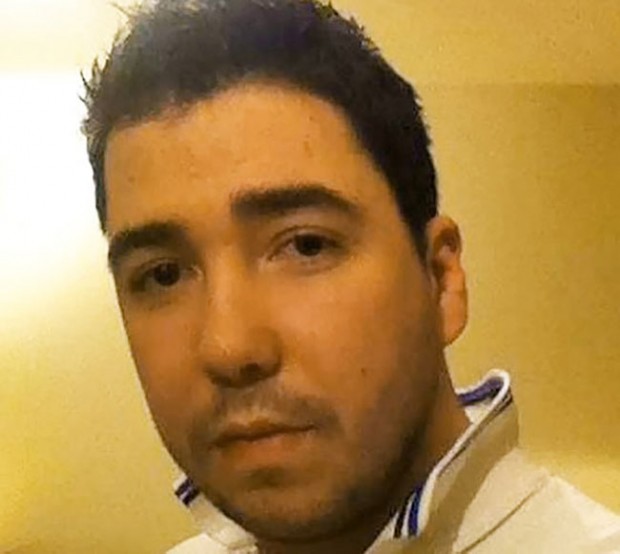 The Office of the Director of Public Prosecutions instructed gardaí to charge Mackin with IRA membership – the very offence he had not admitted
ON 11 OCTOBER 2015, Adrian Crevan Mackin shot dead Garda Tony Golden and seriously wounded Siobhán Phillips before taking his own life near Omeath, County Louth. New evidence shows that Adrian Crevan Mackin was a Garda agent and informer, tasked with infiltrating so-called dissident republican groupings. He was out on bail at the time of the murder even though he had admitted possessing weapons and explosives.
Nine months before the killing of Garda Golden, Crevan Mackin had admitted to possession of firearms and even led gardaí to an arms dump near the Border where they recovered two pistols. Incredibly, despite this, Mackin was not charged with any firearms offences.
The series of events leading up to the killing of Garda Golden and the wounding of Mackin's partner, Siobhán Phillips, paints a murky picture where An Garda Síochána used a highly dangerous, volatile and abusive individual with serious mental health issues as an agent of the state working for the police.
Mackin had for years been on the fringes of so-called dissident republican organisations. 
He went to school in Warrenpoint, County Down. In 2012, he was arrested by the PSNI for possession of extreme pornographic material. After this, he moved to north Louth where, according to his sister, he began to supply pipe-bombs and guns to dissident republican groupings opposed to the Peace Process.
On 16 January 2015, following a tip-off from the FBI in the United States, at least 16 armed gardaí from the Special Detective Unit in Dublin raided Mackin's home in Omeath. 
The FBI had provided a list of weapons which Mackin had purchased over a two-year period. Gardaí had obtained the warrant to raid Mackin's home stating that they believed he had six firearms in his possession. During the raid they found threaded and capped pipes (which can be used for making pipe-bombs) along with gallons of sulphuric and nitric acid which are used in the mixing of explosives. 
Mackin was arrested and interviewed by gardaí.
The FBI also claimed they had information that Mackin was intending to import the highly-toxic poison ricin with intent to kill a Social Services officer in the North
The transcripts of interviews with gardaí show that Mackin denied membership of any organisation styling itself the IRA before simply answering 27 further questions with the words "no comment".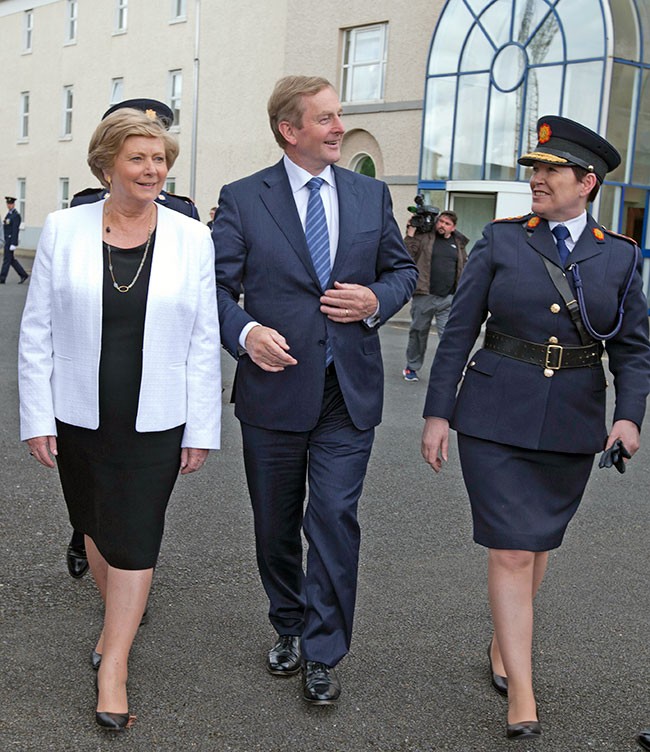 • Numerous questions for Justice Minister Frances Fitzgerald, Taoiseach Enda Kenny and Garda Commissioner Noirín O'Sullivan
During a fifth round of questioning, Mackin did admit to weapons possession and importing components parts for six firearms after a list of his PayPal transactions were shown to him.
Around this time, Mackin told detectives he had access to guns, including two Glock pistols – the type he would use to kill Garda Golden. 
He also led gardaí to an arms dump at a derelict cottage in Edentubber where they recovered two Beretta 9mm pistols. Mackin said he brought the gardaí to this arms dump in exchange for not being charged with firearms offences, and instead to only be charged with IRA membership – something he had not admitted to.
Mackin's sister said he informed her that there was a deal with the gardaí.
"'We'll keep you out of prison but you'll have to do this [or that] for us'. Why did they think Crevan was a good candidate to be a grass, or a tout, or whatever word you want to put on it?" she said. 
On 18 January 2015, the Office of the Director of Public Prosecutions instructed gardaí to charge Mackin with IRA membership, the very offence he had not admitted.
Crevan Mackin's solicitor, Paul Tiernan, told an RTÉ Investigates programme detailing the incredible story that he finds it "very strange" and "highly unusual" that "someone who had admitted possession of firearms and the importation of component parts for firearms, should have been treated in this way" and not charged with possession of those firearms. "In the vast majority of cases, the strongest evidence against people is their own admissions," the solicitor said on TV. 
While awaiting a bail hearing, Mackin was sent to Portlaoise Prison. There he attempted to have himself placed on wings which housed prisoners of various so-called dissident republican groups. These prisoners refused to allow Mackin on their wings, suspecting him of being a spy.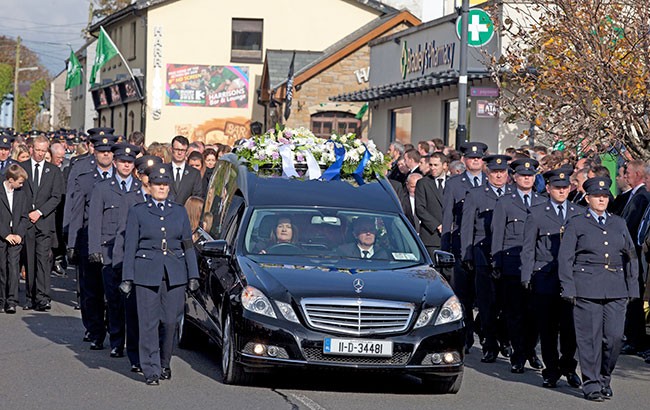 • Garda Tony Golden (below) and his funeral in Blackrock, County Louth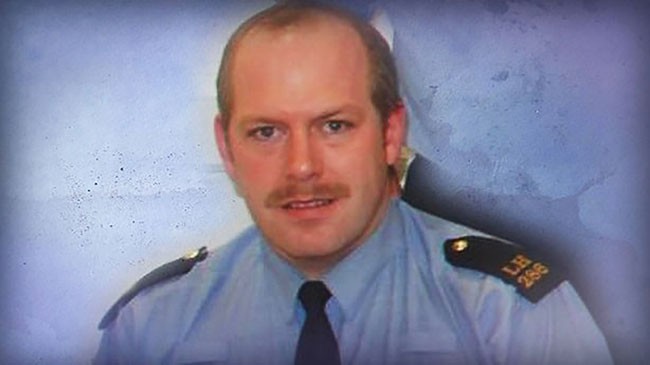 Mackin's solicitor said in an interview on RTÉ: 
"He told me that he was advised to infiltrate the Real IRA in Portlaoise. He confirmed that he was brought onto the political wing but, very soon after arriving on the political wing in Portlaoise Prison, he was expelled."
Mackin's bail was originally posted at €20,000 but, strangely, this was quickly reduced to €5,000. He was released 10 days after his arrest. 
His sister says he had confided in her that he believed he was going to be shot dead by dissident republicans for his role as a Garda informer, describing himself as "a marked man" and saying it was "only a matter of time" before they would kill him. 
His sister and solicitor say he started to deteriorate mentally and became increasingly anxious and was prone to violent outbursts. He also began to regularly assault and beat his partner, Siobhán Phillips. 
Two days before the killing of Garda Golden, Siobhán Phillips (21) had been subjected to a horrific and prolonged assault at the hands of the 24-year-old Mackin. 
Over the course of 12 hours he punched Siobhán in the head, kicked her in the stomach, and slashed her a number of times on the arm and legs with a bread knife. Siobhán told work colleagues what happened and then contacted her father and stepmother, telling them she was terrified Mackin was going to kill her.
Mackin had also threatened to kill other members of her family, including her brothers. 
Her stepmother told her that the only way anything would come of it was if she went to the Garda and made a statement. 
On the morning of 10 October, a visibly frightened and injured Siobhán Phillips – accompanied by her father and stepmother – attempted to register complaints of domestic violence and assault against Mackin at Dundalk Garda station. This is the same Garda station at which Mackin signed  on as part of his bail conditions. 
Siobhán's father, Seán, says the garda they dealt with in Dundalk refused to take a statement, telling them "that girl [Siobhán] could have a brain injury or anything. I'm not going to take a statement from somebody with injuries like that", before instructing them to go to Omeath as it was in that jurisdiction where the assault happened. 
The family met Garda Tony Golden at the Omeath station the next day. 
After taking the statement, Garda Tony Golden accompanied Siobhán and her father to the home she shared with Crevan Mackin to collect her things. Garda Golden and Siobhán Phillips went inside while Siobhán's father waited outside. Mackin aggressively demanded to know why the garda was there before opening fire on the pair, killing Garda Golden and horrifically wounding Siobhán Phillips with a gunshot in the head. He then turned the gun on himself.
Sinn Féin President Gerry Adams TD asked for the recall of the Dáil from its Easter recess to allow the Minister for Justice to make a statement on the matter and to answer questions.
The Louth TD has written to Justice Minister Frances Fitzgerald eight times since October 2015, to the Taoiseach four times and GSOC on three occasions to raise concerns about the case.
"Given the information I provided, I would have expected Minister Fitzgerald and the Taoiseach, after a reasonable period of time, to ensure a proper investigation into the circumstances which led to the shooting of Garda Golden and Siobhán Phillips took place," he said.
The Dáil deputy described the responses from An Taoiseach and the Minister for Justice as "unsatisfactory":
"I have never received any indication that the Government was taking this matter seriously. Given that it was known by some senior figures in An Garda Síochána that Crevan Mackin had access to weapons, Siobhán Phillips and Garda Golden should not have been placed in this perilous situation."
•  Gerry Adams repeatedly contacted An Taoiseach, the Justice Minister and the Garda Commissioner
Gerry Adams described the arrest, interrogation and subsequent treatment of Crevan Mackin as "entirely inappropriate":
"All of the families affected by this need to have truth about the circumstances of Crevan Mackin's arrest, questioning, charging and relationship with An Garda Síochána.
"Those responsible must be held accountable and, if necessary, they must face a criminal investigation and possibly charges."
Meanwhile, the family of Siobhán Phillips have announced that they are to sue An Garda Síochána. In a statement following the airing of the RTÉ Investigates programme on 20 April, their solicitors, Madden & Finucane, said:
"These revelations raise issues of significant public importance and require an investigation at the highest level. 
"We have been instructed today to issue proceedings in the High Court in Dublin and we will be writing to Frances Fitzgerald, the Minister for Justice, requesting that she immediately establish a public inquiry into the circumstances surrounding the shooting of Siobhán and the murder of Garda Golden."