2 May 2017 Edition
Vote against the Tory/DUP Brexit and cuts agenda – Vote for progress and equality
Editorial | Eagarfhocal
Vote against the 
Tory/DUP Brexit 
and cuts agenda
Vote for progress 
and equality
THE TORIES' DISREGARD for the people of the North of Ireland – unionist and nationalist – was shown in Prime Minister Theresa May's shock announcement of an early Westminster general election after her categorically ruling it out only a few weeks ago.
The fact that her own minister tasked by her with handling the political crisis at Stormont, James Brokenshire, was kept out of the loop shows how low in political priorities we are for the English Tories in power at Westminster.
Sinn Féin was working to reach a deal with the other political parties at Stormont. However, it is plain to see that Theresa May's Tories do not care one whit for the talks process here.
The announcement of the Westminster election has put paid to any chance of an immediate resolution which would have seen the institutions restored on the basis of equality, respect and integrity.  
Post-election, there will be a massive majority for Brexit with the support of both the Labour Party and the Tories. 
The British Government are intent on imposing Brexit with a resulting EU frontier across Ireland. In the Tory drive for Brexit, Ireland, our economy, our communities and our peace agreements are collateral damage. 
It will be up to all of us opposed to Brexit to work together to secure special status for the North within the European Union to safeguard our hard-won agreements and try to build a progressive EU. 
Sinn Féin has met with other parties to discuss ways to maximise the anti-Brexit, anti-austerity, pro-rights vote. These talks are exploring the possibilities of achieving a progressive alliance in this election and those talks will continue.
The Irish Government must have a role in securing these objectives.
So far, the Taoiseach has failed to stand with the majority of parties on this island, and failed to stand up for the national interest to secure these objectives.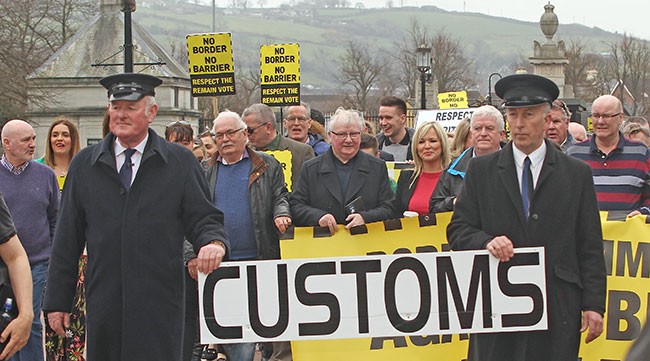 •  'No Border, No Barrier, Respect the Remain Vote' – Vote Sinn Féin
The recent EU Council draft negotiation guidelines gave more leverage to the Spanish Government with regard to Gibraltar than the Taoiseach achieved for Ireland. 
This election was called out of the self-interests of the Tory Party with an eye only to English voters.
Sinn Féin did not want this election but it is up for the challenge thrown down by Theresa May's Tories. 
It is an opportunity to once again say that the majority of voters are opposed to Tory policy, opposed to Brexit, and opposed to borders across Ireland.
It is an opportunity to send a message to Theresa May and Enda Kenny that we will stand up for our economy and public services, stand up for our rights as EU citizens, and stand up for our agreements.  
It is an opportunity to call for the securing of special designated status for the North within the EU and for free travel and trade across Ireland. 
Sinn Féin increased its vote in this year's Assembly election by 57,000 and it is looking to maintain that momentum. 
For Sinn Féin this was an all-Ireland effort with activists travelling the length and breadth of Ireland to support comrades in the North. This support will be needed again if we are to build on the Assembly success on 8 June.