3 April 2017 Edition
Nailing a lie about Martin McGuinness
Stories like this can affect people's attitudes, responses and even the decisions they make
ON BBC Radio Ulster's Talkback (22 March) a story about Martin McGuinness was repeated, a story aimed at illustrating that Martin McGuinness was callous towards victims and not sincere in his attempts at reconciliation. Stories like this can affect people's attitudes, responses and even the decisions they make.
The first time I heard the story was in a report about a meeting in Stormont organised two weeks previously by Traditional Unionist Voice leader Jim Allister MLA to commemorate 'European Day of Remembrance of the Victims of Terrorism'.
One of the speakers was David Kelly whose father was a soldier in the Defence Forces killed in Leitrim during an attempt to rescue supermarket executive Don Tidey in 1983. 
Mr Kelly told the Stormont meeting that in 2011, when Martin McGuinness was running as a candidate in the Presidential election, he confronted him and asked for help in finding his father's killers but was told "to move on". Then he qualified this remark: "He [McGuinness] told me it was time to move on. He said that to my face. My father was doing his duty, providing for a young family, gave his life for his country."
There is a huge difference between "move on", which suggests "get out of my way", and "time to move on", as I shall illustrate by the actual contemporaneous reports of Mr Kelly's confrontation with Martin McGuinness in 2011.
The account of the confrontation can be found in the Irish Times, 11 October 2011. It reports:
"I don't know who was responsible for the killing of your father but I fully and absolutely sympathise with you," Mr McGuinness replied. "I have been at the heart of a very important peace process in the North over the last 20 years which has brought conflict and violence and death to an end and I am going to continue with that work because that's the work of peace.
"This is in the past, you are heartbroken on account of it and my sympathy is 100 per cent with you and your family," he added.
Mr Kelly continued, "I just want to say to you before there can be any reconciliation in this country there has to be truth."
Mr McGuinness replied: "Absolutely, and we have proposed that there should be an International Independent Commission on Truth."
The journalist who witnessed the exchange, Eoghan MacConnell, makes no mention of McGuinness telling David Kelly to "move on" or "it's time to move on" or even that anyone in McGuinness's entourage told him to move on.
But one local journalist, Karen Downey, does quote Mr Kelly himself as using similar words:
"I asked him to reveal the identity of those killers, those killers directly should go to the Guards, do the decent thing, go to the authorities and hand themselves in and then we might have some justice, some truth and then maybe we can think about moving on in this country," he [Mr Kelly] told the Westmeath Independent.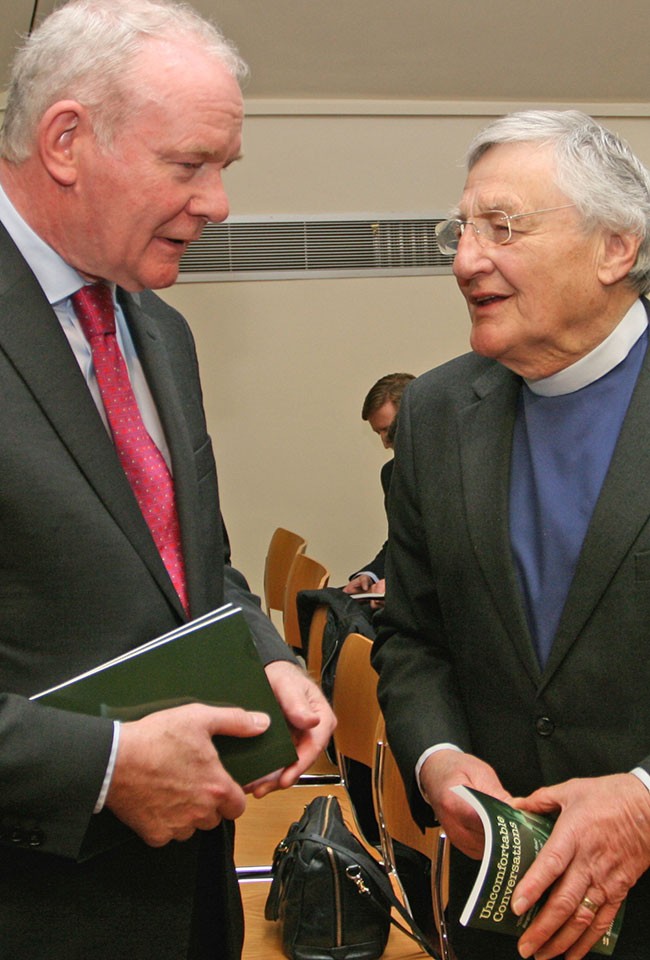 • Martin McGuinness with Harold Good, former President of the Methodist Church, at the launch of Sinn Féin's 'Uncomfortable Conversations' book
Other reports of the confrontation in the Irish Independent, Irish Examiner and on RTÉ make no reference to the "move on" comments attributed to Martin McGuinness.
In July 2012, when David Kelly accepted the Military Star Medal, awarded posthumously to his father, he made no such claim about Martin McGuinness.
Again, when speaking before Westminster MPs last November at the launch of a book, Mr Kelly made no such claim about Martin McGuinness.
So how did the perception arise that Martin McGuinness used those words which would add great pain and distress to someone who had already lost a loved one at the hands of the IRA?
It was the News Letter on 13 March which used the ambiguous headline "Martin McGuinness told me to 'move on'". It also reported that when the audience heard the alleged remarks it prompted "a collective gasp of horror". Clearly, the audience understood the words to mean that Martin McGuinness was cold and heartless towards a son whose father was a victim of the IRA.
But it was on BBC2's Newsnight, only hours after the death of Martin McGuinness, that the totally false construction on words that McGuinness hadn't even used was reinforced.
Austin Stack's father, Brian Stack, was the Chief Prison Officer at Portlaoise Prison and was mortally wounded by the IRA in 1983. He told Newsnight:
"My friend David Kelly, whose father private Paddy Kelly was shot by the IRA . . . David approached Martin McGuinness, asking him for answers in 2011 and Martin McGuinness shunted him away with the words 'just move on, you'."
The anger, passion, loss and sense of injustice felt by victims of the IRA towards republicans is completely understandable.
But what Austin Stack is saying about Martin McGuinness is not only unfounded but is patently untrue. His reasons for saying it might be understandable – to paint Martin McGuinness in as bad a light as possible.  It is also understandable that those who admire and revere Martin McGuinness and his memory will call out a lie about him, especially when such a lie may well influence people and can affect judgments about the Peace Process and its future.