3 April 2017 Edition
International tributes pour in for political giant
Revolutionary groups, political parties and former US Presidents among those who mourn Martin McGuinness
TRIBUTES poured in for Martin McGuinness from across the globe as the republican leader and political giant was laid to rest in his native Derry.
The Palestinian and Cuban Ambassadors were present in the City Cemetery, along with political activists and leaders from around the world as Martin was laid to rest. 
The Palestine Liberation Organisation (PLO) described Martin McGuinness as "a symbol of the just cause of the Irish people". It said: "Our late comrade Martin always reassured the Palestinian people of the constant support of Sinn Féin and his personal commitment for the fulfillment of the inalienable rights of the Palestinian people. His passing will be an irreparable loss to all those who struggle for social justice, peace and freedom from oppression and injustice."
Cuba's ruling Communist Party described Martin McGuinness as "an unforgettable friend" and said his death was an "irreparable loss". The revolutionary government praised his "important contributions in political life, the partisan cause and relations with Cuba".
South Africa's governing African National Congress party said Martin McGuinness will "forever be remembered as a man of moral courage, as a unifier, and a force for change".
The Revolutionary Armed Forces of Colombia – People's Army (FARC-EP) said Martin McGuinness is an "inspiration" who was "committed to the struggle of his people". 
Martin had travelled to Colombia three years ago to aid in the peace process there. The rebel army, who recently signed a peace agreement with the Colombian Government, ending over 50 years of war, offered their "eternal gratitude" to Martin McGuinness for his work. It also said:
"Martin is an example of the revolutionary struggle for peace, social justice, solidarity and internationalism."
Scotland's former First Minister, Alex Salmond MP, who attended the funeral, said Martin McGuinness's friendship with Ian Paisley was "the anchor of the institutions consolidating the Peace Process". 
"They were both solid and continuing friends of Scotland," Nicola Sturgeon's predecessor said, while Welsh First Minister Carwyn Jones said Martin McGuinness was "vital to bringing peace" to the North of Ireland:
• Former US President Bill Clinton touches Martin's coffin after his eulogy
Bill Clinton, former President of the United States, delivered a speech at the funeral service in Derry where he said Martin would want people to "finish the work of peace so we can all have a future together". 
Clinton made special mention of his role as Minister for Education and his focus on helping the most deprived communities – including many working-class unionist areas, Bill Clinton said:
"Normally it's not a good thing to be proud of yourself but if there's a secret category of things you can be proud of, taking care of the children of people with whom you have been at odds is surely on that small list. That's what he did. He persevered and he prevailed."
Noting the thousands who turned out to say goodbye, Clinton, one of the key players during the most intense negotiations of the Peace Process, said:
"Our friend earned this vast crowd today. Even more, he earned the right to ask us to honour his legacy by our living. To finish the work that is there to be done."
Former President Barack Obama said in a message: "His leadership was instrumental in turning the page on a past of violence and conflict that he knew all too well."
 New York Representative Joe Crowley described Martin as "one of the most extraordinary leaders I have ever met" who "never gave up on his belief in a united Ireland".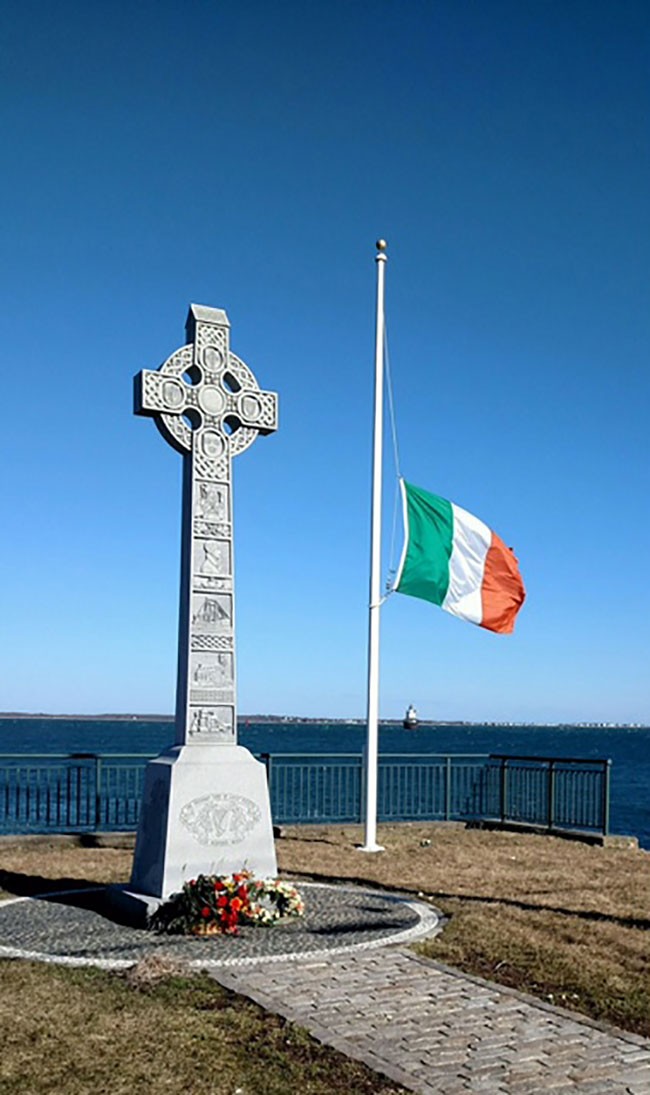 • The Tricolour flies at half-mast at the Catalpa Memorial in New Bedford, Massachusetts, USA
Across mainland Europe, many political parties mourned Martin McGuinness's death. 
In Spain, Podemos leader Pablo Iglesias said: "Martin McGuinness worked decisively for peace and reconciliation in Ireland. Our solidarity to the family and comrades from Podemos."
The Communist Party of France (PCF) paid tribute to a "historical figure" who "passionately did everything to preserve and consolidate the peace with a view to the reunification of Ireland".
Italy's Communist Refoundation Party said they wanted to pay tribute to "a brave activist, freedom fighter and political leader who has been able to build a peace and reconciliation process".
In the European Parliament, German MEP Gabi Zimmer, President of the European United Left – Nordic Green Left (GUE/NGL) parliamentary group, said Martin's "courage made him a man loved and respected by people from all political backgrounds" (see previous pages for more).
Basque independence leader Arnaldo Otegi, who attended the funeral with other Senator Urko Aiartza and other Basque representatives, described Martin McGuinness as "a loyal friend, a friend of the Basque people and the Basque Country". He described him as "a true Irish republican" who "with the same determination with which he fought the British occupation, managed the subsequent Peace Process".