3 April 2017 Edition
The No Action Man
Labour Minister for Direct Provision scandal showboats on migration in USA
JUST HOURS after taking his place in the White House, US President Donald J Trump followed through on his promise to "get tough" on immigrants (particularly those from Muslim majority states) and announced his travel ban targeting seven states. 
The move was widely condemned.
Many immigrants from Mexico and other Latin American countries living in the US illegally are now fearful that the lives they have built for themselves will be torn apart in coming years (not to mention Irish 'illegals'). 
Irish illegal immigrants living in the United States, estimated to number more than 50,000, are also clearly worried. In March, one Irish man was detained and faces deportation as An Phoblacht goes to print.
But never fear, Aodhán Ó Riordáin's here! 
The Irish senator has been making a big name for himself, particularly on TV in the USA, by proclaiming himself to be standing up for the rights of immigrants, condemning Trump and articulating foreign discontent about the new White House administration. 
Coverage of Ó Riordáin, both at home and in the US, has been almost universally positive and unchallenged, with the notable exceptions of Dublin freesheet Rabble and Phoenix Magazine. 
They correctly questioned his record as Minister for Equality in the Labour/Fine Gael Government. 
Ó Riordán lamely dismissed the criticism on Twitter, without actually addressing any of the facts raised.
The most damning of these criticisms is that Aodhán and his party had five years in Government in Ireland where they could have changed the shameful treatment of asylum seekers here. 
Many hoped he would end the widely condemned Direct Provision system – which sees asylum seekers who want to work and contribute to society stuck in terrible conditions in Direct Provision centres for years on end to scrape by on just over €19 per week.
The Direct Provision centre based in the old Mosney resort in Meath was described by Gerry Adams TD as "like Long Kesh without the 'Screws' and watchtowers".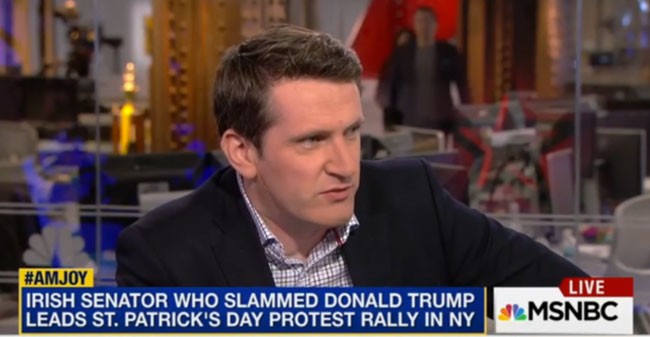 •  Aodhán Ó Ríordáin making himself a big noise in America
Is it reasonable to ask how a senator who is so staunchly in support of the rights of undocumented immigrants in America could have overseen such a horrible system in his native land while he had the power to change it? 
The Labour Party notably voted against a Bill which would have ended Direct Provision and replaced it with a system that would have required asylum seekers to be processed in reception centres, with a cap of six months and a right to work after that time. 
Ó Riordáin's support for illegal immigrants in the USA (many of them Irish citizens who stayed despite their working visas having expired) is also directly at odds with his support of the International Protection Bill in Ireland which promised to "streamline" the immigration process. Part of the Bill aimed to fast-track the deportation of illegal immigrants from Ireland. 
Introducing the Bill in the Seanad, Justice Minister Frances Fitzgerald explained how the Fine Gael and Labour Government's moves would "ensure that Ireland is equally effective in enforcing deportations and border controls to prevent and tackle those wishing to enter and remain illegally in a country without proper cause".
Ó Riordáin's ministerial colleague forthrightly declared:
"I do not think it is good enough that if a person's working visa has expired in another country, he or she should be able to come to Ireland and abuse the system here."
Doras Luimní, the Irish Refugee Council, the Migrant Rights Centre Ireland and Nasc – The Irish Immigrant Support Centre all called for the Government to withdraw the legislation. 
Sue Conlon, CEO of the Irish Refugee Council, expressed her fear that the Bill would result in swifter deportations after a very cursory examination of the applications and "lead to people being at risk of being returned to persecution or serious harm and refugees separated from family members at the time of the biggest refugee crisis since the Second World War".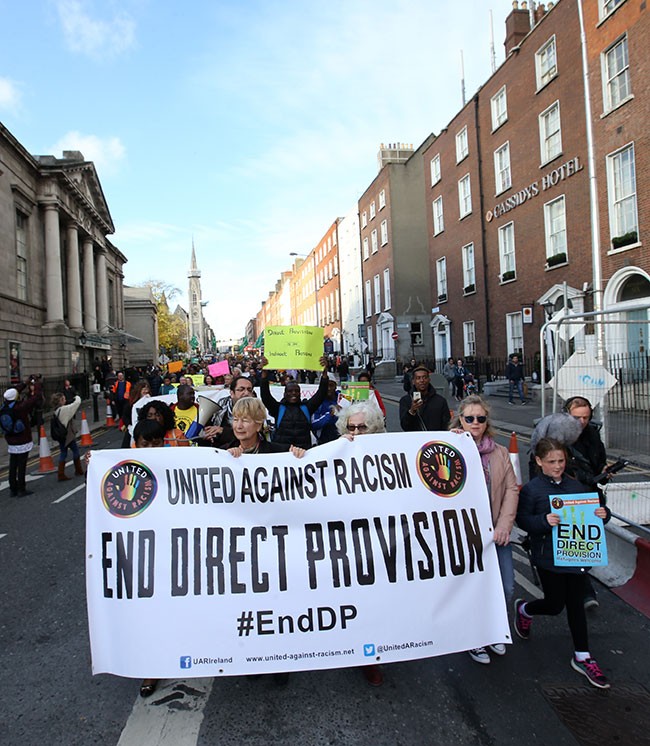 •  When he had the power, Aodhán failed to end Direct Provision
So where was Aodhán during all this time? 
He was in the Dáil chamber voting down amendments and extolling the virtues of this Bill.
The Labour Party as a whole proved themselves to be completely inept and incapable while in Government. They abandoned their supporters, their principles and their own ideology to become a mudflap for right-wing conservative elements. They forced through socially regressive legislation across the board while mouthpieces like Ó Riordáin were allowed to sail through softball interviews, preening their liberal plumage in the studio lights.
It would be far easier to accept if Labour had had the courage of their convictions. 
Ó Riordáin's all bark and no bite attitude when it came to the issue of Traveller ethnicity saw the former Minister for Equality speak keenly in favour of recognising the special ethnic status of our Traveller community. But when it came to the crunch he was nowhere to be seen as his Fine Gael/Labour Government voted down a Sinn Féin Bill on the issue. Ó Riordáin didn't bother to show up and vote despite claiming to support the proposal. 
Maybe he didn't want the TV cameras on him for a change.