3 April 2017 Edition
Ruth Dudley Edwards hates it and Kingdom or Heaven
BOOK REVIEWS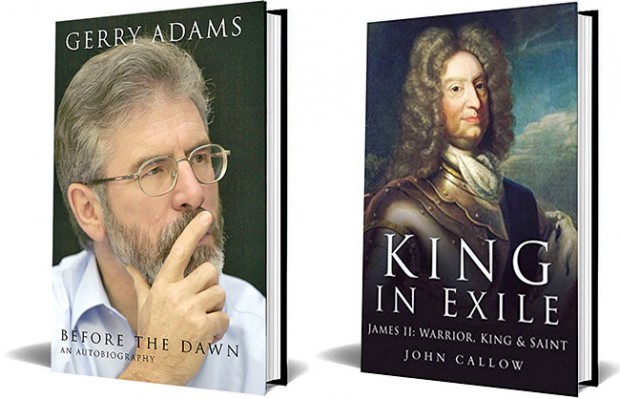 Before the Dawn – An Autobiography (Updated)
By Gerry Adams. O'Brien Press €14.99
THIS BOOK will be a familiar title to many readers, and not just because there's a definite chance that they may have heard of the author. 
Before the Dawn was first published in 1996, although the main body of the book covers the period 1948 (Gerry Adams's birth) until 1981 and the end of the H-Blocks Hunger Strikes. 
There is a new foreword and epilogue, both written in late 2016. 
The epilogue comments on the enormous implications of the "Brexit' vote for Britain, the European Union, the Northern economy, the Border and the Good Friday Agreement. 
Gerry also points out that Theresa May's signalling of her intention to withdraw from the European Convention on Human Rights, and the Tories' proposed scrapping of the Human Rights Act are fundamental breaches of the Good Friday Agreement.
In fact, there are so many points raised in this eight-page addendum that it could easily be expanded into a book all of its own.
The book is best summed up in the author's own words:
"Before the Dawn is mostly about the nature of the Northern state, the actions of the unionist regime, the oppression of nationalists and republicans and our response, and the first decade of conflict."
All of that is true, but it is also about much more than that. 
It is about family and community and oppression and resistance, love and resilience and, most importantly, about humour and hope.
The book is also a coming of age saga of a young boy in a Belfast that, in many ways, no longer exists (although the indomitable community spirit remains). 
It is screechingly funny in places. The account of First Confession is laugh-out-loud hilarious account worthy of Flann O'Brien or (if you'll excuse a quintessential English humorist) Jerome K Jerome. 
There are also passages of raw emotion and pathos. The final section of the main body of the book, covering the H-Blocks Hunger Strikes makes for particularly visceral reading
This is a document of record and it explains motivations and hopes. Ruth Dudley Edwards hates it. That's one reason to like it but the best is simply because it's a really good read.
James II, King in Exile: Warrior, King and Saint
By John Callow. History Press £12.99
FIRST published in 2004, this volume has been revised to accommodate additional research and analysis not included in the first edition. As the title makes clear, it's not a biography of James II but an account of his life as an exile following his defeat in Ireland. 
Most people probably know more about William of Orange than they do about the enigmatic James II. The enthusiastic cheerleaders of the Orange Order have ensured William's popularity within one particular section of the community and his perceived qualities, whether real or imagined, have been widely disseminated. 
There has been no reciprocal espousal of William's Jacobite opponent. As a consequence, James II remains a largely unknown figure reviled by both sides. 
Protestant Ireland caricatured him as the pantomime Papist determined to coerce them into Romanish enslavement; to the native Catholics he was Séamus an Chaca ("Seamus the Shit") following his flight after the Battle of the Boyne. 
This book comprehensively shines a spotlight on James as a nuanced and complex individual driven by a sense of duty and an almost pathological sense of his own self-worth.
This work is a pretty impressive document: over 450 pages of minuscule print but every page reveals points of interest in an accessible and engaging manner. 
The sheer volume and depth of research is mind-boggling but it is presented in such a well-written manner that it never feels overly stuffy.
The book charts three distinct phases of James II's life: warrior, king and saint. 
In his early life as the Duke of York, James had been widely regarded as something of a military maestro, but that image was irredeemably smashed by his precipitate fleeing from the Battle of the Boyne and his abandonment of his loyal troops.
Following this ignominious episode, James sought to recast himself as the king-in-exile in his sumptuous French palace of St Germain-en-Laye. 
He attempted to operate a sort of shadow royal court which presumably would meld seamlessly into the Westminster Court once he was rightfully reinstated as king. As disillusionment over this failing scenario set in, James turned to his third (and arguably most successful) incarnation – that of saint. 
He seemed to reconcile himself to not being able to regain his earthly crown and devoted the remainder of his life to attaining a heavenly one instead. His undoubted piety and religious devotion provided the basis around which the subsequent Jacobite cause would be founded.
Many of the events analysed in this book still have a resonance today. Accordingly, it is essential reading for anyone hoping to understand the past in order to make sense of the present.